At least nine people are dead and the toll is expected to increase after more than a dozen tornadoes tore through the Southeastern U.S. on Thursday.
Seven deaths were reported in Autauga County, Alabama, northwest of Montgomery, according to county Emergency Management Agency Director Ernie Baggett. Six of the deaths were reported Thursday, and the seventh was confirmed a day later.
In Georgia, a 5-year-old boy was killed when a tree struck the car he was in. The second fatality in Georgia was a Transportation Department employee who was responding to storm damage, Gov. Brian Kemp said in a news conference Friday.
Kemp said that damage from multiple tornadoes was seen across Georgia.
"The storm moved all across our state. Unfortunately, it's been a tragic night and morning in our state," he said. "It's a very dangerous environment."
Search and rescue efforts are underway across the Southeast as officials fear the death toll may rise.
In Alabama's Autauga County, crews resumed surveying the damage and have discovered at least 40 homes that were destroyed or are uninhabitable, Baggett said.
He said he's never seen anything like this before in Autauga County.
"It's complete devastation," he said. "There's some, a couple of our county roads that there's only one or two homes left that may be livable."
Drone video revealed extensive damage in Selma and Greensboro, Alabama, where roofs were torn off and trees knocked down.
In downtown Selma, some areas are littered with power poles, trees and some roads are completely blocked.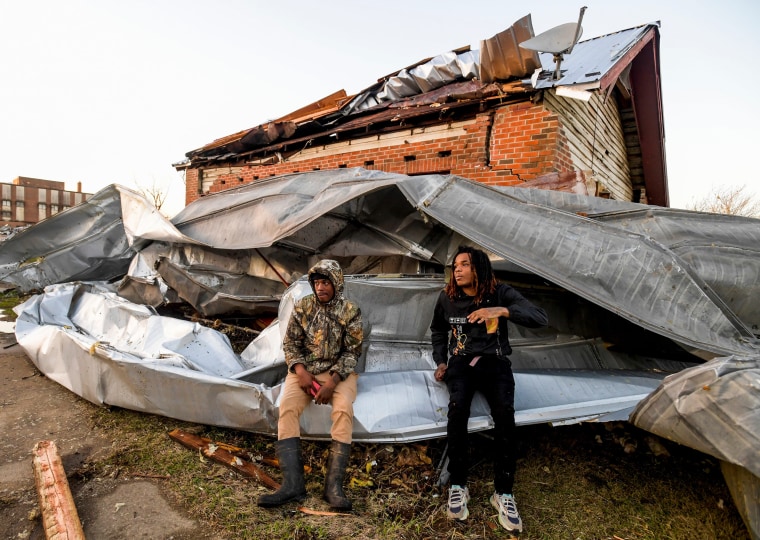 The National Weather Service office in Birmingham, Alabama, said it received "a lot of devastating reports of damage" and will be surveying the damage in the coming days.
As of Friday night, officials had collected information on seven tornadoes — four EF2 and three EF1 — that tore across a wide swath of Alabama.
One tornado, an EF2 that hit Dallas County, covered 23 miles while spanning a maximum width of 800 yards, according to the National Weather Service.
Peak winds for the twister, which intensified as it entered Selma city limits, were clocked at 130 mph, according to the agency.
In Autauga County, northwest of Montgomery, a tornado caused "at least" EF3 damage, meaning there were three-second gusts of 136 to 165 mph, according to the weather service.
Survey teams will continue their work Saturday in other areas, including Autauga, Tuscaloosa and Hale counties.
In Georgia, multiple departments, including the state's Emergency Management Agency, are responding and assessing damage. The Public Safety Department helped rescue students who were trapped at a middle school overnight and reunite them with their parents, according to Colonel Chris Wright.
Georgia's governor, along with Lt. Governor Burt Jones, took a helicopter tour of the damage Friday.
At least 24,828 home and businesses in Alabama and Georgia remained without power Friday night, according to outage tracking website Poweroutage.us.