At least 17 mass shootings were recorded across the country over the Fourth of July holiday weekend, including a string of deadly incidents in which as many as 18 people died, data published by the Gun Violence Archive showed.
The shootings were recorded from Friday evening to early Wednesday, according to the archive, a nonprofit group that tracks gun violence in the U.S. It defines a mass shooting as a single incident in which at least four people, other than the shooter, are shot.
At least 18 people were killed in the string of shootings, and at least 102 others were injured, the archive tweeted.
In Fort Worth, Texas, three people were killed and eight others were injured in a mass shooting late Monday near a community gathering, police said. A potential motive remained unclear.
Five people died and two others were wounded, including a 2-year-old boy and a 13-year-old boy, in a mass shooting in Philadelphia on Monday night.
The suspect, a 40-year-old man, had a semi-automatic rifle, a handgun, a ballistic vest and a police scanner, authorities said. He also had multiple magazines of ammunition, they said. A motive was under investigation.
Two people were fatally shot and at least 28 others were injured Sunday when gunfire broke out at a neighborhood block party in Baltimore.
At least three people were killed and seven others were injured in a shooting just before midnight Tuesday in Shreveport, Louisiana, according to the Gun Violence Archive.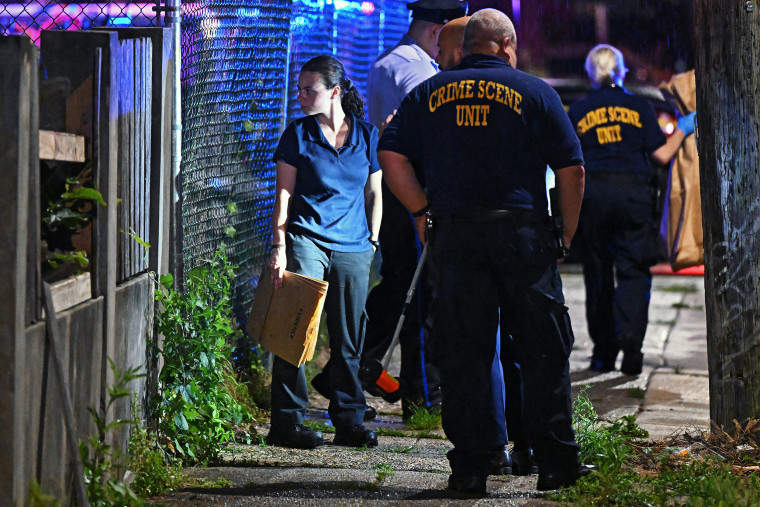 Multiple mass shootings also occurred early Wednesday, including one during a block party on Maryland's Eastern Shore that killed a 14-year-old boy and injured at least six other people. None of the injured were believed to have life-threatening injuries, the Wicomico County Sheriff's Office said.
At least nine people, including a child and a teenager, were injured in a shooting in Washington, D.C., early Wednesday during Fourth of July celebrations, authorities said.
A 9-year-old and a 17-year-old were among the injured, authorities said. All of the victims sustained non-life-threatening injuries.
Mass shootings were also recorded in a number of other states, including Illinois, Indiana, New York, North Carolina, Michigan, Missouri, Ohio and Oklahoma.