LeBron James, who was anointed "The Chosen One" on the cover of Sports Illustrated as a 17-year-old high school junior, fulfilled that prophecy by breaking the NBA scoring record with his 38,388th point during season 20 of his illustrious career.
The Los Angeles Lakers' forward scored the record-breaking basket in front of a home crowd Tuesday night local time against the Oklahoma City Thunder, overtaking a milestone that stood for nearly 39 years and was held by Kareem Abdul-Jabbar, the Lakers and Milwaukee Bucks center.
James broke the record with a fadeaway with 10.9 seconds left in the third quarter. The crowd erupted, and James shared a hug with his mother. The game paused in celebration.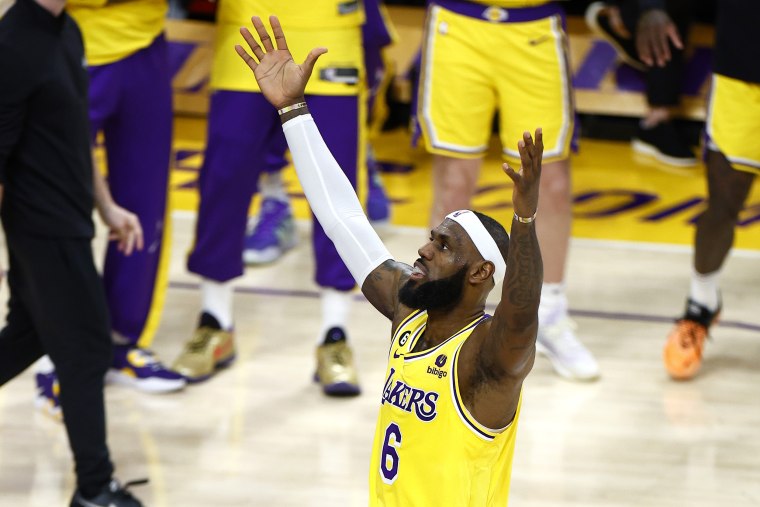 A presentation was played on the video screens above, showing moments of his remarkable career, and Abdul-Jabbar handed James a basketball on the court and shook his hand. James wiped his eyes, and thanked his family, the fans and the NBA.
"I would never ever in a million years dreamt this even better than what it is tonight," James said.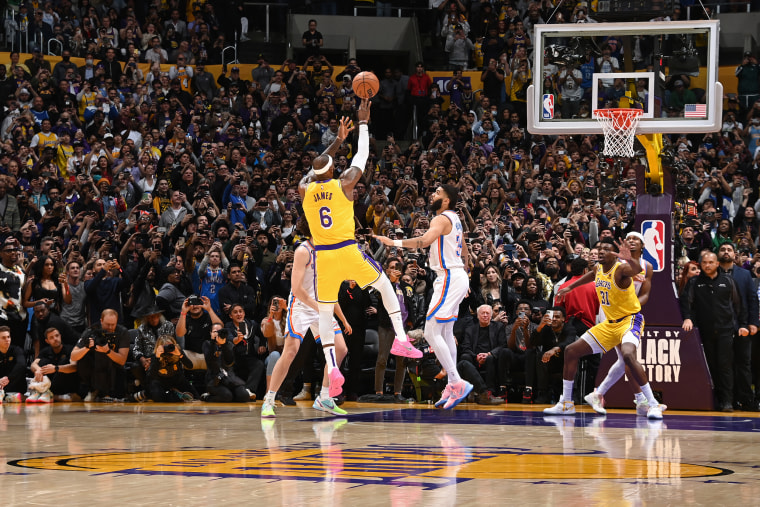 James began the game needing 36 points to capture the record considered unbreakable by some pundits. The record includes scoring only during regular-season games. Playoff games are in their own category.
Abdul-Jabbar surpassed NBA legend Wilt Chamberlain as the top scorer on April 5, 1984 — more than eight months before James was born.
Abdul-Jabbar scored 38,387 points in a two-decade NBA career before he retired in 1989.
James, 38, widely considered a pass-first player, moved up to No. 4 in all-time NBA assists late last month when he eclipsed Steve Nash with his 10,336th assist.
James, a native of Akron, Ohio, who was selected out of high school as the NBA's No. 1 pick in 2003 by the Cleveland Cavaliers, has trekked toward the scoring record during his two-decade career by averaging about 27 points per game.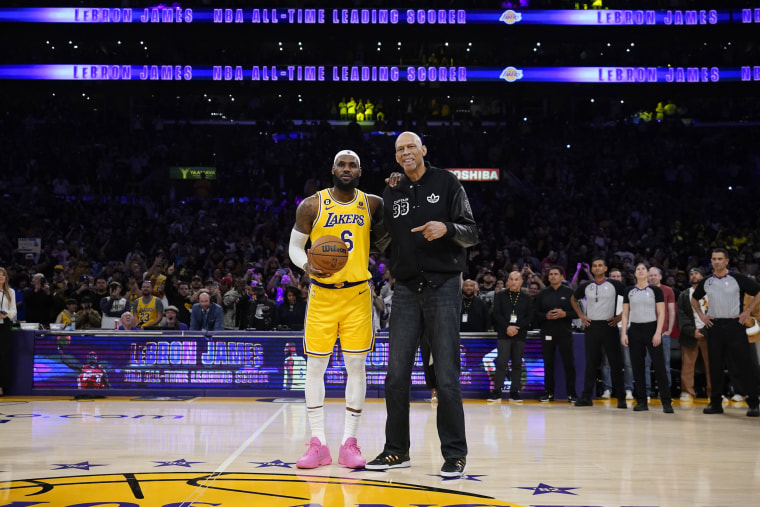 James, a four-time league MVP who has won four NBA titles with three teams (in 2012 and 2013 with the Miami Heat, in 2016 with the Cleveland Cavaliers and in 2020 with the Lakers), said Thursday after a narrow victory against the Indiana Pacers that the scoring record is one he covets.
"I think it's one of the greatest records in sports, in general," he said. "It's like the home run record in baseball. It's one of those records that you don't ever see or think will be broken. You see guys like Hank Aaron, who had it for so long. You see guys like Sammy [Sosa] and Mark McGwire, and you start climbing it, and it's like, 'Oh, this could really happen.' It's a fun thing as a sports person. It was fun watching those guys chasing it."
Even as a grizzled veteran, James hasn't slowed down this season. While the Lakers are struggling to secure a playoff spot, James has averaged about 30 points per game, competing among the league's elite scorers, 20-something superstars such as Joel Embiid, Luka Dončić and Giannis Antetokounmpo.
James has had multiple 40-point games this season. His 46 points against the Los Angeles Clippers on Jan. 24 set another NBA record, establishing him as the only player in history to score 40 points or more against every NBA franchise.
While James' accolades on the court have garnered him the nickname "King James," he's been praised and criticized for social commentary off the court on issues such as police brutality, voter oppression and WNBA star Brittney Griner's detainment in Russia.
James responded in 2021 to soccer standout Zlatan Ibrahimovic's criticism of his political activism.
"I preach about my people and I preach about equality, social injustice, racism, systematic voter suppression, things that go on in our community," James said. "I know what's going on still, because I have a group of 300-plus kids at my school that's going through the same thing, and they need a voice, and I'm their voice. I'll use my platform to continue to shed light on everything that's going on around this country and around the world. There's no way I would ever just stick to sports, because I understand how powerful this platform and my voice is."
The I Promise School in Akron, for at-risk students, is supported by the LeBron James Family Foundation. 
On the way to pass the record, James scored 8 points in the first quarter and 12 in the second before making history at the end of the third.
James had 38 points overall in the night. The Lakers lost to the Thunder, 133-130, despite a comeback try by Los Angeles.
NBA Commissioner Adam Silver congratulated James on "breaking one of the most hallowed records in all of sports" and said it was a "towering achievement."
James, in an interview broadcast on the TNT post-game show, said that when he read about the history of the game, he never thought the record would be touched.
"It's just a complete honor to be a part of this league, to be a part of some of the greats that ever played this game, and for me to be right there at the apex with them," James said.
Abdul-Jabbar praised James, and said the younger man "planned to dominate" in the NBA.
"He led teams to three world championships. They didn't get there because of someone else and LeBron tagged along — LeBron led them," Abdul-Jabbar said in the same post-game show.
"He has that indefinable essence that they call leadership," Abdul-Jabbar said.
Even though James is now the league's top scorer of all time, the debate about who is the NBA's GOAT, or Greatest of All Time, will continue to play out among fans.
James, however, has said he wants to add to his legacy and hopes to play in the NBA with his sons, Bronny, a high school senior, and Bryce, a sophomore.
James once again graced Sports Illustrated last year, but this time he was joined by his sons on a cover that read: "The Chosen Sons."
CORRECTION (Feb. 8, 2023, 9:10 a.m. ET): A previous version of this article misstated the final score. The Lakers lost to the Thunder, 133-130, not 133-127.