LeBron James has criticized the U.S. response to his fellow basketball star Brittney Griner's detainment in Russia and questioned whether she would want to return to her homeland. 
"Now how can she feel like America has her back?" the Los Angeles Lakers small forward said in a 30-second trailer for the latest episode of his talk show "The Shop: Uninterrupted," released Tuesday. 
"I would be feeling like, 'Do I even want to go back to America?'" he added.
Griner, 31, pleaded guilty to drug charges in a Moscow court last Thursday, her lawyers said, leaving her facing the prospect of up to 10 years in prison.
The two-time Olympic gold medalist and center for the Phoenix Mercury was detained in February at Moscow's Sheremetyevo airport after Russian authorities said they found vape canisters with cannabis oil in her luggage.
After last week's hearing, her lawyer, Alexander Boikov, told reporters outside the courtroom that the basketball star admitted that the vape canisters were hers, but said she brought them to Russia unintentionally.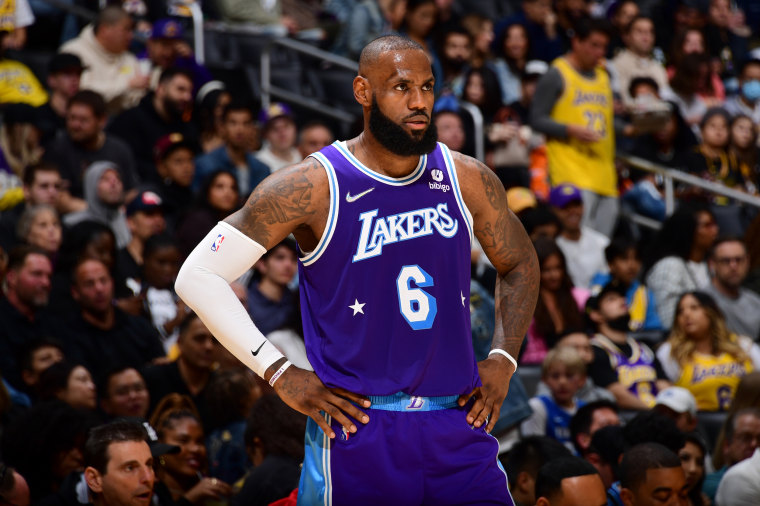 In a statement released to NBC News on Thursday, Griner's lawyers said they expect the trial to finish in early August and were hopeful for a lenient sentence.
There was some social media backlash to James' comments in the trailer for the show, which will air in full on YouTube on Friday.
James addressed the controversy on Wednesday writing that his comments weren't a knock "on our beautiful country" but he was sympathizing with Griner. 
"I was simply saying how she's probably feeling emotionally along with so many other emotions, thoughts, etc inside that cage she's been in for over 100+ days," he wrote on Twitter.
James finished off his tweet with #BringHerHome, a hashtag that has been popularized by fans since Griner's arrest.
There was no mention of other detained Americans in the trailer or his tweets.
In the heat of the 2020 election, Griner was one of the high-profile athletes who backed James' More Than A Vote, a political organization that coordinated voter registration drives and enrolled poll workers from disadvantaged and historically Black communities.
NBA Commissioner Adam Silver, speaking Tuesday after his league's board of governors meeting in Las Vegas, reiterated that the NBA and the WNBA are "doing everything in our power" to bring Griner home.
"I'm accepting that the administration is doing everything they can right now," he said. "There are some seriously complex geopolitical issues here. And I'm sure as invariably as they are more focused on Brittney, there are other families who are of course concerned about their loved ones who are being held against their will in Russia right now. ... There are very difficult issues that the Biden administration has to face in terms of what's appropriate."
Washington hasn't disclosed its strategy in the case and the United States may have little leverage with Moscow because of strong animosity over its actions in Ukraine. The Department of State's designation of Griner being wrongfully detained moves her case under the supervision of its special presidential envoy for hostage affairs, effectively the government's chief hostage negotiator.
Secretary of State Antony Blinken has said Washington will continue to work for the release of Griner, as well as other Americans held by Moscow, including former Marine Paul Whelan.
"We will not relent until Brittney, Paul Whelan, and all other wrongfully detained Americans are reunited with their loved ones," he tweeted last week.
Despite pleading guilty, Griner has maintained she did not intentionally break the law. In a letter sent to President Joe Biden's office days before her guilty plea, she wrote, "I realize you are dealing with so much, but please don't forget about me and the other American detainees." 
Biden spoke to Griner's wife, Cherelle Griner, last week, telling her he was working to have the basketball player released as soon as possible, the White House said. Griner's next court hearing is scheduled for Thursday, in which she will give prepared testimony. 
Griner, a 6-foot-9 native of Houston, was arrested days before Russia launched its invasion of Ukraine, and has highlighted the frayed relations between Washington and Moscow.
The Kremlin has been accused of using Griner as a political pawn, while the Biden administration has said she has been "wrongfully detained." 
Kremlin spokesman Dmitry Peskov has denied Griner was being held as a hostage.