LOS ANGELES — NBA superstar LeBron James made an emotional plea Wednesday against racial inequality and said "we have a long way to go" after his home was vandalized with a racial slur.
"My family is safe. At the end of the day, they're safe and that's the most important," the Cleveland Cavaliers forward said during a news conference ahead of Game 1 of the NBA Finals.
"But it just goes to show that racism will always be a part of the world, a part of America," he added. "And hate in America, especially for African-Americans, is living every day."
The Los Angeles Police Department told NBC News it responded to a call that someone had spray-painted a racial slur on a gate leading to James' property in the Brentwood neighborhood of Los Angeles at 6:44 a.m. PT (9:44 a.m. ET) on Wednesday.
A source familiar with the incident told NBC News the "n-word" had been spray-painted on the gate.
The slur was painted over by the time officers arrived, authorities said. It was not immediately clear when it was first spray-painted on the property.
Authorities will likely check video in the area to help identify the culprit.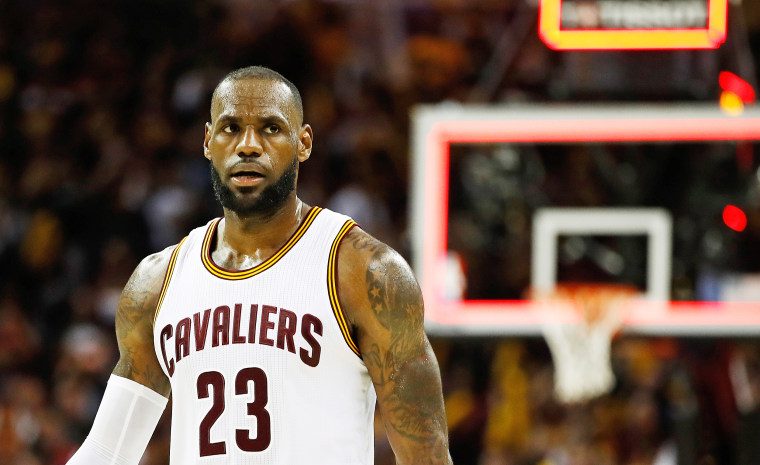 The news was first reported by TMZ, which added that the Cleveland Cavaliers player was not home at the time of the incident.
Property records show that the 9,440-square-foot estate was purchased in 2015 for more than $20 million.
The 32-year-old Ohio native said that he's "OK" with what happened to him — as long as it continues a dialogue about how African-Americans are treated in society.
"No matter how much money you have, no matter how famous you are, no matter how many people admire you, being black in America is tough, and we got a long way to go," James said.
The four-time MVP is set to play in the NBA Finals on Thursday night in Oakland against the Golden State Warriors. This will be his seventh trip in a row to the finals, and he has won three championships.
Andrew Blankstein reported from Los Angeles and Daniella Silva reported from New York.