Bronny James, a son of basketball icon LeBron James, collapsed during a workout in Los Angeles on Monday and was rushed to the hospital, his family said.
"Yesterday while practicing Bronny James suffered a cardiac arrest. Medical staff was able to treat Bronny and take him to the hospital," the family said in a statement.
"He is now in stable condition and no longer in ICU. We ask for respect and privacy for the James family and we will update media when there is more information. LeBron and Savannah wish to publicly send their deepest thanks and appreciation to the USC medical and athletic staff for their incredible work and dedication to the safety of their athletes."
Bronny James, 18, announced this year that he plans to play basketball at the University of Southern California, where the medical emergency unfolded.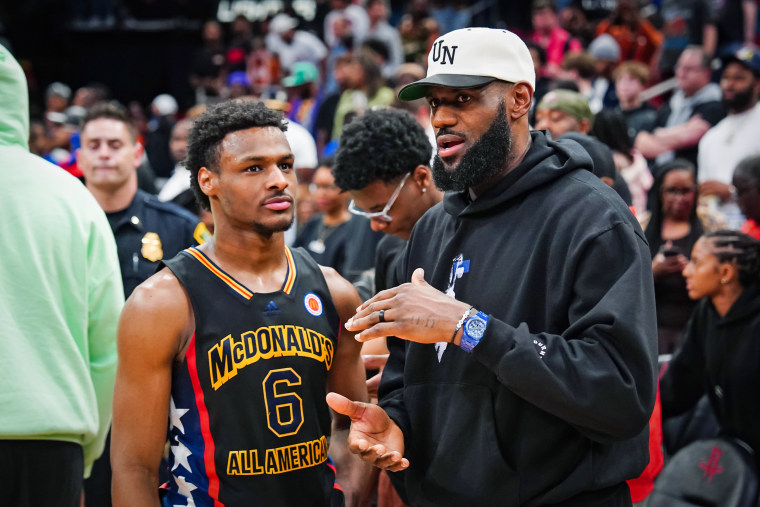 The Los Angeles Fire Department responded to a medical emergency in the 3400 block of South Figueroa Street at 9:26 a.m. Monday and took an adult male to the hospital, a fire spokesperson said.
The Galen Center, the home arena of USC basketball, is at 3400 S. Figueroa St.
The 6-foot-3 Bronny James, a McDonald's All-American, was one of the nation's most heralded players coming out of Sierra Canyon School in Los Angeles.
National media covered his commitment to USC, and LeBron James, 38, has said he hopes to stay in the NBA long enough to play with his oldest son.
Athletes' heart health, always a concern in the world of sports, has been the focus of several high-profile incidents recently.
James' USC teammate Vincent Iwuchukwu passed out on the practice floor in July 2022. The cardiac arrest kept Iwuchukwu off the basketball floor until January.
Cartier Woods, an 18-year-old high school basketball player from Detroit, died this year after he suffered a cardiac arrest during a game.
Buffalo Bills safety Damar Hamlin collapsed on the field during the Bills' nationally televised game against the Cincinnati Bengals in January.
And perhaps the most famous on-court death happened in Los Angeles, when Loyola Marymount's Hank Gathers collapsed during a game in 1990.
"When you get a chance send a prayer up for Bronny James," former NFL quarterback Robert Griffin III said in a statement Tuesday. "He collapsed on the basketball court yesterday, went into cardiac arrest and was taken to the ICU. He is now out of the ICU and in stable condition, but his continued recovery and health is what we all pray for."