Tim LaHaye, an intellectual and popular leader of the evangelical movement whose 16 "Left Behind" novels sold tens of millions of copies, died Monday at age 90 in San Diego following a stroke last week, his ministry and his family said.
The "Left Behind" novels, co-written with Jerry B. Jenkins, were enormously popular, crashing mainstream best-seller lists in the 1990s and the 2000s, which until then had been all but unheard of for Christian-themed fiction.
The books, which were based heavily on the Book of Revelation, chronicled the struggles of the unfortunate people "left behind" on Earth after the Second Coming of Jesus and the "Rapture" of believers into Heaven, introducing the frankly apocalyptic theology to a much wider audience.
"Thrilled as I am that he is where he has always wanted to be, his departure leaves a void in my soul that I don't expect to be filled until I see him again," Jenkins said in a statement Monday.
But the books were only part of the reason the Institute for the Study of American Evangelicals at Wheaton College named LaHaye the most influential leader in evangelical Christianity in 2001 — ahead of Billy Graham, James Dobson and Jerry Falwell.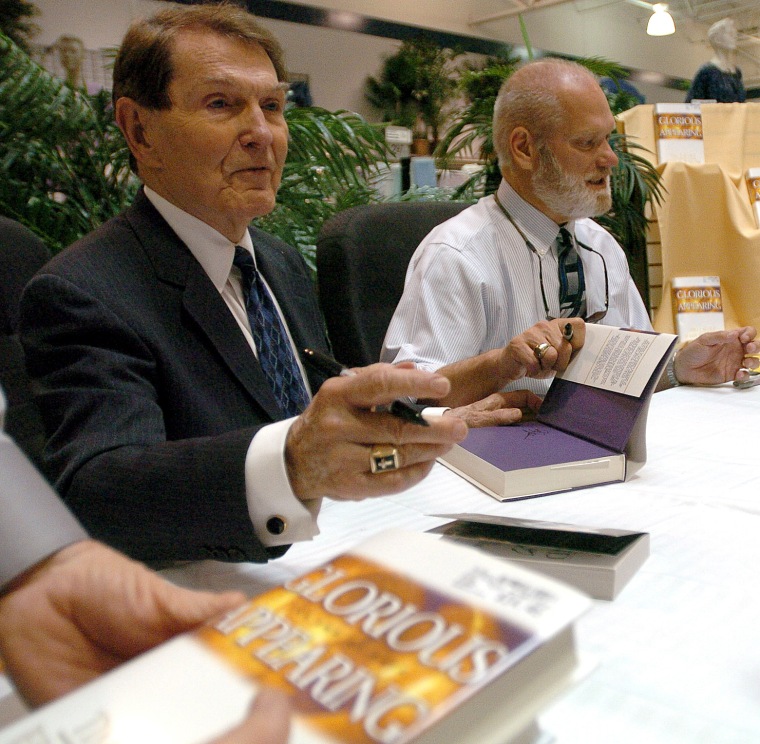 Falwell, who died in 2007, credited LaHaye with having inspired him to found the Moral Majority in 1979. And in a 2005 interview with Time magazine, Falwell called LaHaye and Jenkins' "Left Behind" books the most influential Christian body of literature of the 20th century — behind only the Bible itself.
LaHaye also founded San Diego Christian College, 12 Christian secondary schools and the Tim LaHaye School of Prophecy at Falwell's Liberty University in Virginia.
Among the first departments at San Diego Christian College was the Institute for Creation Research, which branched out as an influential young-Earth creationist research organization in 1972.
In 2005, Time enshrined LaHaye and his wife of almost 70 years, Beverly LaHaye — an evangelical leader in her own right as founder and chairwoman of the powerful conservative political group Concerned Women of America — as "The Christian Power Couple."
Combined, their books and their radio and TV shows reached hundreds of millions of conservative Christians around the world for more than a quarter-century — and drew sharp criticism from liberal organizations and fellow pastors on the more progressive side of the Christian spectrum.
In 2009, LaHaye famously called President Barack Obama a socialist whose rise to power was possibly a signal of the approach of the End Times.
In an essay Monday in Christianity Today, Jenkins acknowledged that LaHaye was often called "opinionated, polemic, a right-wing conservative fundamentalist — and some will even accuse him of homophobia."
But "the Tim LaHaye I got to know had a pastor's heart and lived to share his faith," Jenkins wrote. "He listened to and cared about everyone, regardless of age, gender, or social standing.
"If Tim was missing from the table at a book signing or the green room of a network television show, he could usually be found in a corner praying with someone he'd just met — from a reader to a bookstore clerk to a TV network anchorman."
LaHaye's ministry said that in addition to his wife, he is survived by four children, nine grandchildren, 16 great-grandchildren, a brother and a sister.