After his election, Donald Trump quickly settled a series of business disputes — but just days before his inauguration, the president-elect's company is still waging a legal battle against a Florida shop owner over an unpaid bill.
The matter could have been settled for what amounts to pocket change for a billionaire, but the Trump Organization decided to take its chances in court.
Now Trump stands to lose hundreds of thousands of dollars. And if he wins, it could force a small businessman — one of hundreds who say they were stiffed by Trump over the years — possibly into bankruptcy.
That businessman, Juan Carlos Enriquez, owner of The Paint Spot, won the first round of the legal skirmish last summer when a judge found a lien he slapped on the Trump National Doral golf resort was valid.
The court ordered Trump to pay for $32,000 worth of paint, plus nearly $300,000 in legal fees. Trump's company appealed, and barring a last-minute resolution, the case will be pending when he takes office; the deadline for final briefs is two days before he becomes the most powerful person in America.
Enriquez's lawyer, Daniel Vega, said he is not surprised it has gone this far.
"The Trump litigation team litigated this case from day one like lions on fresh meat and continue to do so now on appeal," he told NBC News.
The matter dates back to the fall of 2013 when Enriquez, who owns three Miami paint stores, was tapped by a subcontractor to supply paint for a major remodeling project at the Doral resort, owned and operated by a Trump company called Trump Endeavor.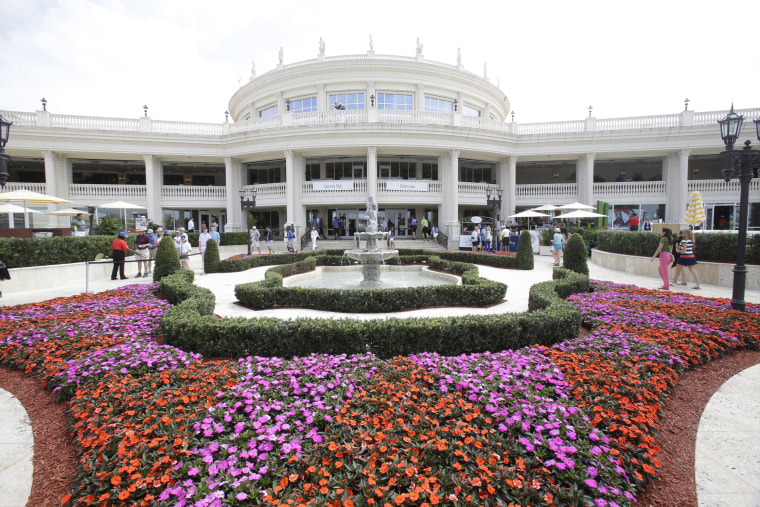 There is no dispute that the paint was delivered and used on the property, according to court records. But after the subcontractor walked off the job weeks before completion, Enriquez didn't get a final payment.
In a deposition, a project manager for general contractor Straticon testified that he failed to get the Trump Organization to pay the balance.
"Were you trying to pay him," Vega asked the manager, Jamie Gram, during the sessions.
"I was," Gram replied.
"And what happened?"
"Somebody chose not to," Gram said.
"Who?" the lawyer asked.
"The Trump Organization," Gram said.
"Who at Trump?"
"I don't know," Gram said. "Mr. Trump. Donald Trump."
In October 2014, Enriquez filed a lien — a legal tool that can be used to recover a debt by tying up a piece of property — against Doral.
Eight months later, Enriquez filed a lawsuit against Trump Endeavor, seeking to foreclose on the 800-acre resort.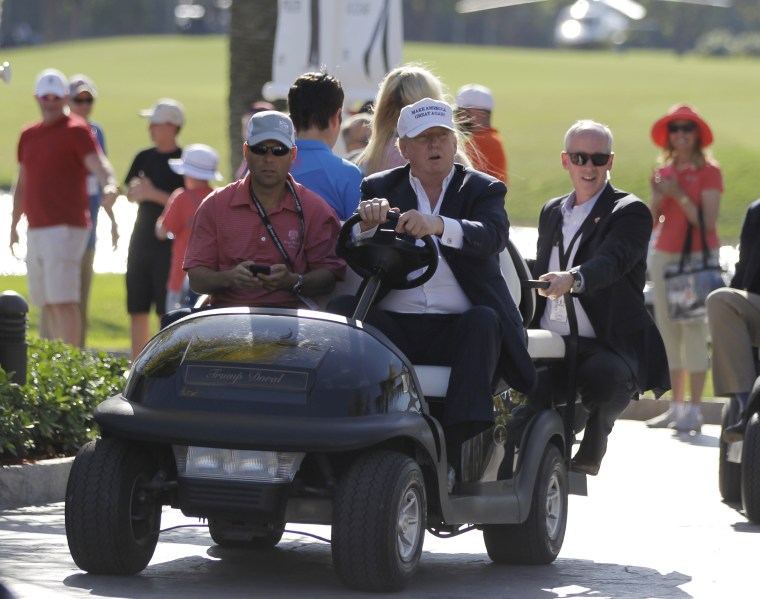 The Trump team's defense was largely technical.
It turned out that when Enriquez took the job he submitted paperwork called a Notice to Owner, which would allow him to file a lien against the property if a bill wasn't paid.
A Trump official gave him a form to work off — but it listed the general contractor for a different part of the project, and Enriquez repeated the mistake on his notice.
Gram later noticed and flagged the error. Enriquez said he would fix it but never did, court documents show.
At trial, though, Gram testified that the decision not to pay Enriquez "had nothing to do with a defective notice to owner."
He went on to explain that the bill went unpaid because the Trump Organization had already paid "a decent amount of money" to the subcontractor, M&P, before it abandoned the job. The resort used any money left over, plus additional funds, to complete the unfinished paint job, he said.
Gram's testimony appeared to distress Trump's legal team, Miami-Dade Circuit Court Judge Jorge Cueto noted in his June 2016 ruling.
"When Mr. Gram made that admission, Trump's trial attorneys visibly winced, began breathing heavily and attempted to make eye contact with him," the judge wrote.
The judge found that Enriquez had made "diligent efforts" to comply with the lien law and that being given the wrong paperwork by the Trump official was the root of the mistake. He also dismissed Trump clams that the bill was fraudulent, subtracting only $76.39 for a stepladder from the bottom line.
Cueto then dealt the Trump team a bigger blow, ruling that they had to pay Enriquez's legal costs. Because Vega had taken the case on contingency, meaning he would not get paid if they lost, the judge tacked on a multiplier to compensate him for the risk he took, nearly doubling the award to $283,949.91.
"Trump elected to fight this case 'tooth and nail' instead of resolving it for a reasonable amount, driving up Paint Spot's litigation fees and costs," the judge explained.
The Trump trial attorneys did not respond to requests for comment, nor did the Trump Organization's general counsel. The attorney handling the appeal, Bruce Rogow, did not respond to a question about who should have paid Enriquez for the paint used at Doral.
"Florida Statutes on liens are very specific and the appeal seeks to enforce those statutes which would mean that there was no valid lien to begin with and therefore the plaintiff was not entitled to any relief," he wrote in an email. "That really is all that is at issue."
Rogow did not respond to a question about whether the president-elect was personally involved in the decision to appeal the judgement. A spokesperson for Trump also did not respond to questions from NBC News.
Vega said he is confident The Paint Spot will win the appeal. But if he loses, he said, Enriquez could be saddled with Trump legal fees and might face bankruptcy. Trump's attorney declined to say whether they would seek to recoup the legal fees.
Despite the stakes, Vega said he and his client were not afraid to take on the litigious billionaire.
"The Paint Spot is also owned by a proud small business owner... and he felt and we agreed that he was right factually and legally and therefore, we both decided to take on the risk," Vega said.