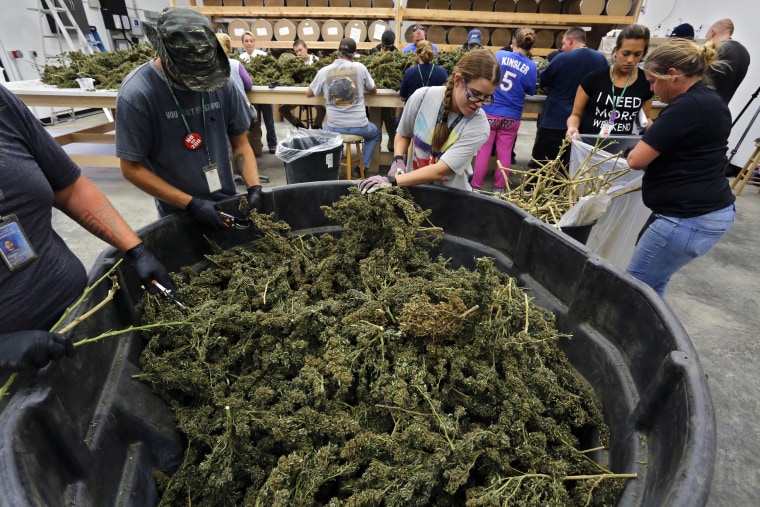 Attorney General Jeff Sessions was confirmed last Wednesday night by a party-line vote after hours of protest speeches by Senate Democrats.
Most of those protests centered on high-profile accusations of racism as well as Sessions' record of opposing LGBTQ and reproductive rights. But there's another policy issue that has advocacy groups, businesses, and even law enforcement concerned about Sessions as head of the Justice Department: His plans for federal marijuana policy.
The cannabis industry operates in an unusual legal gray area, as individual states have quickly moved to legalize a drug that's still classified as a illegal by the federal government.
Though petitions have been filed over and over since 1972 in efforts to de-schedule the drug, marijuana is still classified by the DEA as a Schedule I substance — meaning it's considered more dangerous than cocaine (Schedule II) or ketamine (Schedule III).
Despite federal law, eight U.S. states have legalized adult-use marijuana markets in the past few years, with Colorado, Washington, Oregon, California, Alaska, Nevada, Massachusetts, and Maine all allowing pot to be sold in stores. In addition, medical marijuana programs are implemented in 28 states.
Some may scoff at legalizing pot, but money talks: Colorado alone brought in $1.3 billion from sales of recreational and medical cannabis in 2016, according to the Denver Post's Cannabist blog.
All of that could be at risk under Attorney General Jeff Sessions, a notorious cannabis foe who said "Good people don't smoke marijuana" during an April 2016 hearing of the Senate Drug Caucus.
"Don't get me wrong, nothing surprises me with this administration. But the federal government doesn't have the resources to effectively go after states where these laws have already passed"
"We need grown-ups in charge in Washington to say that marijuana is not the kind of thing that ought to be legalized, it ought not to be minimized, that it's in fact a very real danger," Sessions said during the hearing.
Sessions was also famously accused of telling late assistant U.S. Attorney Thomas Figures that he thought the KKK was "OK until I found out they smoked pot," after learning that Klan members had gotten high the night they kidnapped a murdered a young black man.
Sessions has insisted that he was joking when he made that statement, but that kind of animosity has made some marijuana policy experts question where he stands on federal enforcement in legal-marijuana states. In a statement emailed to NBC News, Robert Capecchi of the Marijuana Policy Project said he was "cautiously optimistic."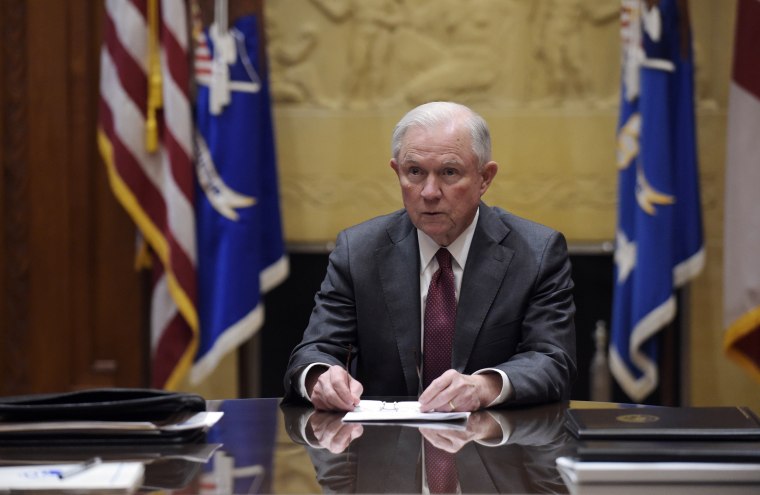 "President Trump has consistently said that states should be able to determine their own marijuana laws, and his spokesperson made it clear that the attorney general will be implementing the Trump agenda," said Capecchi. "We are hopeful that Mr. Sessions will follow the president's lead and respect states' rights on marijuana policy."
Trump hasn't always been consistent on marijuana. During a campaign rally in Reno, Nevada, last year, Trump appeared to support both medical and adult-use cannabis.
"The marijuana thing is such a big thing. I think medical should happen, right? Don't we agree? I mean, I think so," said Trump, adding, "In terms of marijuana, I think, and legalization, I think that should be a state issue, state by state."
Trump also told Fox News, however, that Colorado's legal marijuana market was "causing a lot of problems out there," in a February 2016 interview.
With a flip-flopping administration, some law enforcement officials have adopted a wait-and-see attitude on Sessions and drug policy.
LEAP (Law Enforcement Action Partnership) is one group of retired law enforcement professionals that works to end the war on drugs, advocating for alternatives to arrest and incarceration and for redirecting resources to fight violent crime. The organization's executive director, Maryland State Police veteran Major Neill Franklin, told NBC News that despite Sessions' stated opposition to marijuana use, "He's smart enough to know this isn't about how he personally feels."
"Don't get me wrong, nothing surprises me with this administration. But the federal government doesn't have the resources to effectively go after states where these laws have already passed," Franklin said.
Franklin said he'll be keeping an eye on two Obama-era memorandums: the Ogden memo and the Cole memo, which asserted that federal government resources wouldn't go towards disrupting state law-abiding cannabis businesses but instead go towards enforcing things like the ban on interstate drug commerce and preventing drugged driving.
"Rescinding those memos would be an indicator that he may potentially do something," said Franklin, who suggested that if Sessions were to direct the Justice Department to crack down on adult-use and medical states, it would be "a disaster for this administration."
Some members of Congress are trying to ensure that Sessions can't roll back the legal marijuana industry. On February 7, Rep. Dana Rohrabacher (R-CA) introduced the Respect State Marijuana Laws Act to exempt users and businesses from the Controlled Substances Act as long as they are compliant with state laws.
That legislation could make it a lot easier to do business. Currently, legal cannabis companies struggle to open accounts at banks that fear repercussions from the feds. Another restriction for marijuana business owners is the rule against crossing state borders with any sort of cannabis product — even from California to Oregon.
"It's a dynamic entrepreneurial ecosystem," said Adam Grossman, CEO of topical cannabis manufacturer Papa & Barkley. "You have to have suppliers in each state."
Papa & Barkley only just launched in June, but after sinking investments into building facilities and employees, Grossman estimates a loss would be in the millions were his business somehow forced to shut down by the feds.
"We're living in a different world now," said Grossman, in reference to the Trump administration. "But on some level, I can't really position the company in response to federal policy. I'm just building a company, taking care of my employees, and bringing people some relief with these products."