A federal appeals court on Saturday halted a judge's decision to overturn a ban on same-sex marriage in Michigan – hours after dozens of gay couples in the state flocked to courthouses for marriage licenses.
Courthouses in four counties opened outside of normal weekday hours to issue marriage licenses after U.S. District Judge Bernard Friedman struck down the ban Friday.
But State Attorney General Bill Schuette appealed that decision and requested the emergency stay.
In the meantime, gay couples were already anxious that their chance to legally tie the knot in Michigan would not last long.
"Monday could be a completely different world in Michigan," said Republican political strategist Greg McNeilly, who married his partner of more than 12 years, Doug Meeks, in Ingham County on Saturday morning.
But by the afternoon, after dozens of couples in the state said their vows, the appeals court issued a temporary stay at least through Wednesday.
The court also said Saturday that the original plaintiffs in the case, April DeBoer and Jayne Rowse, had until noon Tuesday to respond to Schuette's appeal.
DeBoer and Rowse challenged the 2004 Michigan ban on gay marriage by filing a lawsuit in 2012 because they weren't lawfully allowed to jointly adopt one another's children.
Despite other couples' rush to get hitched early Saturday, Rowse and DeBoer bowed out. "We will be getting married — when we know that our marriage is forever binding," DeBoer said.
But others took advantage of that small window of time.
McNeilly told NBC News earlier Saturday that he and Meeks were "elated and excited."
"We went to bed last night very happy with the court ruling, but none of the courts said they were going to issue [marriage licenses]," he said.
On Saturday morning though, they found out that Ingham County Clerk Barb Byrum wanted to press ahead with issuing licenses immediately.
"People have waited long enough," Byrum tweeted. "I was sick with myself with the idea of waiting until Monday."
Less than an hour later, she posted a picture of Glenna DeJong, 53, and Marsha Caspar, 51 — the first gay couple to receive a Michigan marriage license.
"I still can't believe it. I don't think it's hit me yet," Caspar told The Associated Press. The newlyweds have been together for 27 years.
"Love is love," Byrum wrote on her Twitter as she posted more pictures of smiling couples.
McNeilly said in the 90 minutes that he and Meeks waited on line at the courthouse, Byrum had officiated about 30 marriages.
McNeilly said the news of open courthouses spread rapidly on social media, but many gay couples might not be aware of the opportunity. "Hopefully they will be able to take advantage Monday morning," he said.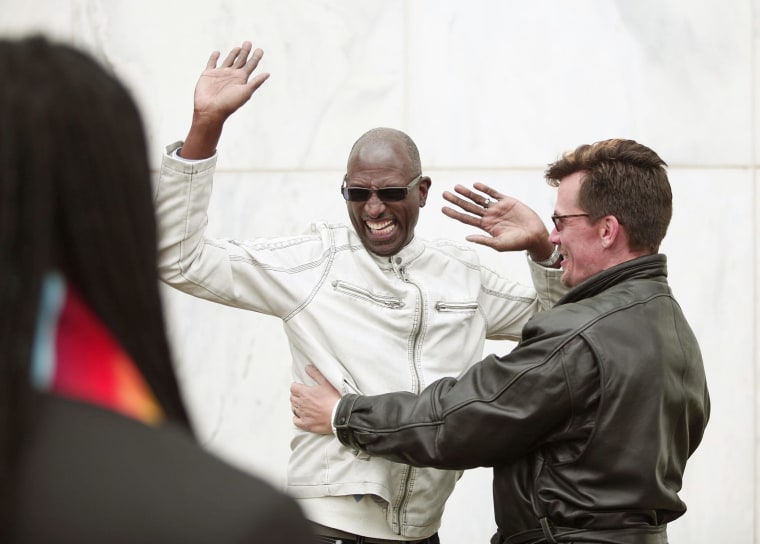 In a similar situation in Utah, three weeks passed before the U.S. Supreme Court suspended the decision that struck down Utah's gay marriage ban last December. Gay couples in Utah who were wed during that time are in a legal limbo: Benefits they have already received can't be revoked, but they also cannot pursue new benefits.
McNeilly said the stay was a "potential issue," but said his new nuptials are an "added layer of attention and recognition." Equal marriage rights go "a long way to increase acceptance," he said.
And Bill Freeman, a pastor with the Harbor Unitarian Universalist Congregation, was undeterred before the stay was announced Saturday afternoon.
"We're trying to beat Bill Schuette to the punch," Freeman, who officiated at least eight weddings in Muskegon on Saturday, told the AP.
"We want to get these weddings done while they're legal," he said.
The Associated Press contributed to this report.