Tim Conway, who made generations of Americans laugh on TV shows such as "McHale's Navy" and "The Carol Burnett Show," died Tuesday morning, his publicist said.
He was 85.
Conway won multiple Emmy Awards, most recently in 2008 for his role as a guest star on the comedy show "30 Rock" in which he played Bucky Bright, an old, long-forgotten television star.
The actor's big break in Hollywood came on "McHale's Navy," when Conway was cast to play Ensign Charles Parker. He was nominated for a best supporting actor Emmy in 1963.
Download the NBC News app for breaking news and politics
But he'll probably be best known for his work on "Carol Burnett," the iconic 1970s sketch comedy show that included the likes of Burnett, Conway, Harvey Korman, Lyle Waggoner and Vicki Lawrence.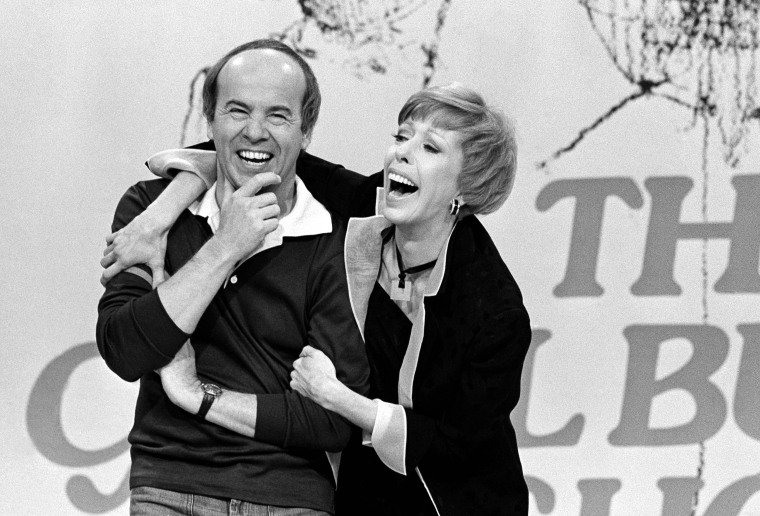 Conway won Emmys for best supporting performer in 1973, 1977 and 1978 for his "Burnett" work.
He stole many a scene on "Burnett," with cameras often catching Burnett and Korman struggling — and usually failing — to keep straight faces after something Conway had said or done something hilarious.
"I'm heartbroken," Burnett said in a statement Tuesday, shortly after Conway's passing.
"He was one in a million, not only as a brilliant comedian but as a loving human being. I cherish the times we had together both on the screen and off. He'll be in my heart forever."
Conway, a native of Ohio, said his Midwestern roots played well on "Burnett" and its more gentle, non-offensive comedy takes.
"I think the Midwest is the heart of comedy in this country, and a little bit of the South, too," he told the Wisconsin State Journal in 2005. "For some reason, we're just more laid-back, more understanding. ... And Midwesterners have a kinder sense of humor."
Even after his time on "Burnett," Conway kept working and remained a relevant comedy force. In the 1980s, he produced a series of popular comedy VHS tapes with the character "Dorf," a diminutive persona who hilariously tried to teach viewers how to fish, play golf and baseball.
He made an impact on later generations as the voice of Barnacle Boy on the popular animated series "SpongeBob SquarePants."
Thomas Daniel Conway was born Dec. 15, 1933, in the Cleveland suburb of Willoughby, Ohio.
He attended Bowling Green State University and served in the U.S. Army, before launching into his comedic acting career.
He was spotted by comedienne and "The Dick Van Dyke Show" co-star Rose Marie, who got him an audition for "The Steve Allen Show."
"So sad to hear about Tim Conway. 'Discovering' Tim and managing him for a time, was a source of tremendous pride for Mother. He was, after all, one of the funniest men on the planet!" according to a tweet from Rose Marie's family.
"He was a really nice man who happened to be hysterical. Man could he make my dad laugh! So funny!"
Conway became a regular on Allen's show in the early 1960s, and it was the host who urged him to change his name to "Tim" Conway, to separate himself from a British actor named Tom Conway.
Conway and his first wife, Mary Anne Dalton, had six children. After they divorced in 1978, Conway married Charlene Fusco in 1984.
Fusco and one of his daughters, Jackie, were at his side when Conway passed away in Southern California, according to the actor's publicist.