Legendary fashion designer Oscar de la Renta, whose intricate and over-the-top gowns were for years a fixture of the social and political establishment, died on Monday. He was 82.
De la Renta died surrounded by family, friends and "more than a few dogs," according to a handwritten statement signed by his stepdaughter Eliza Reed Bolen and her husband, Alex Bolen and given to The Associated Press. The statement did not specify a cause of death.
"While our hearts are broken by the idea of life without Oscar, he is still very much with us. Oscar's hard work, his intelligence and his love of life are at the heart of our company," the statement said. "
Born in the Dominican Republic, de la Renta began his career working for Cristóbal Balenciaga, a Spanish couturier. He broke off on his own in 1967, launching his eponymous line in a shop on New York's 7th Avenue, where the company is still headquartered. Over the next 49 years he dressed first ladies — including the last four — and presided over a social life that included pop stars and political heavyweights. He was known as a perfectionist and he was working almost to the end, having most recently designed the wedding dress of Amal Alamuddin, George Clooney's new wife.
The Clinton family praised de la Renta's "singular talent and exquisite taste," saying that they will always be grateful for the love the designer showed their family.
"His warmth and friendship will be missed by our family and all whose lives he touched in his extraordinary journey," they said in a statement. "Oscar's remarkable eye was matched only by his generous heart."
Former First Lady Laura Bush said she and her husband were "deeply saddened" by the loss of their "dear friend."
"We will miss Oscar's generous and warm personality, his charm, and his wonderful talents," she said in a statement. "We will always remember him as the man who made women look and feel beautiful."
De la Renta is survived by his second wife, the socialite Annette Engelhard de la Renta. His first wife, Françoise de Langlade, died in 1983 of cancer. He had no children. But just last week it was announced that he had selected a successor — the designer Peter Copping, who was going to work with him.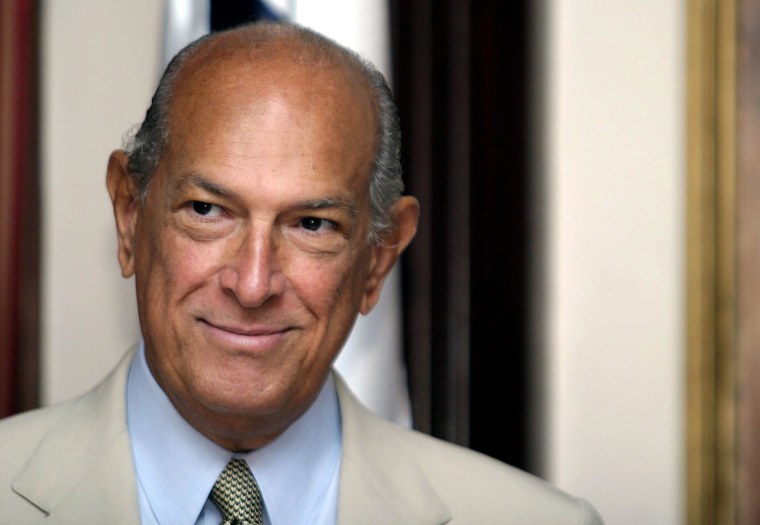 SOCIAL
— Tony Dokoupil