Honolulu will pay $80,000 to a lesbian couple who sued the city and a police officer after they were allegedly arrested for showing affection in a grocery store.
In exchange for the funds, the pair — Courtney Wilson and Taylor Guerrero — have agreed to dismiss claims against the city and Officer Bobby Harrison.
"The Department of the Corporation Counsel believes that the tentative settlement is in the best interests of the city," Donna Leong, the city's top attorney, said in a statement Friday.
In a lawsuit filed last October, the Los Angeles natives alleged that Harrison saw them holding hands and kissing in a grocery store in March of 2015 and told them to stop and "take it somewhere else."
When they didn't comply, the situation escalated and eventually Harrison "threw Plaintiff Guerrero on to the ground, striking Plaintiff Wilson in the process, and placed both of them in restraints," according to the suit.
Guerrero and Wilson were arrested and jailed for two days on charges of assault on a law enforcement officer, which were eventually dropped, the suit said.
At the time, Honolulu Police Department spokeswoman Michelle Yu told NBC News that the department opened an internal investigation into the incident.
"The internal investigation was completed, and the allegations were not sustained," Yu recently wrote in an email to The Associated Press. Harrison retired at the end of last year, she said.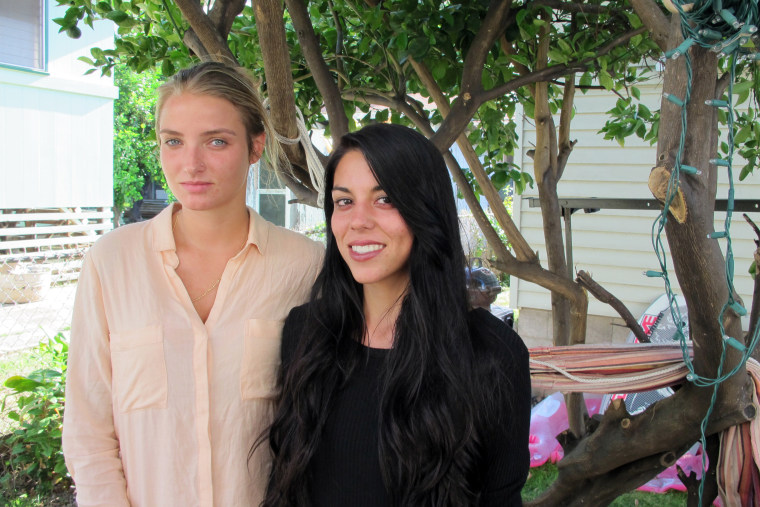 The lawsuit sought unspecified damages. Wilson told NBC affiliate KHNL after the announcement of the settlement that she wasn't looking for money, but that Harrison "suffer(s) some sort of repercussions for his actions."
Still, she hopes something good can come out of the attention the story has garnered.
"For the publicity that it has gained, I hope that people saw it and it gives them inspiration to stand up for the civil rights that we have and to not tolerate bigotry behavior like that because it's not acceptable," she said.
Guerrero and Wilson have since split, but they remain friends, Wilson said. She returned to Los Angeles and Guerrero ended up working and living in Honolulu partly because a condition of their release from jail required them to stay on the island. By the time the charges were dismissed, Guerrero discovered she liked living there.
Guerrero said she's happy with the money from the settlement, which the pair plans to split after paying their attorneys. "I'm just glad it's over with," she said.