A lesbian couple vacationing in Hawaii last winter filed a lawsuit this week against an off-duty local police officer who they say harassed and wrongfully arrested them over public displays of affection in a grocery store.
Courtney Wilson and Taylor Guerrero, of Los Angeles, claimed they were on their second day of vacation on the island of Oahu, when they were thrown behind bars after kissing and holding hands at a Honolulu grocery store in March, according to a federal lawsuit filed Tuesday by the couple.
According to the lawsuit, Honolulu Police Officer Bobby Harrison began to harass them after noticing their public displays of affection at a Foodland store.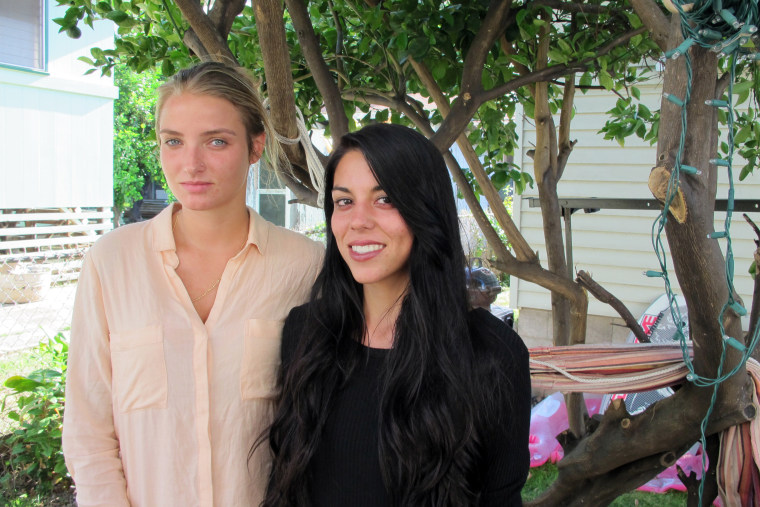 "Hey, you girls can't do that in here," Guerrero, 22, said she heard the officer say from across the store.
"We were holding hands and I was kissing her cheek," she added, speaking at a press conference on Wednesday.
The women stopped and kept shopping, according to the suit, but when Harrison later saw them engaging in similar affectionate behavior, he threatened to throw them out of the store.
He was off duty but in uniform at the time, according to police.
The officer followed the couple to the cashier line and said the store was going to issue them a written trespass notice, the suit alleges.
Wilson, 25, said at the press conference she was "confused as to what exactly we did ... I called the police myself."
She said she was on the phone with police when Harrison grabbed her arm and Guerrero stepped in to move between her girlfriend and the officer.
That's when Wilson says the officer struck her and threw Guerrero to the ground.
"The whole altercation that happened, it escalated so quickly," Wilson told NBC News on Thursday. "I mean, I got punched in the face by a man."
Wilson and Guerrero were arrested and charged with assault on a law enforcement officer. They remained in jail for two days before posting bail and paying $1,300 each, Wilson said.
Honolulu Police Department Spokeswoman Michelle Yu told NBC News the department opened an internal investigation into the incident on Wednesday, a day after the women filed suit against Harrison and the city. Harrison is a 26-year veteran of the force, she said.
Wilson said that as a condition of their release, the couple had to remain in Honolulu for months and thus were forced to stay in Hawaii with minimal funds.
"We didn't have a lot of money," she told NBC News. "We were just coming out here for a few days. We were really thrown for a loop."
The two wound up sleeping in a park, staying with family friends or strangers and found work cleaning vacation rentals, Wilson said. Guerrero, who had worked at a restaurant in Santa Monica, California, lost her job.
The charges against the couple were later withdrawn and dismissed.
Wilson and Guerrero claim in their lawsuit that they suffered physical injuries as well as "great humiliation, embarrassment and emotional distress" due to the incident. The lawsuit is seeking unspecified damages.
Wilson said the pair faced "a lot of long nights and being quite miserable."
Because of the legal and financial issues, the two are still currently living in Hawaii for the time being.
"It was just a really hard time we were coming out here for a vacation, this was the last thing we expected," she said.