The gunman suspected of terrorizing Phoenix-area drivers in a series of highway shootings pleaded not guilty Thursday to the felony charges against him.
Leslie Allen Merritt Jr., 21, was arraigned in Maricopa County Superior Court on 15 counts — including for drive-by shooting, intentional acts of terrorism and disorderly conduct involving a weapon.
Prosecutors say Merritt, a landscaper, was involved in the first four of 11 shootings that targeted random drivers on Interstate 10 over two weeks. The first three shootings took place Aug. 29, and the fourth occurred the following day, police said.
The charges associated with each shooting carry more than 100 years in prison,NBC affiliate KPNX reported.
While vehicles were damaged by bullets, no one was seriously hurt. A 13-year-old girl was injured by flying glass, but she refused treatment.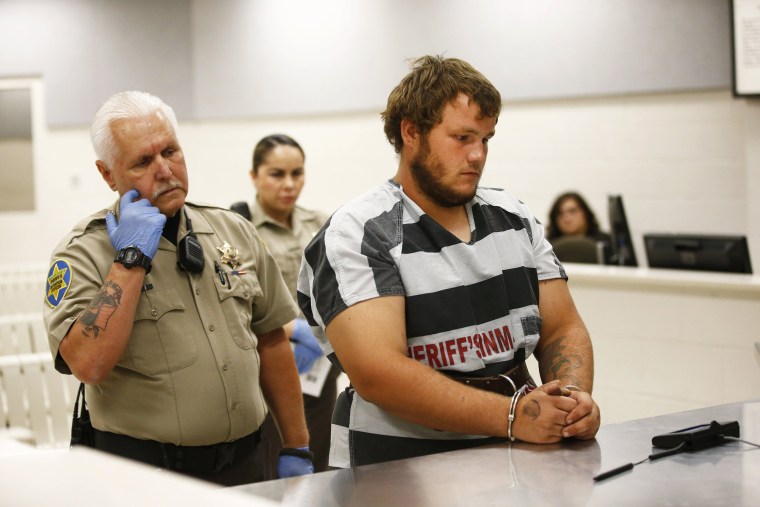 Related: Suspect Charged in Four Arizona Freeway Shootings
Merritt was arrested on Sept. 18 after law enforcement said ballistic testing linked the shootings to him. Merritt, at his previous court appearance, told the judge that he couldn't have committed the crimes because his "gun's been in the pawn shop for the last two months."
But evidence showed the firearm had not been in a pawn shop at the time of the four shootings, police said, and the shop's owner confirmed that the gun was picked up on Aug. 22 before being brought back on Aug. 30 — the same day of the fourth shooting.
Merritt remains jailed in lieu of $1 million bail, with his next court date set for Nov. 18.
Authorities believe copycats are responsible for the remaining seven incidents and have asked the public for help to identify other persons of interest. No other freeway shootings have been reported since Sept. 10.