Two Confederate monuments were removed from Fayette County courthouse grounds in Lexington, Kentucky, overnight Tuesday.
Monuments to former U.S. Vice President John C. Breckinridge and Confederate General John Hunt Morgan had stood in downtown Lexington for more than 130 years.
In August, just days after a rally about Confederate monuments turned violent in Charlottesville, Virginia, the Lexington Fayette-Urban County Council leaders voted to relocate the statues, according to NBC affiliate LEX 18. However, the city previously said the Kentucky Military Heritage Commission had to approve the decision, reported the Lexington Herald Leader.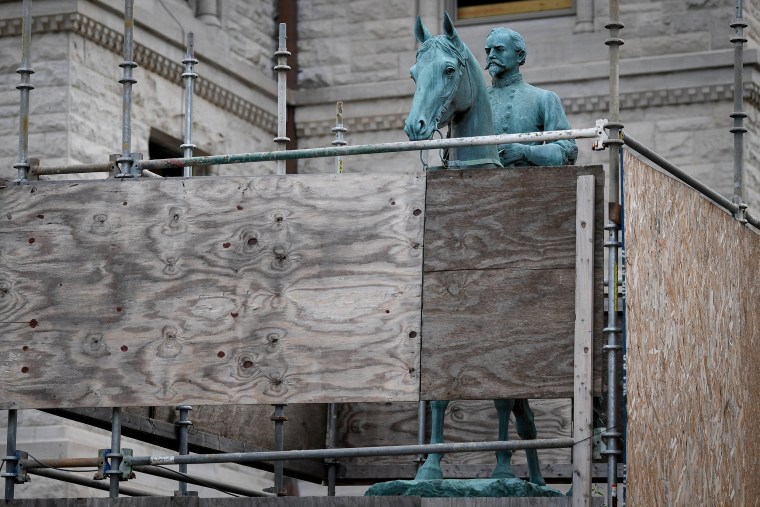 Attorney General Andy Beshear advised the mayor's office on Tuesday that the removal could occur without the consent of the commission.
The unexpected removal occurred around 6:30 p.m. Tuesday. A small crowd cheered as the statues were readied for removal, according to the Herald Leader.
In August, Major Jim Gray released a statement on Twitter immediately after the council's vote.
"By relocating these statues we are not destroying, hiding or sanitizing history," he said. "We are honoring and learning our history through this relocation."
Beshear confirmed that the city's previous mayor Teresa Isaac did not have prior authorization in 2003 to apply for the statues to be Kentucky military heritage sites.
Related: A New Confederate Monument Goes Up in Alabama
Gray said in a statement provided to the Herald Leader that the action wasn't lawful. As a result, local authorities retain jurisdiction over the decision of what to do with the statues.
"The Attorney General confirmed our finding this morning. That means our local authority remains intact; this is a local decision, as it should be," Grey said in the statement. "This council has unanimously supported moving the statues to the Lexington Cemetery. The cemetery trustees have voiced their conditional approval. That's what we intend to do."
Just past midnight on Wednesday, the John Hunt Morgan statue was lifted by a crane and put onto a flat bed. Both statues have been moved to a storage facility until city finalizes agreement with Lexington cemetery, Gray said according to LEX 18.