In Hennepin County, Minnesota, 220 library workers face a dilemma: take unpaid leave or get reassigned to work in hotels housing homeless people, including some with COVID-19 symptoms, with no extra pay.
The offer came last week from county Administrator David Hough, who told staff that there wasn't enough work for them to do from home while the libraries were closed. Workers who don't want to move to the higher-risk jobs — of which there are only 50 positions — can use their remaining paid time off or eat into future paid leave allocations that they will owe the county.
"People are being forced into an impossible position," said Ali Fuhrman, president of the local union that represents the library workers. "Go into debt, use your own benefits or take on a risky job at no extra compensation."
The Hennepin workers are among a growing group of library employees across the United States who have been organizing to fight for better working conditions amid the coronavirus pandemic.
Full coverage of the coronavirus outbreak
Despite the American Library Association recommending in a statement March 17 that libraries close to the public, many librarians and support staff are still being asked to travel to work or risk being laid off, organizers say, even though many services could be delivered remotely.
Libraries in states across the country, including in New York, Iowa, Florida, California and Minnesota, have started offering curbside pickups to reduce contact between workers and patrons. Organizers believe this puts librarians at an unnecessary risk.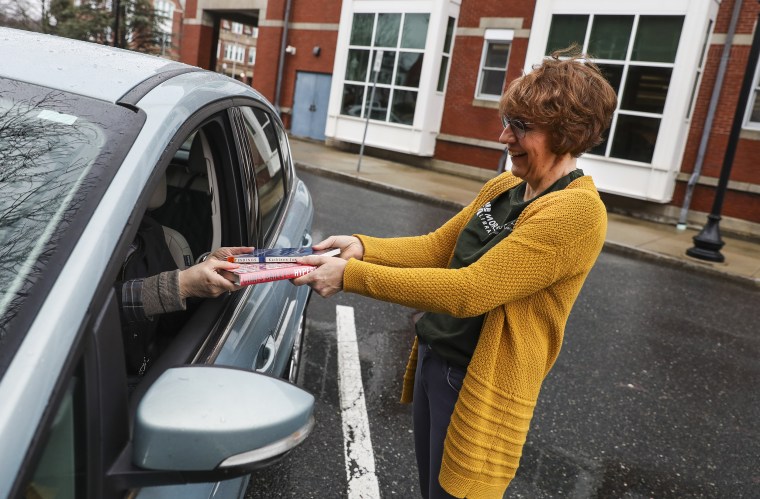 "All library staff should be sent home with pay until further notice," said Alison Macrina, a Philadelphia-based librarian and founder of the Library Freedom Project, a collective of librarians who campaign against surveillance.
"We don't have sufficient information about how long the virus can live on certain surfaces," Macrina said. "And librarians don't have the cleaning supplies or training to deal with hazardous materials."
The 220 Hennepin library workers had not been offered any alternative reassignments outside of the 50 roles in the hotels being used as homeless shelters.
In a statement, Hough, the Hennepin County administrator, said that the county had spent millions of tax dollars for unanticipated expenses to prepare for and fight the pandemic and that it was "no longer feasible" for the 220 library workers, plus another 81 clerical workers, to "continue working from home without work to do."
"This was a difficult action to take for our organization and it was not done lightly," he said.
Over the last month, Macrina has been drawing on her existing network to help coordinate the #closethelibraries campaign, which calls to close library buildings not only to the public but also to library staff. Using mailing lists, Zoom calls, Google Docs, Facebook groups and Twitter, Macrina and hundreds of other library workers have come together to garner public support to put pressure on management and local governments to demand safer working conditions.
Organizers are concerned that if they lose their jobs or close down permanently, the long-term consequences for low-income members of the community, who rely on libraries to get online and access social services, will be dire.
Library staff, particularly those in urban areas, spend a lot of time helping people apply for jobs, housing and government services that have shifted online -- services that will be more critical than ever when the pandemic is over and libraries reopen.
"Libraries are used by poor people, homeless people and others with a need for basic social services that have been destroyed over the years," Macrina said. "It's heartbreaking to take another necessary service away from their lives, but we have to do it because it's a life or death situation."
Since the campaign launched in mid-March, most libraries across the U.S. have closed to the public, but in some places staff are still required to travel to work to answer phone and email queries, facilitate curbside pickups of books, and carry out other administrative duties. Staff who aren't required to travel to work have in some cases been laid off, made to use their paid time off during self-isolation or been reassigned to higher-risk roles without additional compensation.
Many of the duties performed at the library could be done at home, in compliance with social isolation recommendations, organizers say.
"A lot of what we do can be done remotely," said Callan Bignoli, a Boston-based librarian and one of the leading organizers of the campaign, referencing ebook rentals and virtual storytime for children.
The campaign comes at a time when local and state governments are scrambling to find or reallocate funds to deal with the COVID-19 outbreak. However, organizers believe cutting budgets for jobs that have already been accounted for is being shortsighted.
"I don't understand the justification of laying people off and then having to bail them out," Bignoli said.
One Massachusetts research librarian, who asked not to be named for fear of retaliation, said that she still has to work part time in the library even though she can perform the same duties from home.
"They still have us going into buildings that haven't been cleaned, with no cleaning supplies, no hand sanitizer and no wipes," she said. She brings her own wipes from home to clean door handles and printers.
Download the NBC News app for full coverage of the coronavirus outbreak
The research librarian said that going into work was "performative" and creates an unnecessary risk for staff members, who could be working on programming, genealogy research, event design, developing budgets and engaging with members of the public from the safety of their homes.
Many of the library workers are collaborating with the #closethelibraries campaign privately but afraid to speak publicly out of fear for their jobs, Bignoli said.
In one library in Massachusetts, employees complained about not being allowed to work from home and encouraged members of the public to contact local policymakers. The flood of calls and emails led the mayor to threaten to reduce the library's funding. In response, library workers had to write a letter of apology, according to two people familiar with the matter, who asked that the name of the library not be published, fearing further retaliation.
"I know what the hospitals are like right now. I know what the PPE situation is like right now. This is not about reducing the risk that someone gets sick, it's about reducing the risk that someone will need a ventilator that someone else is depending on," the Massachusetts research librarian said referring to personal protective equipment,
Some libraries have developed elaborate systems for lending books in a way that mitigates the risk to employees. In Sierra Madre, California, patrons place their library card on a table outside, near the front door, before moving 20 feet to a covered waiting area. The staff member, wearing gloves and a mask, then checks the patron's identity, fetches the requested books and places them on the table before closing the library door. Only then can the patron move from the waiting area back to the table to collect their ID and books.
"I love what I do, but nothing we can do right now is more important than keeping people safe," Bignoli said. "Using masks and gloves to deliver library books is gross. There are medical professionals, nursing homes and immunocompromised people who need them more than librarians do."