The second of two inmates captured in New Mexico Saturday after escaping from a prison van Wednesday said he "had fun" during his time free, and claimed his restraints simply "fell off."
Lionel Clah, 29, made the comments to reporters as he was led into New Mexico State Police headquarters in Carlisle Saturday.
When asked how he escaped from the a police van and make it about 250 miles from Artesia to where he was captured in Albuquerque, Clah said, "I did it myself."
"The door was open," he said.
New Mexico Corrections Department said the two inmates were wearing leg irons, belly chains and handcuffs at the time of their escape. Clah said those "just fell off."
Asked how he got out of the restraints, he said: "Spend 10 years in prison, and you'll figure that out."
He said during his brief time on the run, he "just had fun."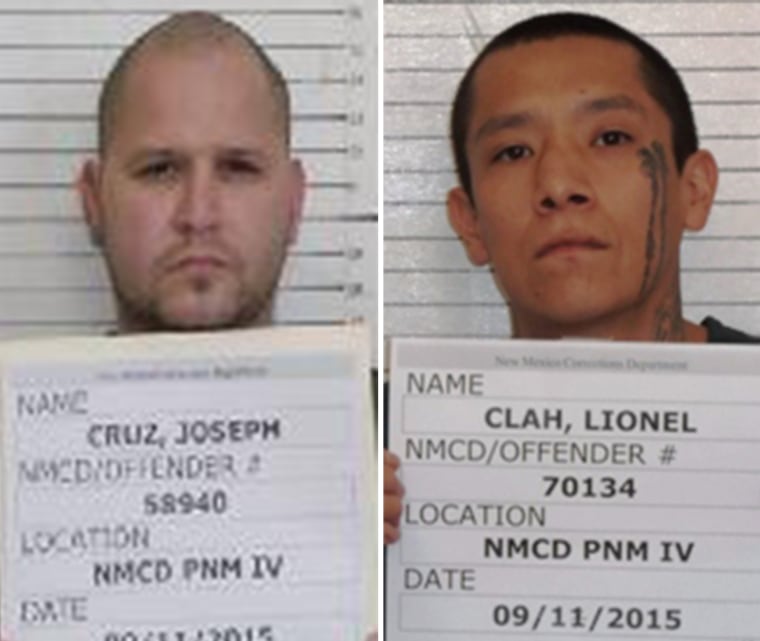 Clah was arrested at about 3 p.m. local time Saturday (4 p.m. ET), the Albuquerque Police Department said. Simon Drobik, an officer with the department, said a woman called saying Clah was holed up in her apartment.
When officers arrived, they saw smoke coming out of a closed door and called tactical teams for backup. After about an hour, Clah came out of the apartment and surrendered, Drobik said.
Police are investigating how Clah got into the woman's apartment. He said she said she was away for two days but had "some sort of relationship" to Clah, and "if she has anything to do with harboring him she will be finding herself in jail with him also."
"If someone bought this guy a sandwich or this other guy a sandwich, they will be sitting in jail with them shortly for harboring a fugitive," Drobik said.
"These guys, they're on the run and they're unpredictable," he added. "Thank God that this guy stepped out and surrendered to us."
The other escapee, Joseph Cruz, 32, was caught Friday following a brief foot chase near the University of New Mexico campus shortly after 5:30 p.m. local time, said New Mexico State Police Chief Pete Kassetas.
The first arrest happened just hours after police announced the manhunt was expanding and warned anyone against providing assistance to the escapees.
The U.S. Marshals said the search had grown to Texas and California, and were offering a $10,000 reward for information leading to the capture of either man.
Cruz was sentenced in 2006 for murder in the first degree, attempted murder and child abuse.
Clah is serving time for armed robbery with a deadly weapon, conspiracy to commit armed robbery and assault with intent to commit a violent felony upon a peace officer.