An incident at the Indianapolis Zoo when a lioness killed the father of her three offspring is extremely rare, wildlife experts said Monday.
"There is not a case of this within recent memory where we've seen a lioness attack her mate," said Hollie Colahan, a lion Species Survival Plan coordinator for the Association of Zoos and Aquariums, a nonprofit organization in the Maryland suburbs of Washington, D.C.
"We've had a very small number of incidents of male-on-male or female-on-female, but for an incident to arise from a female attacking a male is very unusual," Colahan said.
The zoo said in a statement on Friday that Nyack, a 10-year-old male African lion, had died after staff found him held in a tight grip by Zuri, a 12-year-old female, hours before the zoo opened last Monday. The two big felines had been together in the same habitat for eight years, breeding three cubs in 2015.
The lioness had been on loan from the Denver Zoo and the male from the San Diego Zoo as part of the Species Survival Plan managed by the Association of Zoos and Aquariums.
"We consider this to be very rare," said David Hagan, a curator for the Indianapolis Zoo. "It was a total shock to the animal care team."
The staff began to reach out to wildlife researchers and experts on lion behavior immediately after the incident to try to make sense of the rare occurrence.
Craig Packer, head of the Lion Center at the University of Minnesota, was one of their first calls.
"What I understand from the zoo is that this was a very unusual male and an unusual female," Packer said in an interview on Monday. "The male was very weak and submissive, and the female was very dominant of the male."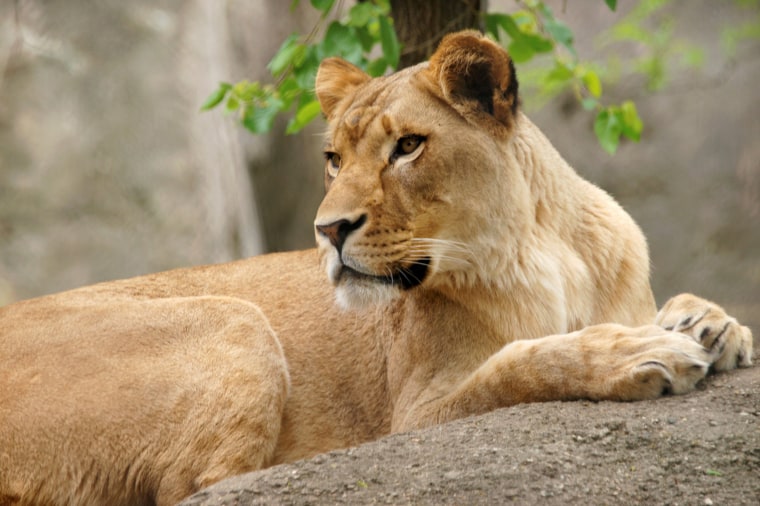 "It's almost as if [the male lion] was just too wimpy, like some sort of metrosexual, and he didn't live up to the macho standard of male lion behavior," he said.
Other experts said certain normal standards of lion behavior could also explain the incident.
Anna Moser, a researcher on wildlife ecology and animal behavior at the University of Minnesota, said a possible clue might have been the proximity of the two lions for such a long time.
Male and female lions "don't really participate in raising their offspring together. They're not bonded like other animals, and the males only stay for about the two years of the cubs' lives," Moser said. "The female tends to stay with the offspring, and the males go off and join other prides."
Zuri's and Nyack's offspring — two males, named Enzi and Mishaka, and a female, named Sukari — are considered young adults by the wildlife standards because they are 3 years old.
Paul Funston, the Southern Africa regional director for Panthera, an international wildcat conservation organization, said this incident would have been rare in the wild, where a male lion would have had the opportunity to leave after the cubs turned 2.
"This is something you almost never see," Funston said. "I think this is sort of a freak incident, associated with the fact that lions are kept in captivity."
Even with various likely theories, zoo staffers and other experts agreed that they may never know what caused the incident.
"The key thing to remember is that there is nobody to blame for this, because this kind of incident has never been observed before," Packer said.
The Indianapolis Zoo remains open, and an investigation remains underway.
"Currently at this time, we continue to take in information to determine to see what our next steps will be, and we are working with the Association of Zoos and Aquariums to develop best practices," Hagan said. "It is too early to say what those changes may be."