HARRISBURG, Pa. — A small-town police officer who fatally shot an unarmed motorist in the back as he lay face down on the ground was acquitted Thursday at her murder trial.
A Dauphin County jury acquitted Hummelstown Officer Lisa Mearkle of third-degree murder and voluntary and involuntary manslaughter charges in a shooting captured by a camera attached to her stun gun.
The video, which was played to jurors, showed Mearkle shocking 59-year-old David Kassick after he fled from a traffic stop before shooting him twice in the back as he lay face down in the snow in February.
After the verdict, Mearkle tearfully said she was sorry the shooting had happened.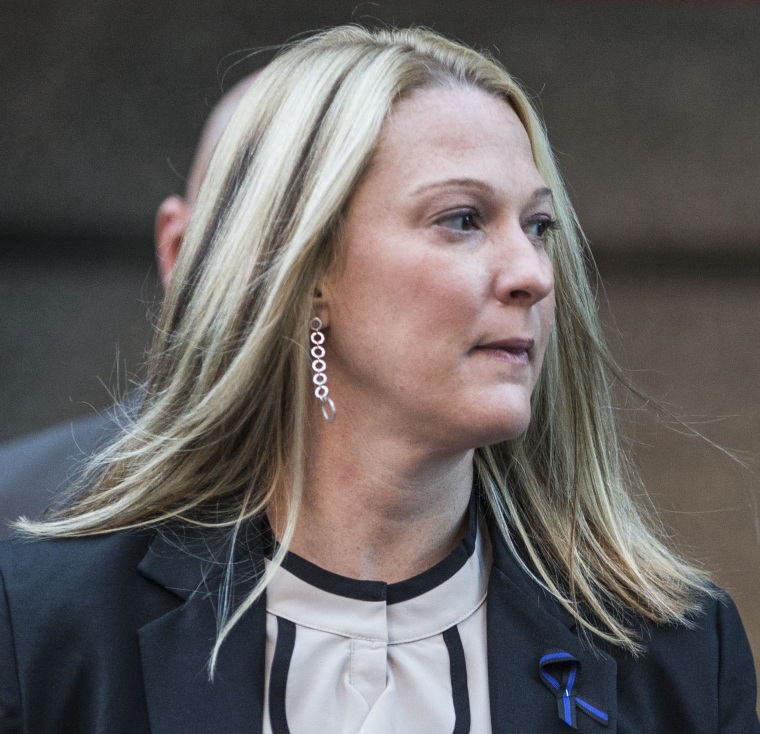 "I feel relief right now, but it's going to take a little bit for me to get back to my normal self," she told reporters. "This has taken a toll on me that nobody understands."
Mearkle said she wanted Kassick's family to know that: "I truly wish it didn't happen. I want them to know that. I didn't want to shoot anybody."
Mearkle, 37, testified Wednesday that she believed Kassick was still a threat even after she shocked him repeatedly with a stun gun.
In the video, which was later released to the public after the verdict was handed down, Kassick's hands repeatedly disappeared underneath his body as Mearkle screamed at him to keep them where she could see them and then fired the fatal shots.
Mearkle's lawyer, Brian Perry, said Kassick's actions needed to be watched carefully, arguing that the conflict had escalated to the point where it was reasonable for Mearkle to conclude that Kassick was reaching for a weapon.
"It's unfortunate, it's tragic, nobody is celebrating death, but we think the jury reached the right verdict," Perry said.
During the trial, prosecutor Johnny Baer had argued that Mearkle "took David's life without justification. Took it unnecessarily."
The encounter began when Mearkle attempted to pull over Kassick after noticing an expired inspection sticker on his sedan. She pursued him to Kassick's sister's home, where he had been living, and he ran to the backyard.
Mearkle caught up to him in the yard. She said she was convinced he had a gun in his jacket and was reaching for it.
She described an intense scene in which dispatchers were talking to her by radio and Kassick's brother was yelling at her to stop shocking him with the stun gun.
The two gunshots were a few seconds apart. Mearkle administered CPR as others arrived.
It's not clear why Kassick fled the traffic stop, but investigators recovered a syringe by his body and prosecutors have said alcohol and unspecified drugs were in his system.
Mearkle has been on unpaid suspension since her arrest. The15-year police veteran said Thursday she intended to remain an officer in the Harrisburg suburb.