WAILUKU, Hawaii — The list of people who may be unaccounted for in the wake of the Maui wildfires is now 1,000 to 1,100, officials said Tuesday.
The numbers are expected to change, and "that doesn't mean necessarily ... that these people are, in fact, missing," said Steven Merrill, the special agent in charge of the FBI's Honolulu field office.
"Every day the numbers will change," Merrill said. "That being said, the number that we're most concerned about is, obviously, trying to clear people from the list. And that has reliably gone down every day."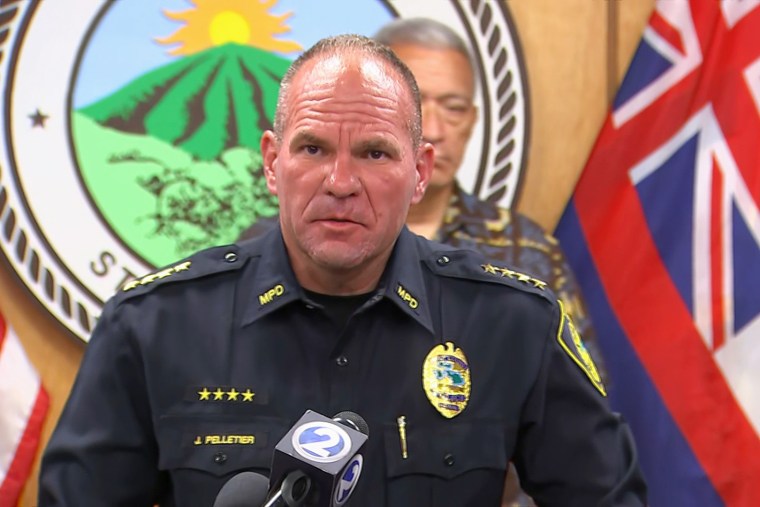 The number was revised as more information is provided about those who may be missing in the wake of the fires in Maui, in which 115 people have been confirmed dead.
A wind-whipped wildfire on Aug. 8 devastated the town of Lahaina in West Maui. Other fires also erupted on the island.
The names on the list are those of people who have been reported as missing or unaccounted for, Merrill said. "We're considering everybody on that list until we can prove they shouldn't be on that list," he said.
Some of the information is incomplete — officials may have a first name and that is all, or they may not have a gender, Maui County Mayor Richard Bissen said. That can make it hard to verify who is missing.
Authorities have been asking family members to provide DNA to help and have reassured them that the information will not be kept or used for any other purpose.
Two days ago, Bissen said the number was 850 after the FBI had reconciled various lists of those unaccounted for.
That was the first firm number authorities had provided since the fires swept through. At a news conference last week, authorities said it was most likely more than 1,000 but were not specific.
Some of the names have been found on multiple lists, Merrill said.
In some cases, the FBI and others looking to verify information about those reported as missing are not getting responses, which Merrill said has been frustrating.
"We don't get, necessarily, calls back, replies," he said.
"We need more information, and if you've been shy out there about contacting Maui police or the FBI or anyone else to provide more information, please come forward," he said.