Little Richard, the pompadoured prince of rock 'n' roll who injected "wop bop a loo bop" into popular music and influenced musicians from The Beatles to Prince, has died at 87.
Jeff Epstein of Universal Attractions Agency confirmed his death Saturday morning. His attorney William Sobel said he died as a result of bone cancer.
The musician had been sick for a few months, his bassist Charles Glenn added, and he died at his home in Tullahoma, Tennessee, surrounded by family.
With his piano-pounding performances, wild vocals, bouffant hair and makeup, Little Richard burst onto the musical scene in the 1950s and shook up the stuffed shirts with a string of his hit songs that got both black and white people dancing.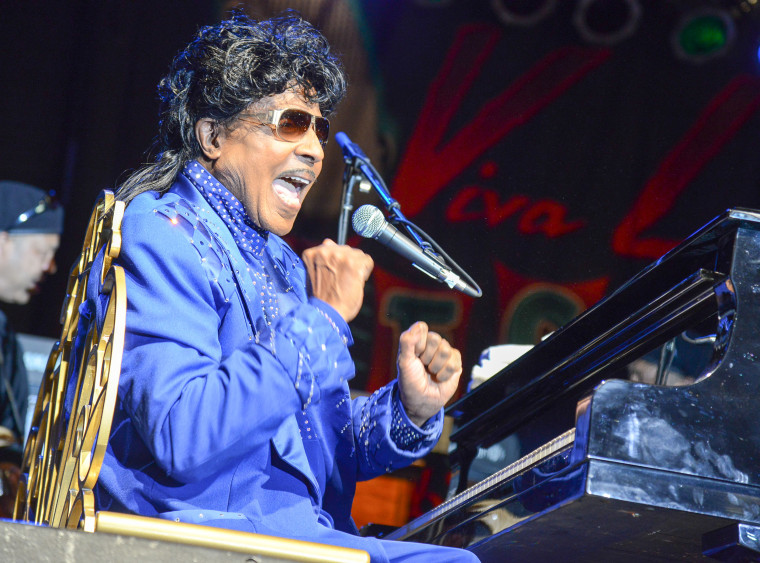 Musicians and fans mourned Little Richard's death on Saturday.
"This one really stings. My thoughts and prayers go out to all of my bandmates and fans all over the world. Richard truly was the king!," Richard's longtime guitarist, Kelvin Holly, wrote on Instagram.
Rolling Stone magazine was the first to report Little Richard's death on Saturday morning.
The wild man music pioneer got his start playing the blues and is credited with using that Deep South musical tradition to build the foundation of rock 'n' roll. He was inducted into the Blues Hall of Fame along with musicians like Chuck Berry and Bo Diddley for bridging the gap between the two genres.
"Richard's earliest recordings were in the blues vein, and he continued to employ a blues format, often accelerated to a frenzied tempo, on many of his sessions," the Blues Foundation said of the flamboyant founding father of rock 'n' roll.
Bandleader Johnny Otis remarked upon first seeing a "beautiful, bizarre and exotic" Little Richard performance, "This is Little Richard, the King of the Blues! And the Queen, too!"
Starting with "Tutti Frutti," Little Richard cranked out hits like "Long Tall Sally," "Rip It Up," "Lucille," "Jenny Jenny" and "Good Golly, Miss Molly," making the bootlegger's son one of the world's most popular acts and leading to his being known as a founder of rock 'n' roll.
"They said that it would drive the kids insane," the musician told Rolling Stone for its 2010 list of the 100 greatest artists, in which Little Richard ranked no. 8. "They said that it was just a flash in the pan — the same thing that they always used to say about hip-hop."
Only it was worse back then, because, you have to remember, I was the first black artist whose records the white kids were starting to buy," he said. "And the parents were really bitter about me. We played places where they told us not to come back, because the kids got so wild."
He went Hollywood with an appearance in a 1956 film, "Don't Knock the Rock." But his wild lifestyle remained at odds with his faith, and a conflicted Richard quit the business in 1957 to enroll in a theological school and get married.
Richard remained on the charts when his label released previously recorded material, and he recorded a gospel record, returning to his roots. A 1962 arrest for a sexual encounter with a man in a bus station restroom led to his divorce.
It wasn't until 1964 that he returned to rocking with a band that included a then-unknown guitarist named Jimi Hendrix.
In 1986, he was among the first 10 performers inducted into the Rock & Roll Hall of Fame.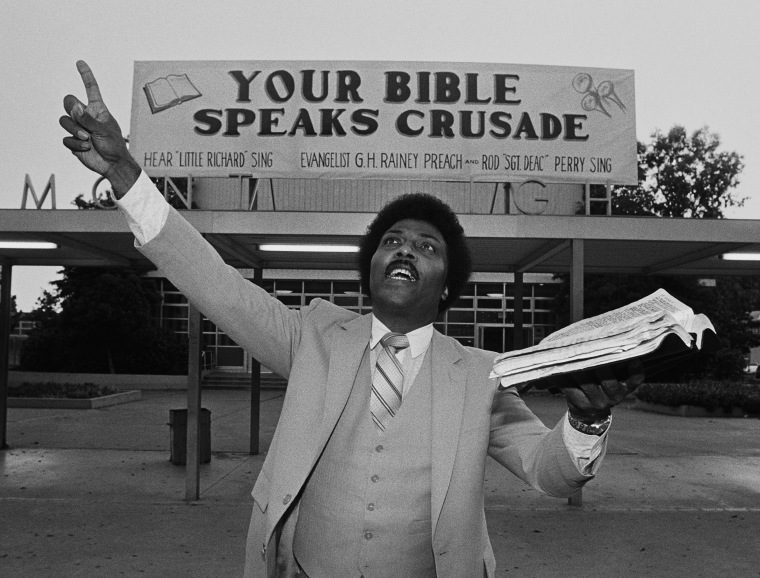 Along the way, Little Richard lived with alcohol and drug addiction and survived a stroke, hip surgery and heart attacks.
There had been rumors for years that Little Richard was at death's door, including in 2016 when legendary bass player Bootsy Collins posted on Facebook, "He is not in the best of health so I ask all the Funkateers to lift him up."
Born Richard Wayne Penniman on Dec. 5, 1932, Little Richard was third of a dozen children and got his start singing at church where his father served as a deacon, when he wasn't peddling moonshine at his club.
His parents dubbed him "Little Richard" because he was skinny and small.
Little Richard was kicked out of the family home at age 16, reportedly after his father caught him using his mother's makeup. He went on the road, sometimes playing clubs in drag.
But success eluded Little Richard until 1955 when he found himself onstage at a Houston nightclub improvising a raunchy song he called "Tutti Frutti."
His producer friend Robert "Bumps" Blackwell heard gold in the song. After cleaning up the lyrics, they released the single and Little Richard launched into stardom.
"It's a joy just to still be here," he told Rolling Stone for its 2010 story. "I think that when people want joy and fun and happiness, they want to hear the old-time rock 'n' roll. And I'm just glad I was a part of that."