This live coverage has now ended. Continue reading June 9 coverage of George Floyd's death and the nationwide protests.
Friends and family of George Floyd, the Minneapolis man whose death touched off a national debate about systemic racism, were joined at a Houston memorial on Monday by thousands of strangers who showed up to pay their final respects.
On Sunday night, a majority of the Minneapolis City Council agreed to dismantle the city's police department after the death of Floyd in police custody, Councilman Jeremiah Ellison told NBC News. He said the council would work to disband the department in its "current iteration."
Speaking Sunday at a community meeting before the vote, the council's president, Lisa Bender, vowed to "re-create systems of public safety that actually keep us safe."
In Washington, Sen. Mitt Romney, R-Utah, joined demonstrators marching to the White House on Sunday in protest of Floyd's death.
"We need a voice against racism. We need many voices against racism and against brutality. And we need to stand up and say black lives matter," Romney, the GOP presidential nominee in 2012, said.
Download the NBC News app for the latest updates.
George Floyd's family appeals to U.N. for support for police reform
George Floyd's family and his legal team released on Monday a letter they sent to the United Nations requesting recommendations for police reform in the U.S.
The group sent a letter on June 3 to one of the international body's working groups asking for support for the end of the provision of military equipment and military-type training for police, the teaching of deescalation techniques, independent prosecutions and autopsies for "extrajudicial" police killings, and more.
"When a group of people of any nation have been systemically deprived of their universal human right to life by its government for decades, it must appeal to the international community for its support and to the United Nations for its intervention," Floyd's family attorney Ben Crump said in a press release.
The Minneapolis Police Department announced last month that the FBI would be part of the investigation into Floyd's death.
On May 28, the United Nations' High Commissioner for Human Rights, Michelle Bachelet, called Floyd's death the "latest in a long line of killings of unarmed African Americans by U.S. police officers and members of the public," and urged "serious action." 
Man drives into Seattle George Floyd protest, shoots one protester
A man drove into a Seattle crowd protesting the death in police custody of George Floyd before shooting one of the demonstrators on Sunday, police said.
The suspect was detained and the 27-year-old man who was shot in the arm was taken to hospital by firefighters, police said in a tweet. Officials did not name the shooter or the victim.
Police confirmed a gun was recovered and no other people were injured.
New York City begins to reopen after coronavirus lockdown, curfew lifted
New York City is set to begin the first phase of re-opening on Monday after nearly three months of coronavirus lockdown restrictions that were capped off last week with a curfew enacted in the wake of protests.
In the wake of the protests that roiled the city after the death of George Floyd, Mayor Bill de Blasio announced Sunday a series of new reforms to the New York City Police Department. He also said the city will shift funding from the police force to youth and social services for communities of color. 
As many as 400,000 people are expected to return to work on Monday, NBC New York reported. Full subway service and construction work are also set to resume. As of Sunday, the city had 210,166 confirmed coronavirus cases and 21,752 deaths, approximately one-fifth of the entire U.S. death toll. 
Cincinnati Reds great Joey Votto says #BlackLivesMatter
Cincinnati Reds great Joey Votto on Sunday penned a scathing column - targeting himself and admitting he's turned a blind eye to systemic racism and police brutality.
In a guest column posted by The Cincinnati Enquirer, the star first baseman said George Floyd's death has forced him to open "my eyes to the realities of being a black man in America."
"That privilege kept me from understanding the 'why' behind Colin Kaepernick's decision to kneel during the national anthem. That privilege allowed me to ignore my black teammates' grievances about their experiences with law enforcement, being profiled, and discriminated against," wrote Votto, who grew up just outside of Toronto. "And that privilege has made me complicit in the death of George Floyd, as well as the many other injustices that blacks experience in the U.S. and my native Canada. " 
Votto, 36, said supports the Black Lives Matter movement and added: "Only now am I just beginning to hear. I am awakening to their pain, and my ignorance. No longer will I be silent."
Protesters call to defund the police
Majority of Minneapolis City Council commits to dismantling city's police department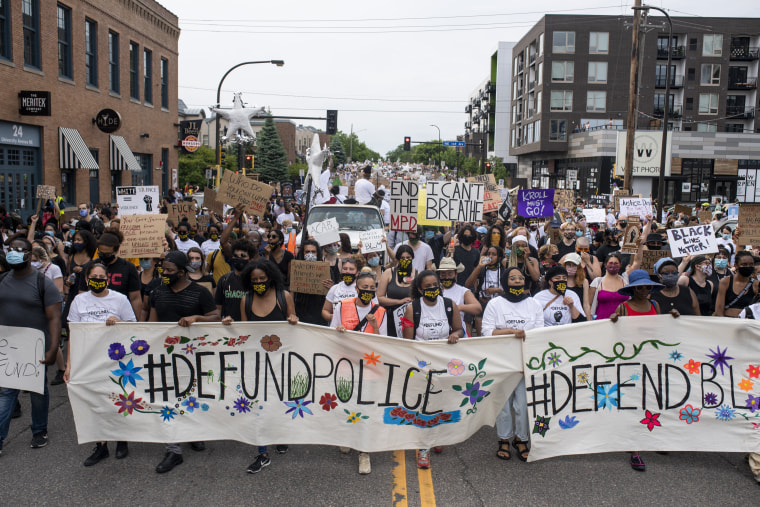 A majority of the Minneapolis City Council agreed Sunday to dismantle the city's police department after the in-custody killing of George Floyd, a council member said.
In an interview with NBC News, councilman Jeremiah Ellison said the council would work to disband the department in its "current iteration."
"The plan has to start somewhere," he said. "We are not going to hit the eject button without a plan so today was the announcement of the formulation of that plan."