President Donald Trump and first lady Melania Trump have tested positive for Covid-19, the president announced early Friday.
Trump was transported by helicopter to Walter Reed National Military Medical Center on Friday evening as a precautionary measure recommended by the president's physician, officials said, and he is expected to remain in the hospital for a few days.
The president's doctor said he was administered an antibody cocktail, along with vitamins, and is fatigued with a low-grade fever, while Melania Trump has a mild cough and headache.
Trump becomes the latest world leader to be diagnosed with the virus just weeks ahead of the election and in the midst of a busy campaign schedule for him and Democratic nominee Joe Biden.
This live coverage has ended. Please continue reading the October 3, 2020 liveblog for the latest updates on President Trump's health.
Download the NBC News app for breaking news and politics
Melania Trump says she's also experiencing mild symptoms
Earlier Friday, a White House official said the president was also experiencing mild symptoms.
White House knew about Hope Hicks' diagnosis before Thursday fundraiser
White House chief of staff Mark Meadows said Friday morning that the White House learned shortly before Trump's Thursday fundraiser in New Jersey that longtime Trump aide Hope Hicks had tested positive for Covid-19.
"I'm not going to get into the tick-tock. I can tell you in terms of Hope, we discovered that right as the Marine One was taking off yesterday, we actually pulled some of the people who had been traveling and in close contact — the reason why it had reported out is we had already started the contact tracing just prior to that event," he told reporters.
Meadows also told reporters that he, Jared Kushner, Dan Scavino and others have tested negative for the virus, but said the White House expects that more staffers will test positive for the coronavirus following the president's diagnosis.
"I fully expect that as this virus continues to go on, other people in the White House will certainly have a positive test result and we've got the mitigation plan in place to make sure that the government not only continues to move forward but the work of the American people continues to work forward," he said.
Who was Trump in contact with this week? Here are some of the people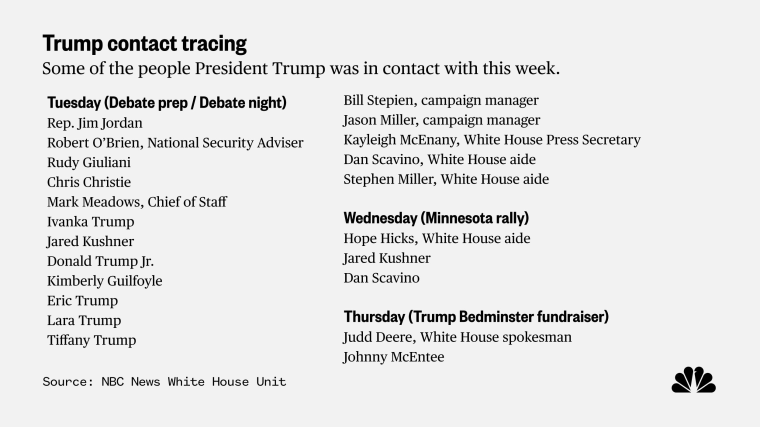 Trump and the first lady are among 300,000 Americans to catch Covid-19 this week
Texas, California, and Wisconsin have seen the most cases in the past seven days.
Pelosi awaits results after taking Covid-19 test 'out of an abundance of caution'
House Speaker Nancy Pelosi, D-Calif., said Friday that she has been tested for Covid-19 and is awaiting results.
"This is tragic, it's very sad, but it also is something that, again, going into crowds unmasked and all the rest is sort of a brazen invitation for something like this to happen. It's sad that it did, but nonetheless hopeful that it will be a transition to a saner approach to what this virus is all about," Pelosi said on MSNBC's "Live with Stephanie Ruhle."
Asked if the White House has contacted her about the continuity of government since the House speaker is third in line to the presidency after the vice president, Pelosi said they haven't, but she noted that Vice President Mike Pence tested negative Friday.
Out of an abundance of caution, Pelosi said she was tested Friday morning for Covid-19 because of her in-person meetings with Treasury Secretary Steve Mnuchin, though his spokesman said that he has tested negative. The speaker said she is awaiting her results, and said that she has concerns about the accuracy of the tests especially because of the current situation at the White House.
Barron Trump tests negative for Covid-19
Barron Trump, the president's 14-year-old son, has tested negative for Covid-19.
"Barron has tested negative and all precautions are being taken to ensure he's kept safe and healthy," Melania Trump's chief of staff, Stephanie Grisham, told NBC News.
Where Trump went the week he was diagnosed with Covid-19
From Ohio to Minnesota to New Jersey, and back to Washington, D.C., the president crisscrossed a chunk of the country this week.
Amy Coney Barrett tests negative for Covid-19
Supreme Court nominee Amy Coney Barrett has tested negative for Covid-19, White House deputy press secretary Judd Deere said in a statement.
"Judge Barrett was with the President last on Saturday when she was nominated," Deere said. "Judge Barrett is tested daily for COVID-19—she has tested negative."
He added, "She is following CDC guidance and best practices, including social distancing, wearing face coverings, and frequently washes hands."
RNC chair tested positive for Covid-19 on Wednesday
Republican National Committee Chair Ronna McDaniel tested positive for Covid-19 on Wednesday.
"After a member of her family tested positive for COVID-19, the Chairwoman was tested for the virus," an RNC spokesperson said in a statement on Friday. "On Wednesday afternoon, she got confirmation she was COVID-19 positive. She has been at her home in Michigan since last Saturday."
Shocked markets swoon on fresh uncertainty
Major indices fell at the opening bell Friday morning after President Donald Trump's diagnosis injected fresh uncertainty into the forecast, driving investors to sell off shares and move to safe haven assets.
The Dow Jones Industrial Average fell by around 375 points, the S&P 500 dropped nearly 1.5 percent, and the tech-heavy Nasdaq composite index fell by over 1.7 percent.
Assets seen as safe havens during volatility rallied, with the dollar and yen rising. Gold initially rose but pared gains to trade at $1,907. Crude oil fell to $37 a barrel.
"The news came as a shock to investors and the uncertainty of what lay next was quickly priced into markets," wrote Peter Essele, Head of Portfolio Management for Commonwealth Financial Network, in an email.
"It seems reasonable to assume that markets will be on shaky ground throughout October with the perfect storm of a highly contentious election and a pandemic that remains stubbornly at the forefront," Essele said.
But the losses could also be short lived. Trump's positive Covid-19 test could spur action on deadlocked bills to inject new rounds of coronavirus stimulus, according to Jamie Cox, Managing Partner for Harris Financial Group.
Trump experiencing 'mild symptoms' after testing positive for Covid-19
Trump is experiencing "mild symptoms" on Friday after testing positive for Covid-19 overnight, according to a White House official.
It's unclear when he first contracted the virus but he has attended multiple campaign events in recent days, including Tuesday's debate and a fundraiser in New Jersey on Thursday.
The official, who says Trump is "in good spirits," said there are discussions within the White House about whether the president will address the American public in some form on Friday. No final decision has been made. 
Ivanka Trump, Jared Kushner test negative for Covid-19
From masks to disinfectants: Trump's coronavirus theories
President Donald Trump, who played down the threat of the coronavirus pandemic for months, said early Friday that he and his wife Melania had tested positive for Covid-19 and were going into isolation, potentially upending the race for the White House.
The number of coronavirus cases in the U.S. remains among the highest in the world, with Trump joining some seven million Americans who have tested positive, so far.
Here are several times that the president downplayed or endorsed theories dismissing the severity of the deadly pandemic.
Biden campaign says Trump team did not alert them about president's diagnosis
Neither the White House nor the Trump campaign has reached out to Joe Biden about Trump's diagnosis after the two appeared on the debate stage together on Tuesday, two Biden officials told NBC News.
Multiple Biden officials are expressing concern and frustration that Trump staffers and family members, many of whom took their maks off inside the debate hall, could have exposed so many people on Tuesday night.
Biden will get tested for Covid-19 on Friday, as will Jill Biden and campaign staff members who were at the debate on Tuesday.
Biden was scheduled to be in Michigan with multiple stops in Grand Rapids on Friday, including an event on the economy at a union facility and later a voter "mobilization" event with local Democrats. No decision has been made yet about whether he will still travel from Delaware.
Treasury Secretary Steven Mnuchin tests negative for coronavirus
Treasury Secretary Steven Mnuchin tested negative for Covid-19 Friday morning, according to a Treasury Department spokesperson.
Secretary Mnuchin "tested negative for Covid-19 this morning and will continue to be tested daily," the department's spokesperson Monica Crowley said in a tweet.
Mnuchin, who has frequently been seen wearing a mask, has been heavily involved in talks with lawmakers to try to pass the latest round of coronavirus relief.
Biden wishes Trump, first lady a 'swift recovery'
Barr to get tested for Covid-19 after seeing Trump this weekend
Attorney General William Barr will get tested for Covid-19 out of an abundance of caution, according to a Justice Department spokesperson.
The last time Barr was with Trump was Saturday at the reception announcing Amy Coney Barrett's Supreme Court nomination. He is not experiencing any symptoms, the spokesman said.
Pence, who tested negative, interacted with Trump earlier this week
The last known public contact between Pence and Trump appeared to be an outdoor Rose Garden event on Monday. But at a campaign event in Lititz, Pennsylvania on Tuesday ahead of the presidential debate, Pence told an indoor crowd of supporters that he had spoken with the president in the Oval Office earlier that day.
"It's gonna be a great night. I can tell you, I left the president earlier today in the Oval Office and he's ready," Pence said Tuesday to a large crowd of mostly maskless supporters.
Chris Christie says no masks during Trump debate prep
Former New Jersey Gov. Chris Christie, who helped Trump prepare for Tuesday's presidential debate, said that "no one" was wearing masks in the room during preparations. 
"No one was wearing masks in the room when we were prepping the president," he told ABC's "Good Morning America," adding that he "feels fine" and is not showing any signs of Covid-19. 
He said on Twitter later Friday morning that he was tested for the virus on Tuesday and again on Friday morning and is waiting on his results.
Christie was one of many people who were in close contact with the president in the days leading to his Covid-19 diagnosis. Former New York City Mayor Rudy Giuliani, the president's personal lawyer, also assisted with debate prep.
Lewandowski was at Wednesday fundraiser with president
Corey Lewandowski, who was Trump's campaign manager in 2016, told NBC News he was with the president as recently as Wednesday at a fundraiser in New Jersey.
"It was a private fundraiser where he did take pictures with some individuals," he said. "But those individuals were six feet from the president. So there was no direct interaction with the President. There was no handshaking with the president."
Lewandowski said he tested negative at the time but "I need to get another test done immediately. I think it's the responsible thing to do."
Lewandowski was supposed to be traveling to Florida with Trump on Friday for another series of campaign events that have now been postponed.
World leaders send Trump best wishes after Covid diagnosis
The United Kingdom, Russia and Israel were just some of the nations to wish President Donald Trump well after his shock diagnosis with coronavirus.
The head of the World Health Organization, a frequent target of criticism from Trump for its handling of the pandemic, also sent his best wishes.=
Read the White House physician's letter on Trump's Covid-19 diagnosis
White House physician Dr. Sean Conley wrote in a letter published overnight: "Both President Trump and First Lady Melania Trump have tested positive for the SARS-CoV-2 virus."
He said they would stay in isolation at the White House during their convalescence. 
Boris Johnson shows what happens when a world leader gets Covid-19
LONDON — As news of President Donald Trump's shock diagnosis with Covid-19 spread Friday, the experience of United Kingdom Prime Minster Boris Johnson, who tested positive six months ago, could offer a clue to what might come next.
Johnson, 55, announced on March 27, at the height of the pandemic in the U.K., that he was suffering "mild" symptoms and would self-isolate while continuing to work. He was thought to be the first world leader confirmed to have contracted Covid-19 — so what happened next?Read more
Pence, second lady test negative for Covid-19
Trump joins club of world leaders diagnosed with the coronavirus
Trump is far from the first world leader to contract coronavirus. Britain's Prince Charles and Prime Minister Boris Johnson, and Brazil's President Jair Bolsonaro are among the figures to have tested positive.
Trump, first lady test positive for coronavirus
President Donald Trump and first lady Melania Trump tested positive for the coronavirus, he announced on Twitter early Friday.
"Tonight, @FLOTUS and I tested positive for COVID-19. We will begin our quarantine and recovery process immediately. We will get through this TOGETHER!" Trump, 74, tweeted.
Trump's doctor, Sean Conley, said, "The President and First Lady are both well at this time, and they plan to remain at home within the White House during their convalescence."
The announcement immediately throws into question the nature of the remaining 32 days of the campaign, including the remaining two presidential debates. The next one is scheduled for Oct. 15 in Miami.