The Centers for Disease Control and Prevention is finalizing plans to shorten the recommended length of quarantine for those exposed to Covid-19.
Meanwhile, doctors are facing daunting decisions around which patients should be first in line for the two authorized Covid-19 antibody treatments that may help keep high-risk patients out of the hospital. Both are in short supply.
---
---
Turkey Trot: Thanksgiving for the troops switches to grab-and-go meals
American troops around the world will have their annual home-cooked Thanksgiving meal this week, but it will look a little different this year, said the Defense Logistics Agency. Traditionally large group gatherings in dining facilities, this year the Thanksgiving meals have been switched to grab-and-go style takeout.
The DLA coordinated the shipment of Thanksgiving meals, including more than 131 tons of trimmings this year, to troops stationed from the U.S. to the Middle East, Europe, Africa, Korea, Japan, Qatar, and Honduras. Most of the food arrived in October and November. The agency has been providing Thanksgiving meals for troops for more than 50 years.
"Food is emotional, and this year more than ever, it's so important that DLA Troop Support got the turkeys, hams and all the trimmings to our troops wherever they are stationed," said Army Col. Eric McCoy, director of troop support subsistence for the DLA. "Our supply chain takes the holidays very seriously. Our troops are far away from home, and they definitely look forward to this meal. Disappointing them is not an option."
Florida Gov. Ron DeSantis touts new Covid therapies
Florida Gov. Ron DeSantis took to Twitter on Wednesday to tout the emergency use authorizations recently issued to several experimental treatments for Covid-19 as well as the pending FDA meeting to consider an emergency use authorization for Pfizer's coronavirus vaccine candidate in mid-December.
He said that the recent emergency use authorization granted by the FDA to Regeneron's monoclonal antibody doubles the supply because another similar treatment from Eli Lilly was given EUA last week.
DeSantis said the new drug is "now on its way to hospitals throughout the state."
He said that thousands of long-term senior care facilities in the state are signed up to distribute the vaccine as quickly as possible if it is authorized and that seniors and front line workers will be prioritized.
"If we can redouble our efforts to protect the most vulnerable until the vaccine is deployed, we'll help safeguard the lives of thousands of Floridians," DeSantis said.   
Biden to deliver Thanksgiving address amid steep rise in Covid cases
WASHINGTON — President-elect Joe Biden is expected to deliver a Thanksgiving address on Wednesday from Wilmington, Del.
Biden's White House transition team said in a press release that the president-elect's speech would touch on "shared sacrifices Americans are making this holiday season" while delivering a message "that we can and will get through the current crisis together."
Biden's speech comes as the coronavirus cases continue to increase around the country, raising alarm among some health officials that holiday travel and indoor gatherings could lead to more outbreaks. The country is also facing a surge in food insecurity due to the impact of the virus, with food banks around the country reporting long lines ahead of the holiday.
Cleveland Browns player tests positive for coronavirus
'Don't be like my family': Fifteen relatives got Covid-19 after a small gathering
The Aragonez family feels that they're just like other families navigating the COVID-19 pandemic. They strictly followed the Centers for Disease Control and Prevention precautions, but after eight months, they ignored one rule and gathered in someone's house. Now, they're sharing their story in the hopes that others won't make the same mistake.
"My family has taken every single precaution with the exception of one and that exception has cost us so much," Alexa Aragonez, 26, of Arlington, Texas, told TODAY. "We're not some family that is outside of the norm. Unfortunately, we are the norm. Families gather together because we're tired. We want to return back to normal life. But we just can't do that yet because the pandemic is not over."
After an impromptu birthday party, 15 members of the Aragonez family tested positive for COVID-19, with Aragonez's mother spending seven days in the hospital.
California counts a record number of Covid-19 cases, it's not alone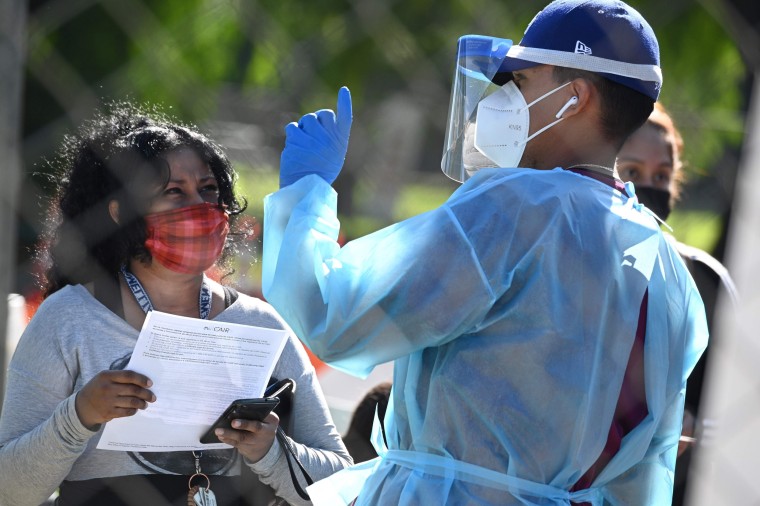 California counted a record 20,536 new Covid-19 cases Tuesday, breaking its previous record of 17,496, according to NBC News' tally. 
Across the country 173,429 cases and 1,925 deaths were recorded.
The U.S. has averaged 173,766 cases of the coronavirus per day the last seven days, up from an average 87,340 cases per day four weeks ago.
Tuesday 10 states in all set single-day records, part of a surge of cases across the country:
13 reported deaths in Alaska
20,536 cases reported in California
12 reported deaths in Maine
In Massachusetts, 5,998 cases
189 dead in Missouri
2,853 cases in Nevada
37 Covid-19 deaths in North Dakota
21 dead in Oregon
6,206 new cases in Washington
114 reported dead in Wisconsin
Latest weekly total for initial jobless benefit claims rose sharply to 778,000
The latest weekly total for initial jobless benefit claims ticked sharply up to 778,000 last week from 742,000 one week earlier, amid a further rise in coronavirus infections that is clearly dampening the labor market's rebound.
Economists had predicted the total would be around 730,000.
The weekly data was released one day early by the Department of Labor, in view of the Thanksgiving holiday on Thursday.
While the new weekly total is far lower than the March peak of nearly 7 million claimants, it is still elevated when compared to pre-pandemic levels, which averaged 200,000 a week.
South Korea keeps up fight against Covid with social distancing campaign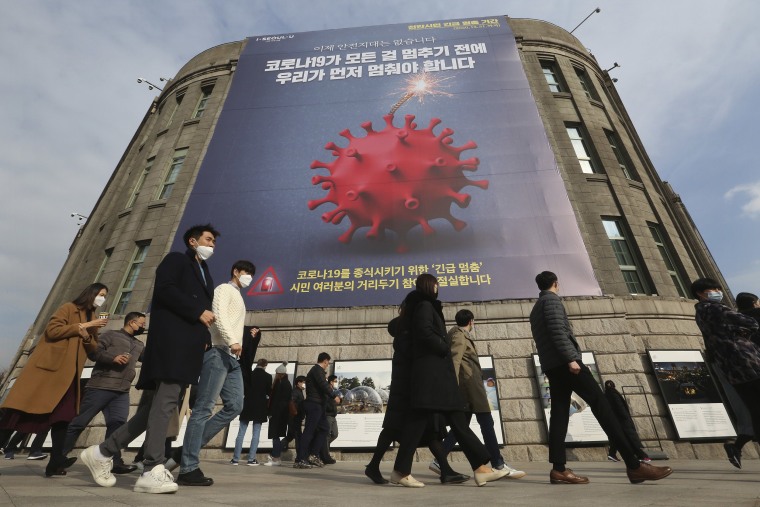 27 Covid deaths at Illinois vets nursing home prompts probe
LASALLE, Ill. — State officials have launched investigations into a coronavirus outbreak at a veterans nursing home in Illinois that has infected nearly 200 residents and staff members, and killed 27 veterans.
News outlets reported Illinois Gov. J.B. Pritzker's office and the state's Department of Veteran's Affairs are attempting to determine what caused the outbreak at the state-run LaSalle Veterans' Home. The department on Tuesday requested an independent probe into the facility, which was the focus of a state Senate committee virtual hearing on the outbreak.
The current outbreak was identified in late October when a staff member and a resident tested positive for the virus, the Chicago Tribune reported. The home was not largely impacted by the pandemic until then. In fact, two-thirds of residents and employees tested positive since the beginning of this month, according to the Illinois Department of Veterans Affairs.
Travelers wear face coverings amid rush to see family for Thanksgiving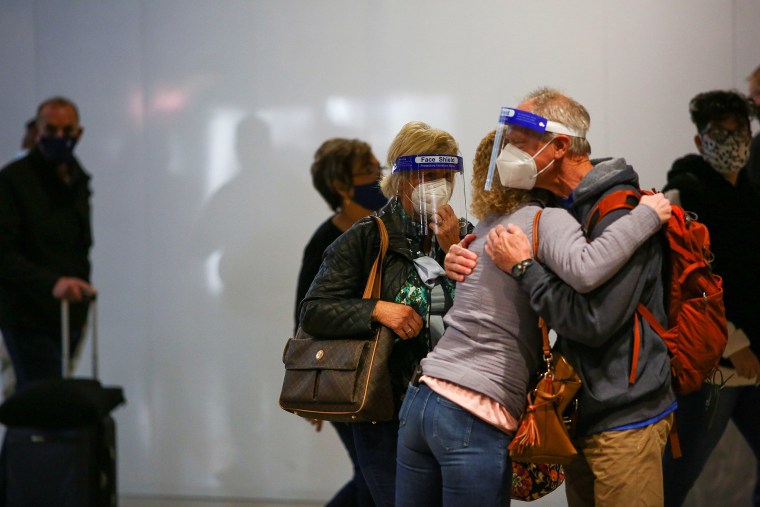 WHO says Covid-19 cases in Europe are slowing down
The World Health Organization says the coronavirus pandemic has "slowed down" in the past week although death rates continued to rise, with more than 67,000 new deaths reported.
The U.N. health agency said in its latest epidemiological update Wednesday that even though there was a "downward trend" in the number of cases in Europe, the region still has the biggest proportion of new cases and deaths globally. WHO noted that Africa reported the highest increase in new cases and deaths, driven by South Africa, Algeria and Kenya.
In the past week, WHO said, the number of new cases reported in Europe dropped by about 6% after a 10% decline the previous week, suggesting that lockdowns across the continent are effectively slowing transmission. Still, the region accounts for about half of new global deaths.
Britain's caseload fell by about 13%, its first weekly decline since late August. There were about 1,600 people hospitalized every day in mid-November, but that remains far lower than the more than 3,000 patients admitted daily in early April.
In Asia, WHO noted that Japan reported the largest number of daily cases since the beginning of the outbreak, with more than 2,000 reported every day for five consecutive days, a 41% increase from the previous week. Myanmar reported a 74% jump in cases last week, with more than 11,000 new cases and a 36% increase in deaths, at 188.
Live entertainment starting to return to Atlantic City casinos
ATLANTIC CITY, N.J. — Atlantic City's casinos are slowly resuming live entertainment, bringing back a staple of the casino experience as they comply with government-mandated restrictions designed to slow the spread of the coronavirus.
Hard Rock on Tuesday announced a series of Motown-themed Christmas shows from Dec. 11-30, saying its customers are getting antsy with months of coronavirus restrictions.
"Public demand is looking for activities, especially with outdoor temperatures keeping everyone inside," said Hard Rock president Joe Lupo. "The large showrooms, with better air circulation and spacious seating, and less than 10 percent of normal (occupancy) can provide that safe and fun night out."
Tickets will be sold as individual tables of two and four seats to ensure social distancing.