Live coverage has ended here, please click here for NBC News' latest coverage of Covid-19.
Congressional leaders and the White House are nearing agreement on a roughly $900 billion coronavirus relief deal that will likely include a new round of direct payments.
It comes as the U.S. experienced the deadliest day of the pandemic yet, with nearly 3,300 deaths. The country also set a record for the highest number of recorded cases in one day with 232,086 Covid-19 cases recorded.
Early Thursday, the total number of cases reported in the U.S. topped 17 million, according to NBC News' count. More than 308,000 people have died.
---
---
Spain's Supreme Court orders probe into nursing home Covid-19 deaths
MADRID — Spain's Supreme Court on Friday ordered an investigation into the deaths of elderly people in nursing homes during the Covid-19 pandemic and the lack of protective gear for health workers.
Magistrates were asked to find out if deaths at nursing homes "were associated with political, administrative or management decisions and whether those decisions are criminally reproachable."
Spain has been one of the countries in Europe hardest-hit by the pandemic, both in terms of disease and the economic impact. A total of 48,777 people have died from the coronavirus, with the toll climbing by 181 over the last 24 hours.
More than 20,000 people died of Covid-19 or suspected Covid-19 in nursing homes in Spain during the first coronavirus wave, according to preliminary official data reported by El Pais newspaper and broadcaster RTVE.
The Supreme Court also asked the lower courts to look into the possible misuse of public funds to purchase flawed or fraudulent equipment to fight the pandemic.
However, it rejected about 50 cases that specifically targeted the government for its management of the pandemic, arguing that the complaints were not detailed enough to charge any high-ranking officials.
Another record-breaking number of reported Covid-19 cases in U.S.
Thursday was another record-breaking day in reported Covid-19 cases in the United States, the latest milestone in a month that has seen cases and deaths continue to climb.
There were 243,645 Covid-19 cases reported across the nation on Thursday, according to NBC News' count of reports, and 3,288 deaths.
On Wednesday the U.S. broke daily records for both cases and deaths reported, according to NBC News' count. Before that, the highest numbers for both reported in a day was on Dec. 10. Thursday's numbers eclipsed daily cases but not deaths.
On Thursday the total number of cases reported in the U.S. topped 17 million, according to NBC News' count. There have been more than 311,000 deaths.
Last inmate scheduled to die under Trump administration tests positive
The final federal prisoner scheduled to be executed under the Trump administration's resumption of the practice has tested positive for Covid-19, his lawyer said Thursday.
Dustin Higgs is scheduled to be executed on Jan. 15 after being convicted of murder and other counts in the 1996 kidnapping and killing of three women in Maryland. Higgs drove the women to a secluded area, but did not shoot them. Instead, he gave the gun to someone who did, telling the person to make sure they were dead, the Justice Department has said.
Higgs' attorney, Shawn Nolan, said the Covid-19 positive test "is surely the result of the super spreader executions that the government has rushed to undertake in the heart of a global pandemic." The federal government resumed executions after a nearly 17-year hiatus
Nolan's attorneys say Higgs was prosecuted on a theory that he ordered the killings, which rested on the testimony of a co-defendant who got a deal in exchange, and that the person who actually shot them received a life sentence and not death. 
"We have asked the government to withdraw the execution date, and we will ask the courts to intervene if they do not," Nolan said. The Federal Bureau of Prisons confirmed inmates at the unit which houses those sentenced to death have tested positive for Covid-19, but declined to provide more details citing legal and privacy issues. The execution is scheduled for five days before Joe Biden is sworn in as president.
Four charged in alleged Covid-19 relief fraud scheme
Arizona prosecutors this week filed federal charges against four people they say fraudulently received more than $400,000 in aid designed to help small businesses impacted by the coronavirus pandemic.
A criminal complaint filed Monday charged the four with wire fraud and conspiracy, and one of them faces an additional count of money laundering.
The scheme involved fake employee and wage information to get loans through the Paycheck Protection Program, which was part of a huge federal aid package called the CARES Act, the U.S. Attorney's Office for the District of Arizona said in a statement.
They applied for $3.5 million but only got around $450,000, some of which was spent on a Mercedes E400, which was seized, prosecutors said. U.S. Attorney Michael Bailey called it "reprehensible" that people would defraud the program.
California: More than 1,000 virus deaths in last 5 days
LOS ANGELES — Health officials in California announced a one-day record Thursday of 379 deaths and a two-day total of nearly 106,000 newly confirmed cases.
The nation's most populous state has recorded more than 1,000 deaths in the last five days. Its overall case total now tops 1.7 million, a figure nearly equal to Spain's and only surpassed by eight countries. The state's overall death toll has reached 21,860.
Many of California's hospitals are running out of capacity to treat the severest cases, and the situation is complicating care for non-Covid-19 patients.
Maryland governor declares Santa exempt from testing, quarantine rules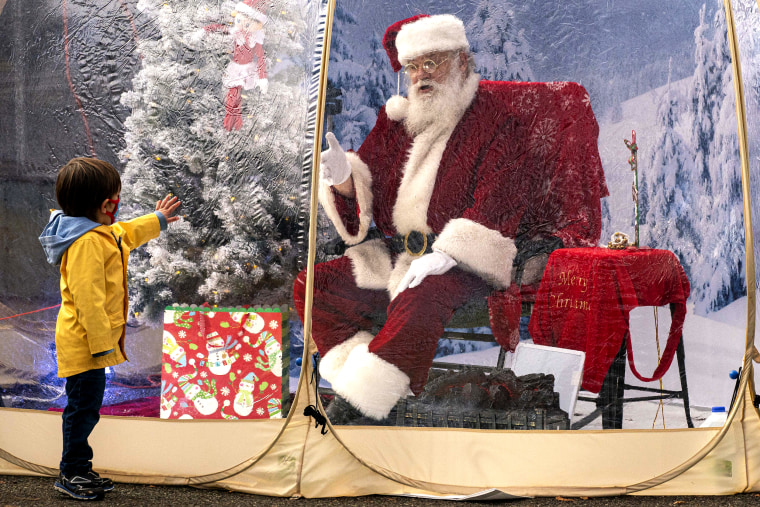 Maryland Gov. Larry Hogan issued an order Thursday declaring that Santa Claus, his elves and reindeer are exempt from traveler testing and quarantine requirements.
The order only applies to the real Santa Claus and not to his related associates, including Mall Santas.
Logan noted that Dr. Anthony Fauci, director of the National Institute of Allergy and Infectious Diseases, has said Santa Claus "has a lot of good innate immunity" from COVID-19;
Wife of HHS Secretary Azar tests positive
WASHINGTON — The wife of Health and Human Services Secretary Alex Azar has tested positive for the coronavirus illness, Covid-19, he said in an email to colleagues.
Azar said he and his family learned Thursday that his wife, Jennifer, had tested positive and that she is isolating with mild symptoms and doing well. Azar said he and their children have tested negative.
Azar said in the email that his wife began isolating at home "from the moment of her first symptoms," even after an instant test came back negative. A PCR test, which takes longer but is considered more accurate, then came back positive.
New York City public hospitals suspend elective surgeries as Covid-19 cases rise
The director of New York City's public hospital system said Thursday that elective surgeries have been suspended due to the Covid-19 pandemic.
Mitchell Katz, president and CEO of NYC Health + Hospitals said in a video briefing that elective procedures had been suspended as of Tuesday.
"We're doing the necessary surgeries and the emergency surgeries, but we have, consistent with the governor's request, we have canceled elective procedures and we do have the extra 25 percent capacity the state has asked us for," Katz said.
Gov. Andrew Cuomo has directed that hospitals increase capacity to prepare for a surge in Covid-19 cases, which have been increasing in the city, along with hospitalizations and deaths.
New York City Mayor Bill de Blasio said the percentage of city residents testing positive over a seven-day rolling average is 6 percent. "That's an unacceptable number," de Blasio said. "We need to get under five, and keep going down from there."
Los Angeles mayor quarantines after daughter, 9, tests positive
LOS ANGELES — Mayor Eric Garcetti said he and other family members will quarantine after his 9-year-old daughter, Maya, tested positive for Covid-19 this week.
"Maya's doing fine, and her symptoms are mild," Garcetti said, adding that he and his wife were both tested and the results were negative. But Maya will isolate, and they will quarantine as the mayor works remotely.
Garcetti said his family is going through what many others have around the U.S. and the world. He said he did not know how Maya, who turned 9 over the weekend, contracted the illness and that the family has been strict on coronavirus safety.
Los Angeles County has seen a large increase in Covid-19 cases and deaths, and officials have warned that hospitals could be overwhelmed. Intensive care units in Southern California were at 0 percent capacity on Thursday, public health officials said. The county health department reported 14,418 new cases and 102 new deaths on Thursday. Garcetti pleaded with residents to cancel plans, to wear masks and to take other steps to slow the virus spread.
FDA advisers recommend Moderna's vaccine
An independent panel of advisers to the Food and Drug Administration overwhelmingly recommended that the agency authorize Moderna's Covid-19 vaccine for emergency use on Thursday.
The recommendation brings the United States one step closer to adding a second vaccine to its toolkit in fighting the pandemic.
The FDA is expected to agree with the committee's recommendation, and an emergency use authorization could come as soon as Thursday evening or Friday.
The FDA authorized the Pfizer-BioNTech vaccine last week. Vaccination shots began Monday.
Mitch McConnell says he will get Covid vaccine in coming days
Senate Majority Leader Mitch McConnell said in a statement Thursday that he will get the coronavirus vaccine in the coming days. 
"As a polio survivor, I know both the fear of a disease and the extraordinary promise of hope that vaccines bring," McConnell said. "I truly hope all Kentuckians and Americans will heed this advice and accept this safe and effective vaccine."
McConnell said he was dismayed to find polls showing a concerning number of America expressing skepticism about receiving the vaccine. 
"The only way to beat this pandemic is for us to follow the advice of our nation's health care professionals: get vaccinated and continue to follow CDC guidelines," McConnell said. 
McConnell is the latest high-profile lawmaker to express their intention to get vaccinated. Vice President Mike Pence is slated to get publicly vaccinated on Friday morning and President-elect Biden is expected to get a shot as soon as next week. All of the living former presidents have also said they would get vaccinated. 
Some states say Pfizer vaccine allotments cut for next week
O'FALLON, Mo. — Several states say they have been told to expect far fewer doses of the Pfizer-BioNTech Covid-19 vaccine in its second week of distribution, prompting worries about potential delays in shots for health care workers and long-term care residents.
But senior Trump administration officials on Thursday downplayed the risk of delays, citing a confusion over semantics, while Pfizer said its production levels have not changed.
The first U.S. doses were administered Monday, and already this week, hundreds of thousands of people, mostly health care workers, have been vaccinated. The pace is expected to increase next week, assuming Moderna gets federal authorization for its vaccine.
Rep. Cedric Richmond, incoming senior advisor for Biden White House, tests positive for Covid
The Biden transition team announced in a statement Thursday that Rep. Cedric Richmond tested positive for Covid-19. 
Richmond, a Biden ally, is slated to be an incoming White House senior advisor and Director of the Office of Public Engagement. Biden's team said the Louisiana lawmaker was not in close contact with the President-elect, took a PCR test which came back negative on Thursday.
This news comes as Biden is expected to publicly take the coronavirus vaccine as soon as next week. 
Richmond traveled to Georgia on Tuesday for a campaign event for the Democratic candidates running for Senate. Richmond developed symptoms on Wednesday and took a rapid test, which came back positive. On Thursday, he took a PCR test, which was also positive, the team said. 
Richmond was not in close contact with the candidates, the campaign said, and he interacted with the President-elect in the open air while wearing a mask and totaled less than 15 consecutive minutes. The transition teams said it conducted contact tracing protocols "immediately" and found two individuals — both drivers during the event in Georgia — who were in close contact with Richmond. Both will quarantine. 
Richmond will quarantine for 14 days and take two PCR tests before returning to in-person work in Congress and with the transition team, the statement said.
Microsoft to give $110 million to Washington state's recovery effort
Microsoft Corp. will spend $110 million to help support Washington state's Covid-19 recovery, president Brad Smith said Thursday.
In a blog post, Smith said Microsoft Corp., based in Redmond, Washington, will help fund nonprofits across the state and continue to pay hourly workers on its corporate campuses.
The software giant also urged an accelerated opening of elementary schools and will donate personal protective equipment, cleaning supplies and technology to track and report Covid-19 data to help schools reopen safely. 
"While this week with high infection rates is clearly not the right moment to restart in-person learning, the science now tells us that it is the right time to accelerate the planning for kindergarten through 5th Grade classes to reopen in February if the correct safety measures are put in place," Smith said in the post. 
Southern California ICU beds at 0 percent capacity
Intensive care unit bed capacity is down to 0 percent in Southern California, the state's most populous region, public health officials warned Thursday. 
ICU capacity in the San Joaquin Valley is also down to dangerously low levels - 0.7 percent as of Thursday. In Northern California, about 25 percent of ICU beds are open. In the Bay Area, where capacity is at 13 percent. 
State public health officials also announced that California is steadily creeping towards 2 million cases as the coronavirus pandemic continues to batter the state. It currently has 1,723,362 confirmed cases.
Coca-Cola slashes U.S. workforce 12%
The Coca-Cola Co. is cutting 2,200 jobs globally, including 1,200 in the U.S and 500 in their home state of Georgia, a spokesperson confirmed to NBC News.
The Atlanta-based company which began the year with over 86,000 employees also expects to reduce nearly 50 percent of its brands.  
"The pandemic was not a cause for these changes, but is has been a catalyst for the company to move faster," a Coca-Cola spokesperson told NBC News.
The reductions affect both corporate and operating unit positions, but not employees of its bottlers.
Washington state Covid-19 vaccine allocation will be cut by 40 percent next week, governor says
Washington state Gov. Jay Inslee said Thursday that the state's Covid-19 vaccine allocation will be cut by 40 percent next week. The Centers for Disease Control and Prevention informed Washington officials of the downsize in coronavirus vaccines without any explanation, according to Inslee who called it "disruptive and frustrating."
"Our state remains committed to getting all doses we are allocated out to healthcare providers and into the arms of Washingtonians. While we push for answers, that commitment will not change," Inslee said on Twitter. 
Front-line workers in Phoenix receive Covid-19 vaccine at drive-thru location
Health care workers and first responders started to receive Covid-19 vaccines at a drive-thru location in Phoenix on Thursday. HonorHealth Medical, a nonprofit hospital system, is organizing the rollout and has the capacity to vaccinate 1,000 people a day. In 21 days, the front-line workers will return to the site to receive their second dose. 
"This is quite a collaboration among healthcare organizations and state and local health agencies to identify the right health care workers and first responders, and get thousands of people signed up," said Dr. Richard Gray, CEO of the Mayo Clinic in Arizona.
Empty stores in New Jersey to be used as vaccination centers
Empty Kmart and Sears stores in New Jersey will be converted into vaccination centers when the vaccine arrives in the state, according to the Essex County Executive office.
A vacant Sears store at the Livingston Mall and A Kmart store in West Orange are among five sites in Essex County that have been designated as vaccine distribution centers.
The Sears store at Livingston Mall, which is owned by Simon Property, closed earlier this year. The West Orange Kmart closed in February. Transformco, which owns both Sears and Kmart, did not respond to an NBC News request for comment.
Amazon asks CDC to prioritize vaccines for many of its workers
Amazon, the country's second largest employer, is pushing for the Center for Disease Control and Prevention to prioritize its workers for receiving the coronavirus vaccine.
The e-commerce giant requested its fulfillment center, data center and Whole Foods Markets workers receive the vaccine "at the earliest appropriate time," according to a letter sent to the Center for Disease Control and Prevention on Wednesday.
Amazon is one of dozens of companies, including DoorDash and Uber, who are lobbying for their employee ranks to be among the first to receive the vaccine.
Lord Speaker of U.K. House of Lords gets vaccinated
Giants offensive coordinator sidelined by positive Covid-19 test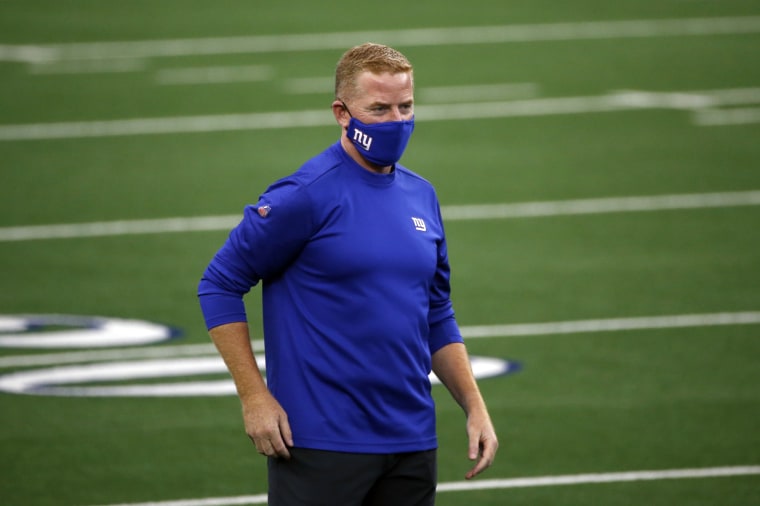 New York Giants offensive coordinator Jason Garrett tested positive for Covid-19 and will miss the team's next game, the football club announced on Thursday.
The team also said it is contract tracing and will not practice on Thursday: "At this point, there appear to be no high risk close contacts. We are awaiting confirmation from the league. Out of an abundance of caution, the Giants will meet remotely and will not practice today." 
Tight ends coach Freddie Kitchens will call plays Sunday when the Giants host the Cleveland Browns in a prime time game televised by NBC.
Garrett is best known for working 10 years as head coach of the Dallas Cowboys before joining the Giants staff earlier this year.   
The CDC banned evictions for those affected by Covid. Why are tenants being thrown out on the street?
The day before Thanksgiving, Steve Cowley, a beverage salesman, was at home in Pensacola, Florida, when someone started pounding on the front door. It was the county sheriff serving an eviction notice.
Cowley, 36, had nowhere to go. Out of work because of Covid-19 and behind on his rent, he was doing his best to survive on $275-a-week unemployment checks. His car had been repossessed, he said, so he could not live in it, a common refuge for evicted tenants.
The sheriff's visit surprised Cowley because he'd provided the county court with documentation required under the federal eviction moratorium issued in September by the Centers for Disease Control and Prevention. The ban aimed to let renters affected by Covid stay in their homes, even if they couldn't pay their landlords.
But Patricia Kinsey, the only judge hearing eviction cases in Escambia County, where Pensacola sits, ordered Cowley out of his home, documents show. Kinsey sided with a lawyer for Cowley's landlord, a big Canadian company that owns 19,000 rental units in North America, who'd argued that the CDC order was unconstitutional. Agreeing with the landlord's lawyer, Kinsey ruled that the CDC moratorium represented an "unlawful taking" by the U.S. government of landlords' private property — rental income.
Covid job losses devastate domestic workers, who are largely unseen
Judith Bautista found out she was out of a job in June when a moving truck pulled into the home of the family she worked for during the past eight years.
"They tell me they buy a mansion in another state," Bautista said, "and from one day to another one, they say 'that's it, you don't have a job.'"
Bautista, 36, the family's nanny, has been a domestic worker in New York City ever since she immigrated from Puebla, Mexico, at the age of 17. She specializes in caring for children and teens with special needs.
Like many other domestic workers, her job came to an end when her employer decided to move out of the city due to the coronavirus pandemic.
Poland to enter national quarantine on Dec. 28
Poland will enter a nationwide quarantine at the end of the month to help halt the spread of the coronavirus, according to Polish officials. The lockdown be in place from Dec. 28 to Jan. 17, and all hotels, ski slopes, and shopping malls will be closed.
"I call on every Pole to be responsible for themselves and their loved ones. But I know that calls won't help," Health Minister Adam Niedzielski said at a news conference on Thursday.
Pfizer vaccine vials hold some extra doses — experts say that's normal
The small glass vials used to transport Pfizer-BioNTech's Covid-19 vaccine hold more than the expected five doses — and that's OK.
The Food and Drug Administration said Wednesday night that it was aware of reports that vials were yielding six and sometimes seven doses, and that it was acceptable to use all full doses from each vial.
"At this time, given the public health emergency, FDA is advising that it is acceptable to use every full dose obtainable (the sixth, or possibly even a seventh) from each vial, pending resolution of the issue," the agency said in a tweet.
U.S. sets records in Covid cases, deaths; infection count surpasses 17 million
The U.S. set Covid-19 records for cases and reported deaths Wednesday, counting 3,293 dead and 232,086 cases.
According to NBC News' tally, six states registered more than 10,000 cases apiece Wednesday: California, Texas, Florida, Tennessee, New York and Pennsylvania.
The case count in the country surpassed 17 million Thursday morning.
These states set single-day records:
California, 51,437 cases
Kansas, 144 dead
Maine, 551 cases
Nevada, 57 dead
New Hampshire, 21 dead
Tennessee, 11,410 cases
Vermont, 5 dead