'Substantial rates' of mental trauma among ICU workers in England, new study reveals
A study published in the United Kingdom on Wednesday found "substantial rates of probable mental health disorders" among intensive care workers during the pandemic.
It surveyed 709 doctors, nurses and other staff in England and found that almost half displayed symptoms consistent with post-traumatic stress disorder, severe depression or anxiety, or "problem drinking."
Around one in seven reported thoughts of self harm or feeling they would be "better off dead," according to the study led by King's College London. It conducted the surveys in June and July and its peer-reviewed results were published Wednesday.
The U.K. is currently struggling with one of the worst outbreaks in the world, with a faster infection rate and higher deaths per capita than the U.S. and most other countries.
Protesters in Israel demonstrate against prime minister's handling of pandemic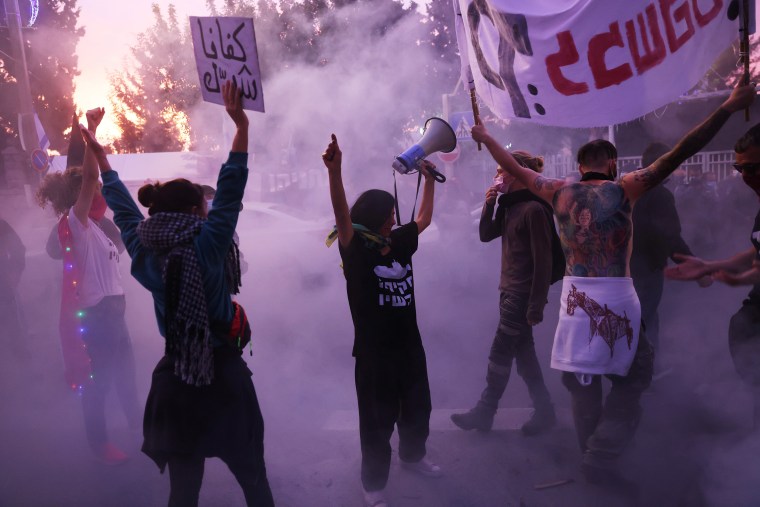 Hospitalization rate for children up 800 percent in six months
Operation Warp Speed chief will reportedly leave after transition
Operation Warp Speed Chief Adviser Dr. Moncef Slaoui has submitted his resignation at the request of the incoming Biden team, under a plan that would see him stay in the role for a month to help with the transition, according to two people familiar with the situation.
Slaoui's role leading vaccine development for the unprecedented government effort is expected to be diminished after Jan. 20, said the people, who declined to be named because the plan isn't yet public. It would end by Feb. 12.
It's not clear who will take the scientific lead for the Biden team focused on Covid vaccines after that, or if someone will be appointed into that role. There are already two vaccines authorized in the U.S., with three more in late-stage clinical trials. Jeff Zients is Biden's coordinator of the Covid-19 response, while Bechara Choucair will be Covid-19 vaccine coordinator, focused on speeding vaccine delivery.
With season set to start, 27 NHL players have tested positive for Covid
Twenty-seven players in the National Hockey League have tested positive for Covid-19, the league said Tuesday — with 17 of those on the Dallas Stars.
The NHL said in a statement that most of the Stars players are asymptomatic and "are currently recovering without complication." The 27 players who are positive for the illness are across nine teams.
The NHL season starts Wednesday, but it will be a condensed 56-game regular season that ends May 8. Normally, there are 82 regular-season games.
The Stars had been set to open their season Thursday in Florida against the Panthers, but the first three games have been postponed and the next one on their schedule is Jan. 19. The NHL made the announcement Jan. 8 after six Stars players and two staff members had tested positive.
Rick Bowness, the Stars head coach, told reporters Tuesday that they knew with Covid-19 there could be some uncertainty with the roster. "We work with the players that we have," he said, adding that decisions would be made as players return.
CDC will now require international passengers to test negative on flights to U.S.
The Centers for Disease Control and Prevention announced Tuesday that it will require all international air travelers to test negative for Covid-19 before entering the U.S. 
"A required test, combined with the CDC recommendations to get tested again 3-5 days after arrival and stay home for 7 days post-travel, will help slow the spread of COVID-19 within US communities from travel-related infection," the agency said in a statement.
The CDC said the new policy, which will go into effect on Jan. 26, is in part a result of "variants of the SARS-CoV-2 virus [that] continue to emerge in countries around the world."
Mexico sees U.S. tourist bump amid Covid pandemic surge
TULUM, Mexico—The friends from Jackson, Mississippi, relaxed on lounge chairs dug into a white sand beach and romped in the turquoise Caribbean waters, grateful for a break from the pandemic winter in the United States.
They were among tens of thousands of American tourists who descended on Mexico's glittering Caribbean beaches at the close of 2020 and start of this year. Quintana Roo state, the country's tourism crown jewel, home to Cancun, the Riviera Maya and Tulum, received 961,000 tourists during that stretch — nearly half from the U.S. — down only 25% from the previous year.
"You come here and it's a sigh of relief from all the turmoil of the COVID," said Latron Evans, a 40-year-old Jackson firefighter.
But concern is spreading that the winter holiday success could be fleeting, because it came as COVID-19 infections in both Mexico and the United States, the main source of the foreign tourists, were reaching new heights — and as a new, more easily spread variant was beginning to emerge in the U.S. If a sharp rise in infections forces a new shutdown of the tourism sector, the effects would be devastating.
QAnon falsehoods move to text message chains
As social networks and app stores crack down on disinformation purveyors and calls for violence, sensational, QAnon-based lies have found a new way to go viral: forwarded text messages.
It's not clear just how many people have sent or received the texts, as person-to-person messaging services are difficult for researchers to track. NBC News received numerous tips and screenshots of the messages from people who say they were forwarded from friends or family. The messages have already made their way to some prominent conservatives, who have amplified them on social media.
The text messages come after Twitter permanently banned President Donald Trump and has taken particular aim at users who promote QAnon. Twitter said Monday that it has suspended 70,000 accounts since the riots.
One viral, false conspiracy theory shared across the U.S. implores users to disable automatic software updates on their cellphones, claiming that the next patch will disable an Emergency Broadcasting Systems message from President Donald Trump. The false rumors are usually attached to another urban legend about a blackout coming in the next two weeks and that people need to be "prepared with food and water."
NBA issues new Covid-19 guidelines
The NBA and the National Basketball Players Association released new health and safety measures for the 2020-21 season on Tuesday after numerous games were canceled amid outbreaks among players and a growing number of cases across the country.
They include a requirement that players and staff of visiting teams can't leave their hotel or interact with non-team guests. Players are also prohibited from getting to the arena more than three hours before game tip-off, can only elbow or fist bump and must wear face masks on the bench at all times. 
The NBA can also require players and team staff to undergo five consecutive days of twice-daily Covid-19 testing if there are positive cases.
Since starting its 2020-21 season, the NBA has faced numerous positive cases among players, who are no longer confined to the bubble the league used during its playoffs over the summer.
In the playoffs bubble, players and league personnel were required to undergo daily testing, had to wear masks and were isolated from the outside. While it proved successful at keeping out Covid-19, many players spoke about the challenge of being isolated from families, friends and their homes and adopting a bubble model for the entirety of the league's regular season wasn't pursued.
New York Mets stadium to host 24/7 vaccination site
The city that never sleeps is getting another Covid-19 vaccination center that will be open around the clock, courtesy of the New York Mets.
Starting the week of Jan. 25, New Yorkers will be able to head out to Citi Field in the borough of Queens at any time of the day or week to get a shot, New York City Mayor Bill de Blasio announced.
"By making City Field a 24/7 vaccination site, they're stepping up to the plate for New Yorkers across our city," de Blasio said.
When it's up and running, the Citi Field site will be able to vaccinate between 5,000 and 7,000 people per day.
In addition, a 24/7 vaccination site opened Tuesday in Manhattan, and another will be up and running in Staten Island starting Friday, and one more will makes its debut Saturday in Queens. 
Round-the-clock vaccination sites have already been operating in Brooklyn and The Bronx.
Philadelphia to restart indoor dining Saturday at 25% capacity
Philadelphia health officials say that some Covid-related business closures will be lifted on Saturday.
For the first time since November, indoor dining, in-person college classes, theaters and performance spaces will be permitted to reopen — but at significantly reduced capacity.
Indoor dining will be capped at 25 percent capacity, while theaters will be capped at 10 percent capacity and prohibit food and drink.
"Your restaurant cannot have entertainment and your theater cannot have food," Philadelphia Health Commissioner Dr. Thomas Farley said, according to NBC News Philadelphia.
Indoor, senior and catered events remain restricted, the city said. 
Mask mandates remain in effect, and next Tuesday, Jan. 19, some branches of the Free Library of Philadelphia will reopen to the public — including crucial computer access, according to interim Director Leslie M. Walker.
"The Free Library is an important resource for our communities, and our staff has worked tirelessly to ensure those resources are available in a safe setting during the pandemic," Walker said in a press release.
Scars from Flint's water crisis shake city's faith in Covid vaccine
DETROIT — In the weeks since the arrival of the first Covid-19 vaccines, the Rev. Dr. Sarah Bailey has been fielding calls from friends and neighbors in Flint.
Callers ask about the new vaccines' side effects, said Bailey, who runs a faith-based health awareness organization called Bridges Into the Future.
They wonder whether the messenger RNA — or mRNA — vaccines can change a person's DNA, she said.
"They say, 'Ooh, can I catch Covid from it?'"
Bailey, an elder at Flint's Full Gospel Baptist Church Fellowship International and the vice chair of a local network called Community-Based Organization Partners, reassures them. The vaccine won't give them the virus and it won't affect their DNA, she tells them, just as all major medical authorities have said based on extensive testing. She walks them through the science behind the vaccines.
Gov. Cuomo announces New Yorkers ages 65+ eligible for Covid vaccine
Gov. Andrew Cuomo announced Tuesday that New Yorkers ages 65 and above are eligible for Covid-19 vaccine "effective immediately."
Cuomo shared the news with a link pointing New York residents toward a website to determine if they are eligible for Covid-19 vaccine. 
In a tweet Cuomo urged patience "as unfortunately there are far more eligible NYers than there is vaccine supply from the federal gov."
Rep. Brad Schneider tests positive for Covid-19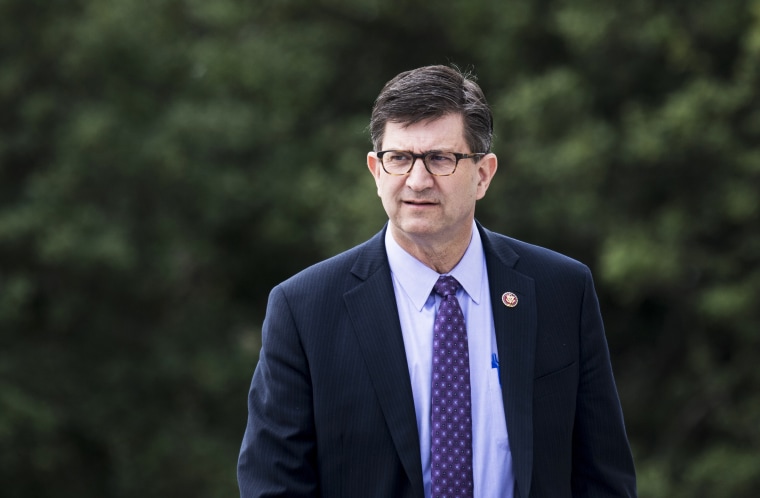 Rep. Brad Schneider, D-Ill., said he tested positive for Covid-19 Tuesday morning, becoming the third lawmaker since Monday to receive the diagnosis since being confined with other lawmakers during the rioting at the Capitol last week. 
Schneider suggested he was likely infected during the ordeal, when he was sheltering in place with dozens of other members, including some House Republicans who chose not to wear face masks.
"Several Republican lawmakers in the room adamantly refused to wear a mask, as demonstrated in video from Punchbowl News, even when politely asked by their colleagues," Schneider said in a statement. "Today, I am now in strict isolation, worried that I have risked my wife's health and angry at the selfishness and arrogance of the anti-maskers who put their own contempt and disregard for decency ahead of the health and safety of their colleagues and our staff."
Schneider said that he hasn't experienced symptoms yet.
Change in recommended vaccination policy: Anyone 65 and older should be eligible immediately
Federal health agencies are expected to announce new coronavirus vaccine guidelines as early as Tuesday,  directing states to vaccinate anyone 65 and older, a senior administration official said.
The sudden change in recommended policy is aimed at boosting the nation's sluggish vaccination efforts.
In addition to the age guidance, the government will also suggest that any adult with pre-existing conditions that puts them at risk for serious infection should also get vaccinated.
This means that some doses that have been held back for second shots will likely be released earlier, a move that President-Elect Joe Biden called for last week.
U.S. counts 254,000 Covid cases, 2,200 deaths; California counts 61,000 cases
The U.S. counted 254,921 new Covid-19 cases and 2,276 reported deaths Monday, the latest numbers in the continuing pandemic.
From Saturday to Monday, an average of 820,000 people per day received a dose of a Covid-19 vaccine, according to NBC News' tally. Note that people require two doses to be fully vaccinated. 
Over the past seven days, the U.S. is averaging 257,000 cases per day, 3,200 deaths per day and 636,000 people who received a dose of the vaccine.
Among states on Monday, California set a single-day record for cases with 61,744.
Football fans fill Tuscaloosa's bars and streets celebrating Alabama's win over Ohio State
Football fans flooded the streets of Tuscaloosa, Alabama, to celebrate the University of Alabama's championship win against Ohio State on Monday, despite rising Covid-19 rates in the state.
In videos circulating on social media, crowds of people — including many without masks — spilled into the Tuscaloosa Strip, an area known for its bars and nightlife, chanting victory songs to mark another national title for the Crimson Tide.
In the lead up to the game, Mayor Walt Maddox said that celebrations should be limited, and tweeted last Friday that "we can't have block parties this year. There will be a time and place to celebrate but this is not the time."
Alabama public health guidelines mandate people to wear a mask within six feet of a person. Alabama has a state total of 404,000 infections and recorded 5,347 deaths as of Monday.
E.U. regulator is considering Oxford-AstraZeneca vaccine
LONDON — The European Medicines Agency said AstraZeneca and Oxford University have submitted an application for their Covid-19 vaccine to be licensed across the European Union.
In a statement Tuesday, the E.U. regulator said it has received a request for the vaccine to be greenlighted under an expedited process and that it could be approved by Jan. 29 during an EMA meeting, "provided that the data submitted on the quality, safety and efficacy of the vaccine are sufficiently robust and complete."
The drugs agency for the 27-nation E.U. has already approved two other coronavirus vaccines, one made by American drugmaker Pfizer and Germany's BioNTech and another by Moderna.
Britain gave its approval to the Oxford-AstraZeneca vaccine last month and has been using it. India approved it this month.
Bodies pile up at crematorium in Germany's virus hot spot
MEISSEN, Germany — The caskets are stacked three high in the Meissen crematorium's somber memorial hall, piled up in empty offices and stored in hallways. Many are sealed with plastic wrapping, others are labeled "infection risk," "urgent" or simply "Covid."
A surge of coronavirus deaths in this corner of eastern Germany has boosted business for crematorium manager Joerg Schaldach and his staff, but nobody is celebrating.
"The situation is a little bit tense for us at the moment," Schaldach said as another undertaker's van pulled up outside.
The crematorium would typically have 70 to 100 caskets on site at this time of year, when the flu season takes its toll on the elderly.
"It's normal for more people to die in winter than in summer," said Schaldach. "That's always been the case."
Now he has 300 bodies waiting to be cremated and each day dozens more are delivered to the modernist building on a hill overlooking Meissen, an ancient town better known for its delicate porcelain and impressive Gothic castle.
On Monday, Meissen county once again took the unwanted lead in Germany's Covid-19 tables, with an infection rate three times the national average. The state of Saxony, where Meissen is located, includes six of the 10 worst-hit counties in Germany.
India starts shipping Covid-19 vaccine around country