This live blog has ended, please click here for NBC News' latest coverage of Covid-19.
On the eve of his inauguration, President-elect Joe Biden led the nation in mourning the 400,000 people across the United States who have died in the coronavirus pandemic.
"To heal, we must remember," Biden said, just before 400 lights illuminated the Lincoln Memorial Reflecting Pool, each representing a thousand Americans who died.
---
---
Amazon offers Biden help with Covid-19 vaccine distribution
Amazon has extended an offer to President Joe Biden to assist with the national distribution of Covid-19 vaccines, a move that could expedite the federal effort to combat the pandemic.
Dave Clark, the CEO of Amazon's consumer business, and one of the company's highest-ranking executives, sent a letter to the president shortly after he was sworn in Wednesday.
"As you begin your work leading the country out of the COVID-19 crisis, Amazon stands ready to assist you in reaching your goal of vaccinating 100 million Americans in the first 100 days of your administration," he wrote in his letter, a copy of which was obtained by NBC News.
"We are prepared to leverage our operations, IT, & communications capabilities and expertise to assist your administration's vaccination efforts," Clark wrote. "Our scale allows us to make a meaningful impact immediately in the fight against COVID-19, and we stand ready to assist you in this effort."
Clark said Amazon had agreements in place with licensed third-party health care providers to administer vaccines on-site at Amazon facilities.
"We are prepared to move quickly once vaccines are available," he wrote.
Clark also asked that employees working at Amazon fulfillment centers, Amazon Web Services data centers and Whole Foods Market stores "who cannot work from home" receive the vaccine "at the earliest appropriate time." Clark had made a similar request to the  Centers for Disease Control and Prevention last month. 
U.K. reports highest single-day death toll since pandemic began
The United Kingdom has recorded the highest number of Covid-19 deaths on a single day since the outbreak began, the government said Thursday. 
A further 1,820 people had died within 28 days of testing positive for Covid-19 as of Wednesday, bringing the total to 93,290, the data showed. 
Separate figures published by the U.K.'s statistics agencies for deaths where Covid-19 has been mentioned on the death certificate, together with additional data on deaths that have occurred in recent days, show there have now been 110,000 deaths involving the coronavirus across the country. 
Covid-19 death toll tops 403,596 as Joe Biden takes office
President Joe Biden took the oath of office Wednesday, leading a nation where more than 403,596 people have died from Covid-19.
When Biden said "so help me God" at 11:48 a.m., at least 24.39 million had been sickened by the deadly virus since the pandemic reached the U.S. shores a year ago, according to a rolling count by NBC News.
Former President Donald Trump repeatedly downplayed the virus, even though he knew of its deadly potential in February. 
Biden last week announced his proposals for a $1.9 trillion Covid-19 relief package.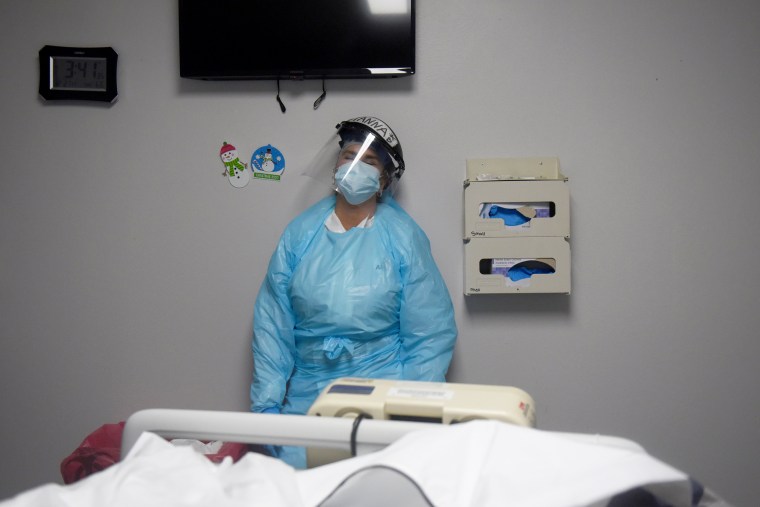 United States logged 173,575 Covid cases, 2,285 deaths Tuesday
The United States added 173,575 new Covid-19 cases and 2,285 deaths on Tuesday.
In the last week, the U.S. has averaged 3,000 deaths and 204,000 cases per day. The country has counted 4.3 million cases and 56,000 deaths thus far in January. 
Overall, 24,375,417 cases and 403,071 deaths have been recorded, according to NBC New's tally. 
94,999 vaccinations were administered Tuesday.
Nearly 12,000 Moderna vaccines ruined en route to Michigan, health officials say
Almost 12,000 Covid-19 vaccines were ruined while en route to Michigan due to a temperature control issue, state health officials said during a press conference Tuesday. 
Twenty-one shipments of the vaccine, made by Moderna and distributed by The McKesson Corp.,  reportedly got too cold and spoiled, according to NBC News affiliate WILX. 
The shipment of 11,900 doses went out Jan. 17, according to the Detroit Free Press. 
"That frustrates me when I know we are in a race and every vaccine matters," Gov. Gretchen Whitmer said during a press conference Tuesday. "But that's not something that I could control. It's not the state of Michigan's fault."
Additional shipments of the Moderna vaccine were held back as officials worked to make sure they could be safely transported, The Detroit Free Press reported. However, the late shipments could lead to a delay for those who had scheduled vaccines at sites expecting those doses.
"I'm certain that people who had appointments scheduled at facilities that were supposed to get those particular shots were frustrated because they weren't able to get them," Whitmer said. "That's part of the bumpy road that we are all experiencing nationwide."
The Detroit Free Press reported that none of the spoiled vaccines had been give to anyone and that McKesson would investigate what led to the temperature failure. 
One year ago, the CDC announced the 1st case in U.S.
One year ago, the first coronavirus case in the United States was confirmed by the Centers for Disease Control and Prevention. 
On Jan. 20, 2020, a man in Washington state tested positive for the virus after returning from Wuhan, China, the then-epicenter of the outbreak.
The next day, the CDC announced the case to the country. 
At that point, there were about 300 cases total of the coronavirus — referred to at the time as 2019-nCoV. Nearly all were in China. 
Dr. Nancy Messonnier, director of the CDC's National Center for Immunization and Respiratory Diseases, said during a call with journalist Jan. 21 last year that "the risk to the American public is low," but more information on the novel disease was emerging by the day. 
Still, Messonnier said, "we should expect to see additional cases in the U.S. and certainly around the world."
One year later, more than 24 million cases of Covid-19 have been diagnosed in the U.S. alone, and the country has the highest death toll — more than 400,000 — of any country on Earth.
Vatican offers vaccinations to homeless
ROME — The Vatican has begun offering Covid-19 vaccinations to homeless people and says it plans to expand the program in the coming days.
A preliminary group of 25 people who live in residences run by the pope's chief alms-giver received the shots on Wednesday in the Vatican's auditorium. They joined Pope Francis, emeritus Pope Benedict XVI and other Vatican employees and their families who began receiving the vaccines last week.
The Vatican, as a sovereign city-state, arranged for its own vaccine deliveries and said its first jabs were the Pfizer-BioNTech shots. Italy has its own vaccine campaign underway but to date, the national health care system is prioritizing health care workers and the elderly.
Francis has called for universal availability of the shots, especially for the poor and most vulnerable. He has also said it was ethically necessary to take the vaccine, expressing incredulousness at vaccine and virus skeptics, because "you're playing not only with your health but the health of others."
Canada asks Biden for help getting more Pfizer-BioNTech vaccines
TORONTO — Canada won't be getting any Pfizer-BioNTech coronavirus vaccines next week and 50 percent fewer than expected over the next month, officials said Tuesday, prompting the leader of Canada's most populous province to ask President-elect Joe Biden to share a million doses from Pfizer's Michigan plant.
Maj. Gen. Dany Fortin, who is leading Canada's logistical rollout and distribution of vaccines, called it a major reduction, but said Pfizer is still expected to meet its contractual obligation to ship four million doses to Canada by the end of March.
U.S. pharmaceutical company Pfizer confirmed last week it would temporarily reduce deliveries to Europe and Canada of its COVID-19 vaccine while it upgrades production capacity at its plant in Puurs, Belgium. Pfizer's Belgian plant supplies all shots delivered outside the U.S.
Doug Ford, the premier of Ontario, Canada's most populous province, said he's angry. He asked Biden to help Canada out, noting there's a Pfizer plant in Michigan.
"Our American friends, help us out," Ford said. "You have a new president, no more excuses. Help us out."
Beijing suburb enforces strict quarantine measures after 6 cases reported
Local authorities imposed strict new measures on 1.7 million people in a Chinese suburb south of Beijing on Wednesday after confirming six new cases of Covid-19 a day earlier.
Some areas of the district were completely sealed off with residents unable to go outside for any reason, according to a statement released by local authorities on the Chinese social media platform Weibo.  Across the district, schools have been closed and public places such as hotels and stores allowed to operate only at 50 percent capacity.
The district confirmed its first Covid-19 case in a local school Monday, resulting in over 1,000 pupils and faculty members placed under collective quarantine, according to China's Global Times.
China has recorded 757 locally transmitted cases of Covid-19 in the past week and 15 million people have been vaccinated, according to government figures.
Germany mandates medical-grade masks on transport and in shops
Germany made the wearing of medical-grade masks mandatory in shops and on public transport, amid fears that more contagious variants of the coronavirus are plunging the country into a deeper health crisis, according to a government statement.
The penalty for not wearing a medical mask varies from state to sate. Offenders in Bavaria, for example, could face a fine of up to 250 euros, around $300.
Germany joins Austria in enforcing stricter guidelines on medical-grade face coverings. In Austria, FFP2 masks will be required from Jan. 25.
The news comes as German leader Angela Merkel announced that the country would extend its national lockdown until Feb. 14, in a press conference Tuesday evening. The lockdown was previously scheduled to end Jan. 31.