Live coverage of this blog has ended, please click here for NBC News' latest coverage of Covid-19.
The virus has killed more than 422,000 people and infected upward of 25 million across the U.S., according to an NBC News tracker.
---
---
Moderna working to upgrade vaccine, develop booster to target South African variant
Moderna announced Monday that the company is working to upgrade its vaccine to better protect against the new South African strain of the coronavirus.
While the vaccine protects effectively against the new, more easily transmitted U.K. variant, antibody levels are diminished sixfold by the South African variant, said a statement from the company.  
According to Moderna, the vaccine should still be effective against the South African variant, which Dr. Anthony Fauci also said on NBC's "TODAY" show Monday, but Moderna is nevertheless working to specifically target that variant.
Moderna CEO Stephane Bancel said on CNBC on Monday that while the current vaccine should protect against the variant, it is "unknowable what will happen in six months, in 12 months."
"Immunity may go down over time," he said, adding that the new work on the vaccine is being done out of an "abundance of caution." 
"We cannot be behind — we cannot fall behind this virus," Bancel said. 
U.K. prime minister considers quarantining foreign travelers in hotels
British Prime Minister Boris Johnson said Monday he was looking to tighten the United Kingdom's border controls because of the risk of "vaccine-busting" new Covid-19 variants.
"We have to realize there is at least the theoretical risk of a new variant that is a vaccine-busting variant coming in — we've got to be able to keep that under control," he told reporters at a vaccination center.
Johnson added that the government was "actively working on" the option of quarantining international travelers in hotels upon their arrival.
He said the United Kingdom was on target to reach its vaccination targets for vulnerable groups by Feb. 15. So far, it has given 6.3 million people their first vaccine shot. 
Merck discontinues two Covid-19 vaccine candidates
Pharmaceutical giant Merck said Monday that it was discontinuing the development of two Covid-19 vaccine candidates after early clinical trial data showed an "inferior" immune response.
Merck said in a statement posted on its website the decision to scrap the two vaccine candidates followed its review of findings from Phase 1 clinical studies.
The company said the studies showed that both candidates were generally well-tolerated, but the immune responses were inferior to those seen following natural infection and those reported for other Covid-19 vaccines.
Israel begins vaccinating students ages 16-18
Israel has begun vaccinating students between the ages of 16-18 in a bid to enable them to take their exams.
The announcement from the health ministry that the vaccination program was opening up to some school pupils came last week and one Israeli health plan told NBC News it had started administering doses Sunday.
The development comes as Israel decided to halt passenger flights to and from the country from midnight Monday to Jan. 31.
Anti-lockdown protests turn violent in the Netherlands, 240 arrested
Clashes broke out in several Dutch cities over the introduction of new nationwide lockdown measures Sunday, resulting in more than 240 arrests, according to police and local media.
Police used water cannons, dogs and mounted officers to disperse a protest in central Amsterdam on Sunday afternoon, according to eyewitnesses. Nearly 200 people, some of them throwing stones and fireworks, were detained in the city.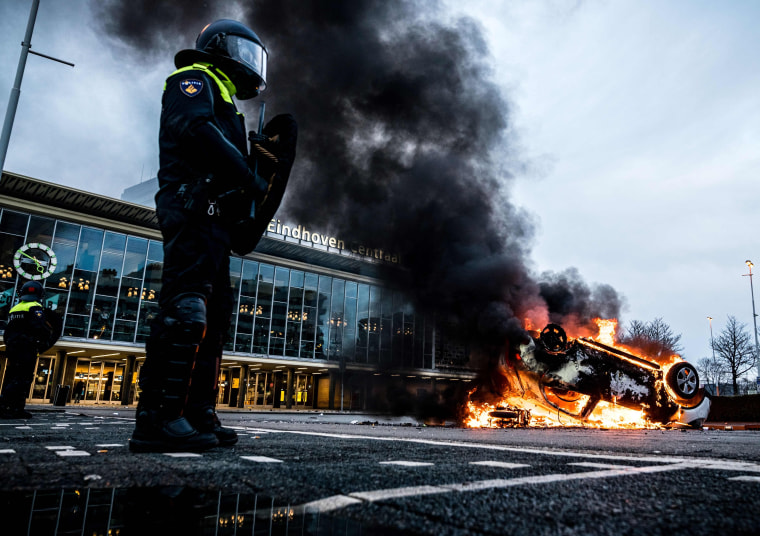 One of the demonstrations took place in Amsterdam's Museum Square, violating a ban on public gatherings. The violent protests were prompted by tougher social distancing measures, announced by the government. The new nationwide measures include a nightly curfew for the first time since World War II. 
Dutch military police said in a tweet that they were deployed to at least two additional cities in the south to support local law enforcement and contain the violence.
Israel bans international flights amid fears of new variants
Israel is set to stop all international travel from Monday night as it seeks to prevent the spread of new coronavirus variants.
The flight ban will come into effect at midnight and last until the end of the month, according to a statement released by Israeli Prime Minister Benjamin Netanyahu's office.
"Other than rare exceptions, we are closing the sky hermetically to prevent the entry of the virus variants and also to ensure that we progress quickly with our vaccination campaign," Netanyahu said in public remarks at the start of a Cabinet meeting.
Exceptions for departures include emergency medical evacuations and attending a funeral overseas of a close relative.
The country's borders have already largely been closed to foreigners during the pandemic, with only Israeli passport holders allowed entry.
Mexican President López Obrador tests positive for Covid-19
MEXICO CITY — Mexican President Andrés Manuel López Obrador said Sunday that he had tested positive for Covid-19. His symptoms were light and he was receiving medical treatment, he said.
"As always, I am optimistic," said López Obrador, 67, who has resisted wearing a mask.
Mexico is in the grip of a second wave of the pandemic, and it has the fourth-highest death toll worldwide. The Health Ministry on Sunday reported 10,872 new confirmed coronavirus cases and 530 deaths, bringing its totals to 1,763,219 infections and 149,614 deaths.