Regional health officials have warned that bottlenecks in vaccine distribution are slowing the ambitious national program to provide shots to tens of millions of Americans in the weeks ahead.
Clinics from New York to Texas have complained that they don't know how many doses they will receive each day, with confirmation often coming at the last minute.
The problems mirror those seen across European Union nations, several of which have complained of a restricted number of vaccines compared to the numbers needed.
There have now been 25.7 million confirmed Covid-19 cases in the U.S. — but new cases are down 23 percent compared to the same figure two weeks ago.
---
---
Coachella 2021 canceled by health officials
Health officials in California on Friday  ordered the Coachella music festival and its sister event, the country music Stagecoach festival, canceled this year because of the Covid-19 pandemic.
The 2021 event had not been canceled by its promoter, Goldenvoice, but the talent lineup was not announced despite a history of rolling out the roster around the first of year. The festivals also didn't take place last year because of the pandemic.
"This order is intended to reduce the likelihood of exposure to COVID-19," the Riverside County health officer said in a public notice to organizers. "If COVID-19 were detected at these festivals, the scope and number of attendees and the nature of the venue would make it infeasible, if not impossible, to track those who may be placed at risk."
The Coachella event, which started as an indie rock and dance music-showcase in 1999 but has morphed into a pop showcase, attracts more than 100,000 people to the Empire Polo Club in Indio, California.
Goldenvoice, a subsidiary of Anschutz Entertainment Group, did not immediately respond to a request for comment.
About 12 sailors aboard the USS Chafee have tested positive for Covid-19
About a dozen sailors aboard the USS Chafee have tested positive for Covid-19 and have been removed from the ship, the Navy confirmed Friday.
"Individuals who were in close contact with those sailors are also off the ship and are in quarantine while they monitor for any symptoms," Cmdr. Sean Robertson, a Third Fleet spokesperson, said in a statement. 
Robertson said the warship, which is docked in San Diego, "remains able to meet its mission."
"No Chafee sailors have been hospitalized," the commander said. 
Robertson's statement came on the heels of a Navy Times report that 41 sailors out of a crew of 350 had either tested positive or had "been in close contact with infected shipmates," including several of the ship's cooks.
And because of equipment shortages, some sailors on trip over from Hawaii have had to "wear dirty N95 mask for five days," Navy Times reported.
Washington hospital apologizes after offering donors vaccine signup
A hospital in Washington apologized after offering 100 donors an invitation to register for a Covid-19 vaccination appointment.
Last Friday, the Overlake Medical Center in Bellevue said in an email to benefactors that the hospital was "pleased to share that we have 500 new open appointments in the Overlake COVID-19 vaccine clinic," The Seattle Times first reported.
The facility provided donors with an access code to register for appointments "by invite" only, according to the newspaper.
Hospital officials told NBC News in a statement Friday that it did not exclusively offer the vaccine signup to the 100 donors. The hospital also extended an invite to 4,000 other community members, which included board members, volunteers, retired medical personnel, and current employees, the hospital said.
All who registered had to be eligible under the state's Covid-19 vaccine policy, according to the hospital.
Cardinal Dolan in quarantine after coming in contact with someone who's tested positive
Cardinal Timothy Dolan, leader of the Archdiocese of New York, is now in quarantine after coming into contact with a person who tested positive for Covid-19.
"The Cardinal has not tested positive, feels fine, and has no symptoms," the diocese said in a a statement.
"He will, however, continue to follow health and safety protocols as instructed by medical professionals, as will others on his staff who also had close contact with this individual."
That means Dolan will not be celebrating this week's 10:15 a.m. Sunday Mass at St. Patrick's Cathedral in New York City.
Disney theme parks will continue to require masks, even if vaccinated
Disney World and Disneyland will continue requiring visitors and workers to wear masks in the theme parks – even if they've been vaccinated for Covid-19, the company announced Friday.
That's in line with the current federal Centers for Disease Control and Prevention guidelines which recommend that people keep wearing masks and social distancing even after they've gotten their shots.
Cuomo announces indoor dining reopening plans amid criticism over nursing home deaths
New York Gov. Andrew Cuomo announced Friday that indoor dining across New York City can reopen on Valentine's Day, Feb. 14, at 25 percent capacity.
The governor also laid out guidelines for safe wedding receptions that go into effect March 15, explaining that all guests will need to be tested and venues can open at just 50 percent capacity, up tp 150 people.
He also updated reporters on the latest Covid-19 statistics in the state: 8,357 people currently hospitalized; 12,579 positive test results Thursday; 151 virus deaths the same day.
Cuomo, whose daily briefings brought him greater national attention and praise in the early days of the pandemic, has drawn greater scrutiny in recent months for what critics say are various failures of his administration's response to the virus.
Cuomo's office has been under fire this week after the state attorney general charged that the New York Health Department underreported the Covid-19 death toll in nursing homes by as much as 50 percent. 
Fauci says kids could start getting vaccine by late spring
Dr. Anthony Fauci, the nation's top epidemiologist, said Friday the Biden Administration hopes to start administering Covid-19 vaccines to children by late spring.
"We've already started on age de-escalation testing," Fauci said during the White House Covid Response Team briefing.
That appears to be a slightly faster time table than Dr. Jose Romero, who chairs the federal Centers for Disease Control and Prevention's Committee for Immunization Practices, forecast last month. 
Romero said he hoped to see trials testing Covid-19 vaccines in young children starting in the second quarter of this year and that, if the they were proven to be safe and effective, kids under the age of 18 would start getting their shots after that.
3,905 new Covid-19 deaths nationwide Thursday
The United States reported 3,905 new Covid-19 deaths Thursday, according to NBC News' tally.
An additional 153,817 new cases were reported by health agencies across the country.
While the number of new cases continues to decline from its post holiday-high, deaths are on the rise. New cases have decreased 26 percent in the last two weeks, while deaths are up 5 percent in the same period.
Overall, 25.8 million cases and more than 430,000 deaths have been recorded in the United States as of Friday morning.
South Carolina set a record Thursday with 230 deaths.
J&J says vaccine effective against Covid, though weaker against South Africa variant
A single shot of Johnson & Johnson's Covid-19 vaccine is effective in preventing moderate to severe illness, the company reported Friday.
Johnson & Johnson, which made the vaccine in partnership with Janssen Pharmaceuticals, is poised to ask the Food and Drug Administration for emergency use authorization as early as next week.
The regulatory agency could authorize the vaccine by the end of February. It would be the third Covid-19 vaccine available in the U.S., along with Pfizer-BioNTech and Moderna.
Results varied by region, however. In the U.S., the single dose was 72 percent effective at preventing both moderate and severe illness. (Moderate illness included symptoms such as low oxygen levels, shortness of breath or deep vein thrombosis.) In Latin America, the effectiveness was lower, at 66 percent. And in South Africa, where a worrisome variant is the predominant strain, the effectiveness fell to 57 percent.
CDC director says community spread of South African strain is here
The director of the Centers for Disease Control and Prevention said Friday the South African Covid-19 variant, which was just detected in South Carolina, had already reached the point of community spread in the U.S.
"I think one of the concerning things is that we know these two people did not know one another and that they did not travel to South Africa so the presumption is, at this point, that there has been community spread of this strain," Dr. Rochelle Walensky told Savannah Guthrie on NBC's "TODAY" show.
Walensky said sequencing of the virus has been "scaled up" under the new administration, meaning there's more of a chance to catch new strain.
New Zealand Covid quarantine flaw exposed by tryst
WELLINGTON, New Zealand — The woman who took a flight back to New Zealand was supposed to avoid all physical contact with others for 14 days as she went into mandatory quarantine. The man working at the quarantine hotel was supposed to be the last line of defense.
But the two started passing notes to each other, including one written on the back of a face mask. Then she ordered a bottle of wine, which he delivered to her room. When he didn't return 20 minutes later, a security manager sent to investigate found the pair together in what authorities are describing as an inappropriate encounter, one in which physical distancing wasn't maintained.
The incident earlier this month, which came to light Friday, has highlighted a very human weak point in New Zealand's coronavirus elimination procedures, in a country which has stamped out community spread of the virus. It is similar to lapses in Australia that may have contributed to a major outbreak last year in Melbourne.
Brits are watching TV and gaming more in their third national lockdown
People in the U.K. are spending more time streaming movies and gaming, exercising less and are more unhappy in Britain's current lockdown compared to the first one back in the spring, according to a large social study.
The University of College London found that the most prevalent activity in January's lockdown has been watching TV, streaming content and playing video games. Other popular activities included communicating with friends and family digitally, following Covid-19 related news and listening to music. 
In comparison to the U.K.'s first lockdown in March, two-fifths of people are doing less exercise and a third of respondents said they were working more and devoting less time to hobbies and volunteering. 
More than 70,000 people have been questioned weekly over the past 44 weeks as the U.K. claimed the world's highest death toll per capita. 
Scientists suggest people have found this period tougher and are more focused on coping with their lives. The pandemic continues to affect mental health, with depression and anxiety levels reported at the highest they've been since June.
Despite eroding positivity among respondents, the study found compliance to the U.K.'s current lockdown has improved to 97 percent. 
European regulator says no new vaccine side effects detected
AMSTERDAM — The European Medicines Agency says no new side effects linked to the coronavirus vaccine made by BioNTech and Pfizer were identified in the regulator's first safety update on Covid-19 vaccines.
In a statement published Friday, the European regulator said its expert committee assessed reports of people who died after getting the vaccine and said their review "did not suggest a safety concern." Earlier this month, Norwegian officials amended their vaccination advice to say that doctors should assess frail and severely ill elderly people to decide if they should be immunized.
The EMA concluded that safety data collected on the Pfizer vaccine are "consistent with the known safety profile of the vaccine" and noted that severe allergic reactions are a known, rare side effect. It said the frequency of such allergic reactions was about 11 cases per million doses in the U.S. but that there was no comparable European estimate yet.
Delayed doses, unfulfilled requests and last-minute allocations: Inside the vaccine rollout
Since Covid-19 vaccine distribution started last month, every week has been a test of patience for Dr. Patricia Schnabel Ruppert.
"Right now, I can't book vaccine appointments for next week or the following week," said Ruppert, who is the health commissioner for Rockland County, New York, a small suburb outside New York City. "We don't know how many doses we'll get, so we don't know how to organize staffing or how many volunteers we need."
Ruppert can't plan ahead because she has no idea how many doses the county will receive until that week, making it impossible to book appointments in advance without the risk of having to abruptly cancel them, a situation that has already developed in cities across the U.S., including New York.
"It's a week-to-week kind of thing," Ruppert said. "It's like hurry up and wait."
WHO team in Wuhan visits hospital that treated early Covid-19 cases
WUHAN, China — A World Health Organization-led team of experts investigating the origins of Covid-19 on Friday visited a hospital in the Chinese city of Wuhan that was one of the first to treat patients in the early days of the outbreak.
After meeting with Chinese scientists earlier in the day, the team went to the Hebei Provincial Hospital of Integrated Chinese and Western Medicine.
Zhang Jixian, director of the hospital's department of respiratory and critical care, has been cited by state media as the first to report the novel coronavirus, after treating an elderly couple in late 2019 whose CT scans showed differences from typical pneumonia.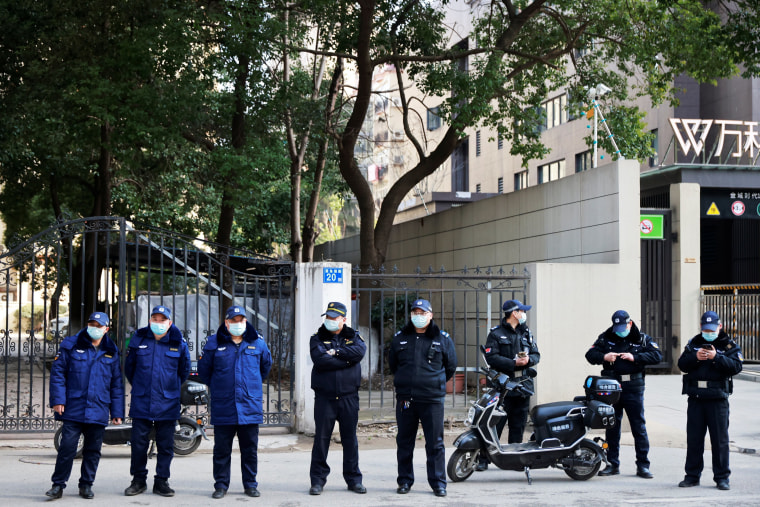 "Extremely important 1st site visit. We are in the hospital that treated some of the first known cases of COVID-19, meeting with the actual clinicians & staff who did this work, having open discussion about the details of their work," Peter Daszak, a member of the WHO-led team, wrote on Twitter.