This live blog has ended, please click here for NBC News' continuing coverage of Covid-19.
As the world inches towards 1.5 million Covid-19 deaths, the U.S. continues to lead the toll, passing 13 million confirmed cases on Saturday.
Public health officials in Santa Clara County, California, followed San Francisco and Los Angeles on Saturday in announcing stricter stay-at-home rules.
Meanwhile, the first doses of Pfizer's Covid-19 vaccine are on the move to the U.S. from Belgium, a source familiar with the planning told NBC News. That comes as a panel of U.S. advisers are set to meet early next week to vote on how scarce, initial supplies of the vaccine will be allocated.
---
Download the NBC News app for the latest coronavirus news
---
Merriam-Webster's Word of the Year comes as no surprise
If you were to choose a word that rose above most in 2020, which word would it be?
Ding, ding, ding: Merriam-Webster on Monday announced "pandemic" as its 2020 word of the year.
"That probably isn't a big shock," Peter Sokolowski, editor at large for Merriam-Webster, told The Associated Press.
"Often the big news story has a technical word that's associated with it and in this case, the word pandemic is not just technical but has become general. It's probably the word by which we'll refer to this period in the future," he said.
The word took on urgent specificity in March, when the coronavirus crisis was designated a pandemic, but it started to trend up on Merriam-Webster.com as early January and again in February when the first U.S. deaths and outbreaks on cruise ships occurred.
On March 11, when the World Health Organization declared the novel coronavirus outbreak a global pandemic, lookups on the site for pandemic spiked hugely. Site interest for the word has remained significantly high through the year, Sokolowski said.
By huge, Sokolowski means searches for pandemic on March 11 were 115,806 percent higher than lookups experienced on the same date last year.
Virus will worsen malaria death toll in sub-Saharan Africa, WHO says
LONDON — Deaths from malaria due to disruptions caused by the coronavirus pandemic to services designed to tackle the mosquito-borne disease will far exceed those killed by Covid-19 in sub-Saharan Africa, the World Health Organization warned on Monday.
More than 409,000 people globally — most of them babies in the poorest parts of Africa — were killed by malaria last year, the WHO said in its latest global malaria report, and Covid-19 will almost certainly make that toll higher in 2020.
"Our estimates are that depending on the level of service disruption (due to Covid-19) ... there could be an excess of malaria deaths of somewhere between 20,000 and 100,000 in sub-Saharan Africa, most of them in young children," Pedro Alsonso, director of the WHO's malaria programme, told reporters.
"It's very likely that excess malaria mortality is larger than the direct Covid mortality."
Virus hospitalizations hit record in California
LOS ANGELES — More than 7,400 people are hospitalized for the coronavirus in California, the state's highest number yet.
The state reported 7,415 coronavirus hospitalizations on Sunday, citing the most recently available data from the previous day. More than 1,700 of those patients were in intensive care units. California's previous record was 7,170 in July.
As of Sunday, California has had nearly 1.2 million confirmed coronavirus cases and more than 19,000 deaths since the pandemic began. The state reported around 15,600 new cases on Saturday.
Counties statewide are preparing for stricter COVID-19 restrictions that will take effect Monday amid surging cases and Thanksgiving travel. Health officials are preparing for a wave of cases in the next two or three weeks that could be tied to holiday gatherings.
Hawaii selling itself as appealing place to work remotely
HONOLULU — A group of Hawaii leaders launched a campaign Sunday to promote the islands as an appealing location for a remote office with a view.
Now that many companies, especially in the tech industry, allow employees to work from anywhere during the pandemic, they hope Hawaii will be alluring.
They're also throwing in roundtrip tickets to Honolulu for the first 50 approved applicants. Some say high-paid workers will bolster an economy decimated by dramatically fewer tourists.
Others worry what those with Silicon Valley money will mean for housing, especially when there's already a crunch for affordable places to live.
Native American small business owners struggle to stay afloat amid COVID
Pfizer's Covid-19 vaccine arrived at Chicago's O'Hare Airport
The very first batch of COVID-19 vaccines arrived at Chicago's O'Hare International Airport on a United Airlines flight from Brussels, Belgium, NBC News has learned.
As reported Saturday, a source said "United Airlines has already flown its first chartered cargo flight to the United States from Brussels to Chicago with the vaccine on board."
However, it remained unclear how many doses were on board or when exactly the cargo shipment arrived at O'Hare.
NFL fines Saints and Patriots hundreds of thousands of dollars for Covid-19 violations
The New Orleans Saints and New England Patriots have been ordered to pay major fines for violating the NFL's Covid-19 protocols, the official NFL website said Sunday.
The Patriots have to pay a $350,000 fine after quarterback Cam Newton's Covid-19 diagnosis made the league push back a Week 4 game between the Patriots and Kansas City Chiefs, NFL.com reported.
The Saints face a steeper fine of $500,000 for a "maskless locker room celebration" that followed their Week 9 win over the Tampa Bay Buccaneers, according to the league's site. The team, which reportedly also held a maskless meeting, was also docked a seventh round draft pick in addition to the fine.
Nearly 400 people at illegal club party busted in New York City, officials say
Approximately 400 people were busted for gathering at an illegal club party early Saturday morning in New York City's Midtown neighborhood, according to NBC New York.
The party, held as Covid-19 cases surge across the country, was in violation of city and state orders against holding mass gatherings. Additionally, the party was operating without a liquor license, according to a tweet from the New York City Sheriff's Department.
The NYC Sheriff also tweeted an image of what appear to be dozens of bottles confiscated at the party.
New York City public schools will reopen on Dec. 7 after closing amid Covid-19 surge
New York City public schools will reopen for in person learning on Dec. 7, Mayor Bill de Blasio announced Sunday.
The largest school district in the country shut down in person learning on November 18 after city residents tested positive for Covid-19 at a rate of 3 percent over seven days. The schools will begin reopening in phases, beginning with 3-K, Pre-K and K-5 students. 
The mayor said almost 200,000 students taking in-person classes should be able to return by Monday, Dec. 7, and schools will have enhanced testing resources.
"We feel confident that we can keep schools safe," de Blasio said in a press conference Sunday.
Fauci warns Thanksgiving travel could make current Covid surge worse
WASHINGTON — Dr. Anthony Fauci, the government's leading infectious disease expert, warned that the travel-heavy Thanksgiving holiday could make the current surge in Covid-19 cases even worse as the nation heads into December.
Appearing on NBC News' "Meet the Press" Sunday, Fauci said that public health officials "tried to get the word out for people, as difficult as it is, to really not have large gatherings" during the holiday due to concerns that the celebrations could exacerbate the coronavirus spread.
"What we expect, unfortunately, as we go for the next couple of weeks into December, is that we might see a surge superimposed on the surge we are already in," he said.
Covid-19 claims life of 101-year-old newsman, a Nazi foe and Auschwitz survivor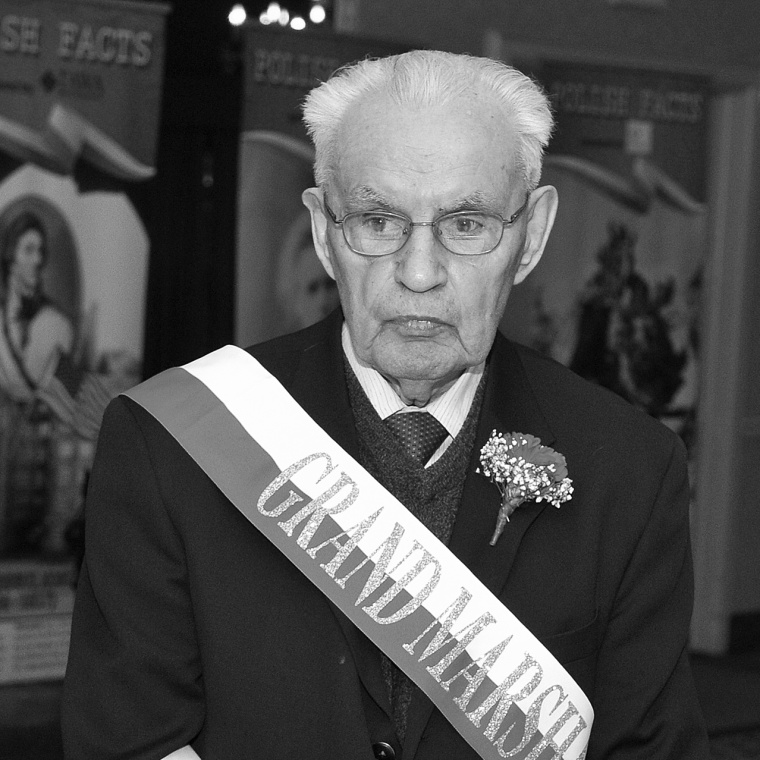 The German invasion, torture at the hands of the Gestapo, the horrors of Auschwitz and Buchenwald — newsman Jan Krawiec survived them all and got his life's story out way ahead of deadline.
It was a silent killer called Covid-19 that did what the Nazis couldn't do. It took Krawiec's life last month at a nursing home in suburban Chicago. He was 101.
Austrians to face further restrictions as ski season still in question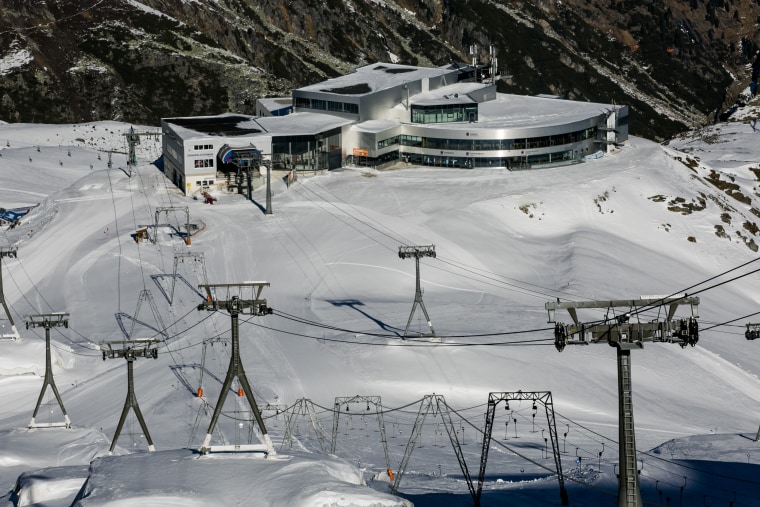 Austria should expect further heavy restrictions when its current lockdown measures expire in just over a week, Chancellor Sebastian Kurz told Austrian paper Kleine Zeitung on Sunday. 
Austria's nationwide lockdown is due to be lifted on Dec. 7, but it is not yet clear what that will mean for the ski industry — cornerstone of the country's tourism sector, which accounts for some 15 percent of economic output.
Speaking to the newspaper, Kurz said Austrians would need to contend with further restrictions for weeks and months, adding new measures to be announced on Wednesday depended on Covid-19 case developments.
North Korea toughens rules of seaborne entry to fight virus
North Korea is building anti-epidemic measures along its borders to prevent the coronavirus from entering the country, state media reported Sunday.
In coastal areas, authorities were working out more stringent rules for venturing out at sea and collecting filthy materials in the waters, according to the Korean Central News Agency
North Korea has maintained no single virus case has been found on its territory, a claim widely questioned by outside experts. Despite its claim, North Korea has swiftly sealed its borders, flew out diplomats and isolated residents with symptoms. A major outbreak in North Korea could have devastating consequences because of its broken health care system and a chronic lack of medicines.
On a street in Denver, mom-and-pop shops are dying amid Covid-19
DENVER — When Covid-19 hit the U.S. in March, revenue at Alyssa Manny's yoga studio fell 60 percent to 70 percent. And it wasn't just her. Nearly every business on Tennyson Street, in a gentrifying neighborhood about 15 minutes from downtown Denver, was hit hard by the pandemic.
First to go was Biju's Little Curry Shop, a popular dining spot featuring dishes that Biju Thomas grew up with in south India, like samosa chaat, dosas and rotis. He moved to the U.S. in 1980 and settled in north Denver. February had been his best month since he opened the restaurant in 2016. But by March, he was done.
Runners race in New Delhi, Shanghai amid pandemic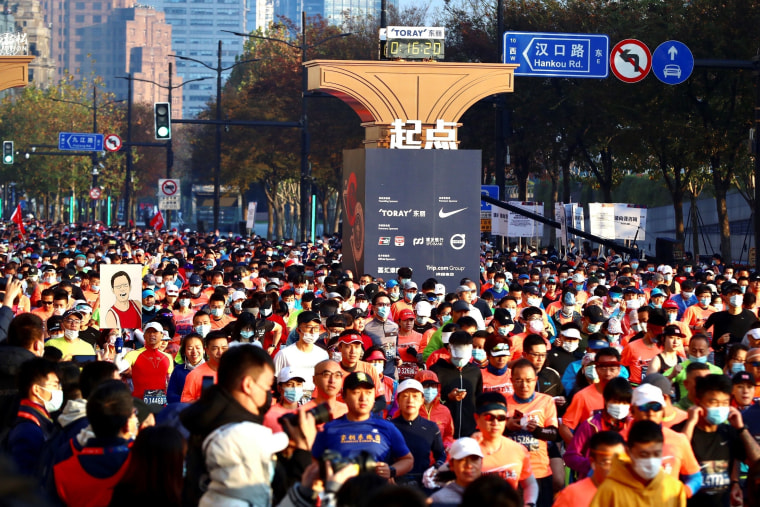 Some of the world's leading long-distance runners participated in a half-marathon in New Delhi on Sunday, even as India's capital grappled with a surge in Covid-19 cases.
More than 60 professional runners participated in the race, as the race was scaled back as the city experienced a third wave of the pandemic.
Meanwhile in China, where the virus first emerged, around 9,000 runners ran a marathon in financial hub, Shanghai, state news agency CGTN reported Sunday.  
Despite China only reporting 11 new Covid-19 cases on Sunday and just 86,512 cases since the pandemic started, much fewer than in Europe and the U.S., less than one-third of the event's usual number of participants and no elite international runners took part this year, CGTN reported, to reduce safety risks. 
All participants were required to wear masks and keep social distancing when they arrived at the event.
More than 150 anti-lockdown, anti-vaccine protesters arrested in London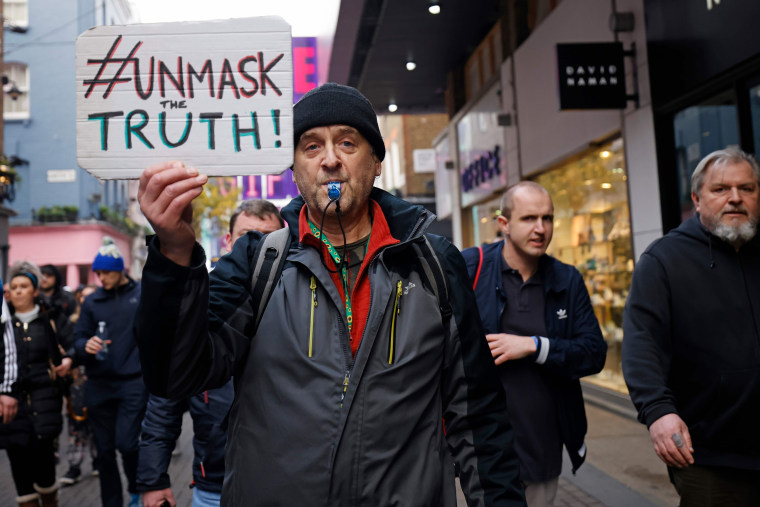 LONDON — Police arrested more than 150 people on Saturday as they tried to break up anti-lockdown and anti-vaccine protests in the British capital, as the country continues to battle its Covid-19 outbreak.
Hundreds of protesters, most of them not wearing face masks, descended on central London's shopping district, holding up signs saying "Unmask the truth" and chanting "Freedom," in contravention of strict coronavirus rules banning mass gatherings.
London's Metropolitan Police said in a statement its officers made a number of "early interventions" to prevent people from gathering and to urge people to go home, adding that they intercepted buses transporting protestors into the capital, and those who did not turn back and go home were either arrested or issued with fine notices.
U.S. advisers to decide how to distribute vaccine
ATLANTA — A panel of U.S. advisers are set to meet Tuesday to vote on how scarce, initial supplies of a COVID-19 vaccine will be given out once one has been approved.
Experts have proposed giving the vaccine to health workers first. High priority also may be given to workers in essential industries, people with certain medical conditions and people age 65 and older.
Tuesday's meeting is for the Advisory Committee on Immunization Practices, a group established by the CDC. The panel of experts recommends who to vaccinate and when -- advice the government almost always follows.
Pfizer and its German partner BioNTech have asked the FDA to allow emergency use of its COVID-19 vaccine candidate. Moderna Inc. is expected to also seek emergency use of its vaccine soon.
Colorado governor, partner test positive
Colorado Gov. Jared Polis announced Saturday night that he and his partner, Marlon Reis, have tested positive for coronavirus.
"They are both asymptomatic, feeling well, and will continue to isolate in their home," the governor's office said in a statement.
"No person or family is immune to this virus," he said in the statement. "I urge every Coloradan to practice caution, limit public interactions, wear a mask in public, stay six feet from others, and wash your hands regularly."
Polis said on Wednesday that he would quarantine after being exposed to the virus. He initially tested negative Wednesday night, his office said.
Colorado has recorded 225,283 cases and 2,983 deaths since the pandemic began.