The 11th day of testimony in Derek Chauvin's murder trial in the death of George Floyd concluded Monday after testimony from a use of force expert, who said Chauvin used deadly force. "No reasonable officer would have believed that was an appropriate, acceptable or reasonable use of force," the expert, law professor Seth Stoughton, said.
Jurors also heard from a cardiologist and Floyd's brother Philonise Floyd, who testified as "spark of life" witness and remembered his brother as a "leader in the household."
The defense is expected to begin its case on Tuesday.
Court adjourns after judge tells jurors to prepare to hear defense case beginning Tuesday
The 11th day of witness testimony in the murder trial of Derek Chauvin came to a close Monday with the judge informing jurors that they should expect to begin hearing the defense's case on Tuesday.
Prosecutors called three witnesses Monday, the first day of the third week of testimony, including George Floyd's brother, Philonise Floyd. He described Floyd as a "leader in the household," who always made sure his siblings went to school on time. He said Floyd loved to work out, play sports and, as a child, measured his height against the wall of their home.
Monday's testimony also included a cardiologist, who bolstered the prosecution's argument for Floyd's cause of death, and a use of force expert, who said Chauvin exercised deadly force that was not reasonable.
The trial will resume Tuesday at 9:15 a.m. local time.
Prosecution's final expert walks jury through specific timeline of Floyd's death
The prosecution called Seth Stoughton, a law professor, as its last witness, using his expertise to guide the jury through a timeline of George Floyd's last moments, beginning when Derek Chauvin arrived on scene.
Stoughton, a former police officer who now studies policing and use of force, gave his opinion on how the officers involved in Floyd's death, including Chauvin, acted in accordance with standard police protocol. He repeatedly testified as to what a "reasonable officer" would have done.
"Both the knee across Mr. Floyd's neck and the prone restraint were unreasonable, excessive and contrary to generally accepted police practices," Stoughton said. "No reasonable officer would have believed that was an appropriate, acceptable or reasonable use of force."
He said there was no need to put Floyd in a prone restraint and that Floyd did not present a threat proportional to the officers' response. Stoughton also testified that Chauvin was twice asked to roll Floyd onto his side by another officer.
The testimony was another chance for the prosecution to show the jury video footage from Floyd's last minutes, where he begs for his life and says "I can't breathe" over and over — at least 27 times by Stoughton's count.
The professor also testified that someone who has passed out can not pose a threat to the officers, and for that reason the responding officers should have changed their response. 
Philonise Floyd tells story behind some of his brother's childhood photos during testimony
Philonise Floyd, George Floyd's brother, recounted memories of his late sibling during his testimony on Monday, telling the story behind pictures the prosecution showed.
Philonise Floyd became emotional when the protection introduce a photo, pictured below, of Floyd and his late mother, Larcenia. In it, Floyd is seen as a young child, resting his head on his mother's chest while he sleeps.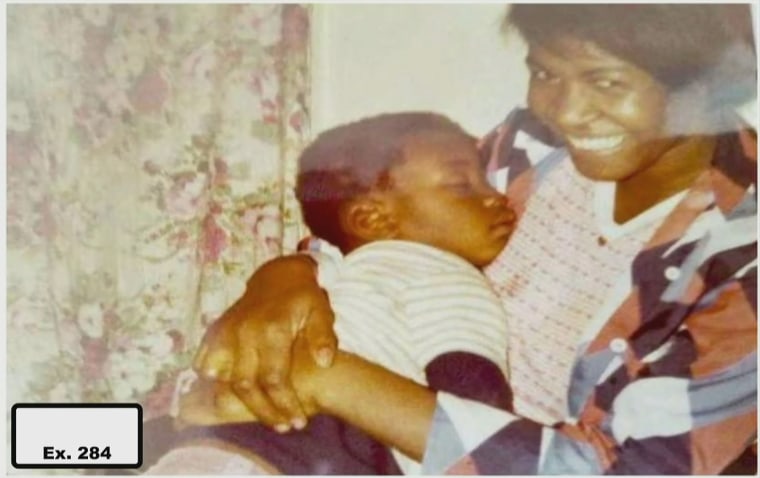 In another photo, Philonise Floyd talked about his brother's time as a basketball player at South Florida Community College. Floyd, below on the left, loved to play basketball, Philonise said. He also loved to teach the game to others.
"We always went hooping," said Philonse Floyd. "I learned the game from him."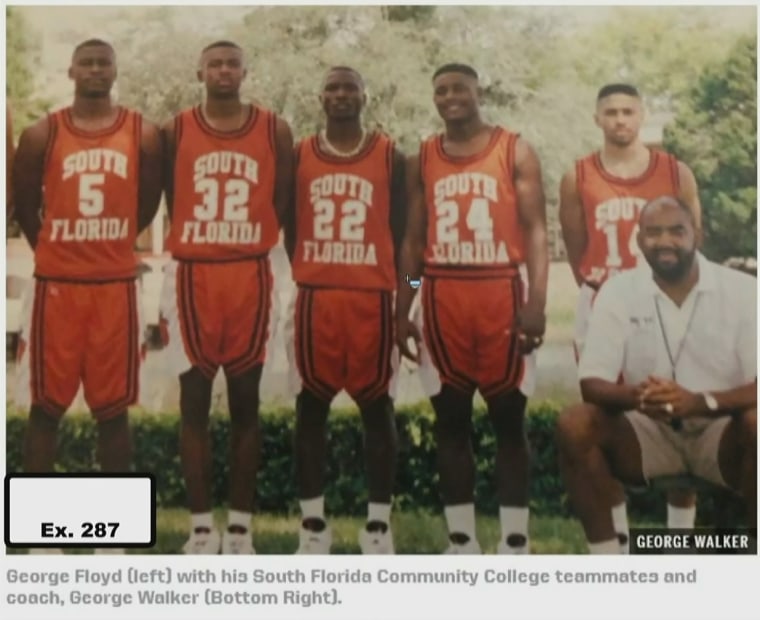 Professor Seth Stoughton takes the stand despite defense motion to exclude his testimony
Professor Seth Stoughton has taken the stand as an expert witness for the prosecution in the trial of Derek Chauvin.
Stoughton is an associate professor of law at the University of South Carolina, where he studies policing and use of force.
The defense had filed a motion objecting to his appearance, arguing that the state had already called a number of use of force experts, including several members of the Minneapolis Police Department. 
Hennepin County District Court Judge Peter Cahill allowed Stoughton to take the stand, but set limitations to his testimony, saying he could testify about national standards for use of force and about whether or not he believes the crowd in this instance could have been a factor in Chauvin's response.
George Floyd's brother testifies in Derek Chauvin murder trial
The prosecution called George Floyd's brother to the stand Monday.
Philonise Floyd is the second "spark of life" witness to testify. Jurors have already heard from Floyd's girlfriend, Courteney Ross, who testified that like so many Americans, they had a shared struggle with opioid addiction.
"Both Floyd and I, our story, it's a classic story of how many people get addicted to opioids," Ross said. "We both struggled from chronic pain. Mine was in my neck and his was in his back."
The "spark of life" testimony is intended to humanize Floyd and to give jurors a fuller view of who he was. In calling Ross to the stand, prosecutors sought to control the narrative around his struggle with drugs.
Rich says he has "high degree of medical certainty" Floyd did not die from a drug overdose
During his testimony, cardiologist Dr. Jonathan Rich affirmed much of what other medical experts called by the prosecution have said about the cause of George Floyd's death.
"After reviewing all the facts in the evidence of the case, I can state with a high degree of medical certainty that George Floyd did not die from a primary cardiac event and he did not die from a drug overdose," Rich said.
"I felt pretty confident that Mr. Floyd had three medical problems," Rich added: hypertension, anxiety, and substance abuse, but there was no evidence of heart disease.
Rich believes it was low oxygen, caused by the officers' restraint, that led to Floyd's death.
Judge denies motion to sequester jury following unrest over police shooting
The judge in Derek Chauvin's murder trial decided Monday not to sequester the jury in the case following protests in Minnesota over the fatal police shooting of a Black man.
Hennepin County District Judge Peter Cahill denied a motion from the defense Monday morning to sequester the jury following civil unrest after Daunte Wright, 20, was shot and killed by police on Sunday during a stop for a traffic violation. Wright's death, just miles away from where George Floyd died, in the officer-involved incident once again led to protests and unrest in the state.
Defense attorney Eric Nelson argued the "fairly extensive civil unrest" and concerns that jurors may be biased in their verdict over such events should lead to the jury being sequestered. The prosecution was against the motion.
In his denial of the motion, Cahill said, "this is a totally different case."
The judge added that such a request could have the opposite of the intended effect if the jury was suddenly sequestered and then believed there was a greater threat to their security because of the recent unrest.
"It'd be a different story if it was civil unrest following another verdict, where the jury can see what the consequences of a certain verdict might be in a similar case, but that's not this case," he said. 
Cahill said the jury would be sequestered after testimony has ended and both sides begin their closing statements.
MSNBC legal analyst Paul Butler said Chauvin's defense never had any real hope of having jurors sent to a hotel room for the trial's duration — but instead made the application as an insurance policy. Requesting for "the jury be sequestered is really a way that the defense ... can preserve this issue on appeal," Butler said.
Cardiologist Jonathan Rich takes the stand as expert witness for prosecution
Cardiologist Jonathan Rich took the stand Monday as the first witness in the third week of testimony in the Derek Chauvin trial.
Rich works at Northwestern Memorial Hospital in Chicago and is an associate professor at Northwestern University.
Rich will be providing his opinion on how he believes George Floyd died.
He said this is his first time testifying in a trial.
Crowd protests after police near Minneapolis shoot Black motorist
Police shot and killed a Black man on Sunday during a stop for a traffic violation, sparking protests and unrest in a suburb just miles away from where George Floyd was killed during an arrest in Minneapolis last May.
The man killed by police was identified by relatives and Minnesota Governor Tim Walz as Daunte Wright, 20.
The state mobilized the National Guard after crowds gathered in front of the Brooklyn Center Police Department on Sunday evening, and a curfew was ordered through Monday morning.
Rocks and other objects were thrown at the Brooklyn Center Police Department building and there were reports of shots fired in the area of the police department, John Harrington, Commissioner of the Minnesota Department of Public Safety said in a press conference. The unrest came after the police had heard reports of a crowd of between 100 and 200 people marching toward the police department.