This live coverage has now ended. Continue reading May 30 coverage of George Floyd's death and the Minneapolis protests.
Derek Chauvin, the former Minneapolis police officer seen kneeling on the neck of George Floyd before his death, was arrested Friday on charges of third-degree murder and manslaughter.
The arrest comes after outrage over Floyd's death and protests overnight during which the police precinct where Chauvin was stationed was set ablaze.
Download the NBC News app for the latest updates.
'Racist president': Democrats accuse Trump of inciting violence in Minneapolis
Democrats on Friday slammed President Donald Trump for what they said was inciting violence against protesters who were demonstrating in Minneapolis over the death of George Floyd while he was in police custody.
Joe Biden, the apparent 2020 Democratic presidential nominee, tweeted, "I will not lift the President's tweet. I will not give him that amplification. But he is calling for violence against American citizens during a moment of pain for so many. I'm furious, and you should be too."
The former vice president said that he planned to speak about the events in Minneapolis later in the day Friday.
Where does the phrase 'When the looting starts, the shooting starts' come from?
Twitter said early Friday that a post by President Donald Trump about the protests overnight in Minneapolis glorified violence because of the historical context of his last line: "When the looting starts, the shooting starts."
The phrase was used by Miami's police chief, Walter Headley, in 1967, when he addressed his department's "crackdown on ... slum hoodlums," according to a United Press International article from the time.
Headley, who was chief of police in Miami for 20 years, said that law enforcement was going after "young hoodlums, from 15 to 21, who have taken advantage of the civil rights campaign. ... We don't mind being accused of police brutality."
Photos: Fire and fury in Minneapolis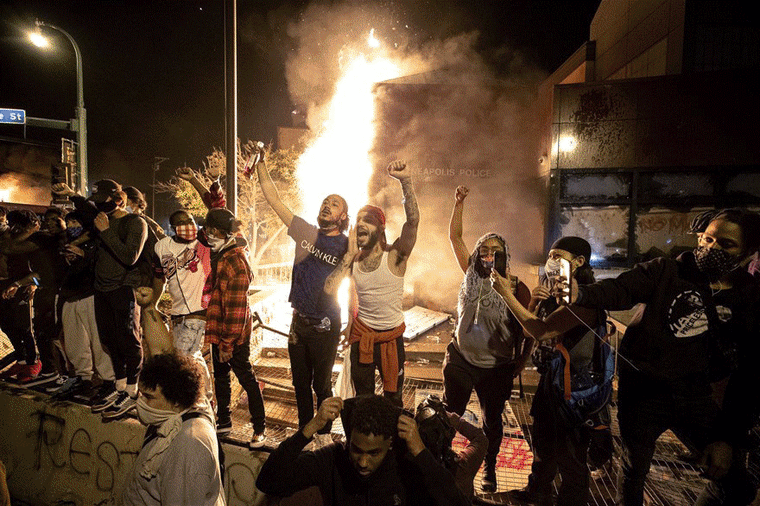 See more photos as protests escalate over the death of George Floyd. 
Activists call for murder charges in George Floyd's death. But they're rare against police.
Public demand for the arrest of the Minneapolis police officer seen kneeling on the neck of George Floyd, an unarmed black man who died later, grew louder Thursday as the city came to grips with violent unrest that prompted Minnesota's governor to activate the National Guard.
Criminal justice and use-of-force experts believe Derek Chauvin, who was fired along with three other officers for their roles in the Memorial Day incident, will more than likely face some type of homicide charge, and black activists and community members said Hennepin County Attorney Mike Freeman must act expeditiously.
"This man was killed in broad daylight while people videotaped him," said Mike Griffin, an activist and electoral organizer for the organization Community Change. "But long before that, there have been systemic racial problems that have harmed the black community and now has mushroomed into this crisis that we're having in this city. Mike Freeman has the power to charge these cops and the power to give us any form of justice."