Live coverage on this blog has ended, click here for latest news on Ida
Hurricane Ida made landfall on the coast of Louisiana Sunday as a powerful Category 4 hurricane, but was downgraded to a tropical storm early Monday. It's the storm's slow movement, sustained power and direction that are of ongoing concern.
Ida has slowed considerably but continues to draw energy from its own storm surge as well as the moisture of the area. The combination is hitting New Orleans with heavy rains in addition to strong winds, overpowering some levees and leaving more than one million people without power throughout Louisiana.
Hurricane Ida has made landfall
Hurricane Ida made landfall near Port Fourchon, Louisiana, around 12:55 p.m. ET Sunday, with maximum sustained winds estimated to be 150 mph, according to the National Hurricane Center.
In an all-caps message at the top of the latest advisory, the hurricane center called Ida, a Category 4 storm, "EXTREMELY DANGEROUS."
Ida was about 15 miles southwest of Grand Isle, Louisiana, and about 45 miles southeast of Houma, Louisiana, according to the NHC.
Electric company warns hard-hit customers could lose power for weeks
Entergy, an energy company that provides electricity to millions of customers in the Deep South, warned Sunday afternoon that Ida could knock out power systems for weeks.
In a statement, the company said customers in the "direct path" of a Category 4 hurricane such as Ida "can experience outages up to three weeks." The statement went on to say that while 90 percent of customers will have their power restored sooner, "customers in the hardest-hit areas should plan for the possibility of experiencing extended power outages."
Entergy insisted it was thoroughly prepared to deal with the aftermath of the storm, with a "workforce of over 7,000 ready ready to restore service." The company added that it anticipated mobilizing a storm team of at least 16,000 workers.
Mississippi Gulf Coast could see storm surge; emergency declaration approved
JACKSON, Miss. — Almost a third of Mississippi's counties are now eligible for reimbursement from the federal government for funds spent in preparation for Hurricane Ida, according to a statement on Sunday from the Mississippi Emergency Management Agency.
The approved pre-disaster Emergency Measures declaration covers 24 counties and the state's only federally recognized Native American tribe, the Mississippi Band of Choctaw Indians.
Gov. Tate Reeves warned during a Saturday storm briefing that the Mississippi Gulf Coast could see up to 11 feet of storm surge in some areas. Power outages throughout the state are also expected.
Climbing admissions in recent weeks of patients seriously ill from Covid-19 have overwhelmed hospitals in Mississippi's coastal counties. Health care leaders are bracing for the loss of electricity by stocking up on supplies with emergency generators at the ready.
"Access to care is a national issue, but a hurricane makes it even worse," Randall Cobb, the Singing River Health System's director of facilities and support, said in an interview with Mississippi Today. "Hospitals are at capacity. In our emergency departments, there are multiple-hour wait times."
Three hours north, several school systems in central Mississippi have already canceled classes for Monday. The Jackson Public School District and Madison County Schools will be closed tomorrow.
Zello is popular during disasters. But it doesn't work without cell service, internet
When Hurricane Harvey hit Texas in 2017, people on the ground used Zello — a messaging app that has been compared to a walkie-talkie — to communicate without cell phone numbers. The popularity of Zello in the aftermath of Harvey and other natural disasters has created the perception that the app is a reliable alternative to phone calls or text messages in the event of a power outage.
But as the makers of the app have clarified in the past, Zello does not work without cellular data service or an internet connection on your phone. In other words, people along the Gulf Coast will not be able to use Zello to communicate if Ida knocks out networks, limiting access to cellular data and WiFi.
Zello's official Twitter account has previously attempted to clear up the confusion, writing in 2017 that there was "massive misinformation among users" about the app's capabilities.
"There has been some misinformation about Zello requirements. Please inform others: Zello REQUIRES Internet using either WiFi or cellular data network of at least 2G," Zello tweeted at the time.
Hurricane Ida nears Louisiana coast
The northern eyewall of Hurricane Ida was moving onshore along the coast of southeastern Louisiana with a sustained wind of 89 mph and and a wind gust of 104 mph as of 12 p.m. ET, according to the National Hurricane Center.
The storm was about 25 miles south-southwest of Grand Isle, Louisiana, and about 60 miles southeast of Houma, Louisiana, the NHC said in its latest advisory.
Parish north of New Orleans already reporting power outages and gas shortages
As Hurricane Ida neared the Louisiana coast, local leaders in the parish just north of New Orleans across Lake Pontchartrain said approximately 7,600 homes were already without power and gas shortages had been reported.
St. Tammany Parish President Michael Cooper provided the news in what he expected to be the last live report from the local government until after Hurricane Ida had passed.
 "Stay vigilant," Cooper added. "Call us if you need us. We're here to serve to the extent that we can."
Cooper warned of the danger of the hurricane and told local residents that the parish had instituted a curfew that would start at 12 p.m. Central Time. The curfew is expected to continue until "the danger of Hurricane Ida has passed," he said.
Leaders also warned local residents who were considering last-minute evacuations of the imminent closure of the Lake Pontchartrain Causeway — the longest bridge over water in the world that connects St. Tammany Parish with New Orleans and the key southern highway Interstate 10.
For those who were remaining, Cooper said he was unsure whether the two local shelters — both gymnasiums — were full. Locals, he said, should shelter in place if they can and remain indoors with their families. 
Even if the storm reduces in strength, he said, "it is still a dramatic storm and one we have to reckon with."
Graphic: Storms are packing a rainier punch
Storms are delivering more rain.
Intense rainfall, like the rains Hurricane Ida brings with it, are increasingly becoming a part of hurricane and tropical storm activity, which scientists attribute to climate change.
The National Oceanic and Atmospheric Administration tracks the rainiest point measured of storms affecting the U.S. and Mexico. According to an NBC News analysis of its data, the maximum rainfall per year is up from an average of 11.5 inches of rain per storm in the 1970s to an average of 15.9 inches in the 2010s.
See the per-year averages below.
Biden authorizes 2,000 FEMA employees to respond to Ida
President Biden has approved an emergency disaster declaration ahead of Hurricane Ida making landfall in order to activate federal resources that can assist states most affected by the storm. 
The declaration deployed 2,000 FEMA employees to Alabama, Florida, Georgia, Louisiana, Mississippi, and Texas, according to a release from White House Regional Communications Director Ike Hajinazarian. Among those being deployed are seven FEMA incident management teams in Louisiana and Mississippi. 
Additionally, FEMA activated 100 ambulances and EMS personnel to assist with post-storm evacuations as well as 13 urban search and rescue teams. 
In Alexandria, Louisiana, a FEMA staging area has been set up with food, water and generators, and in Mobile, Alabama, the U.S. Coast Guard has prepared fixed and rotary aircrafts and shallow water boats.
The U.S. Coast Guard has also cleared any barges along the Mississippi coastline as well as New Orleans. Ports in Houma, Louisiana, and New Orleans closed on Saturday. 
Three U.S. Departments of Health and Human Services Disaster Medical Assistance teams based in Louisiana, Alabama and Mississippi are also in place for assisting the state's response to the Covid-19 pandemic. 
Photo: New Orleans' French Quarter is mostly empty ahead of Ida's arrival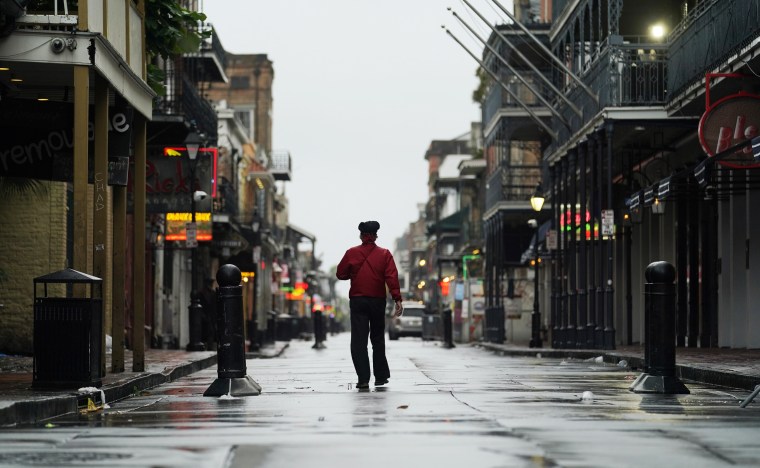 Hurricane categories, wind speeds aren't enough to pinpoint storm's true threat
Hurricane Ida is expected to make landfall as a Category 4 storm. But in the eyes of some leading scientists and researchers, a storm's category doesn't tell you the whole story — and it shouldn't be the only metric used for making important public safety decisions during potentially life-threatening natural disasters like hurricanes.
"We focus so much on the one big number — Category 5, Category 1 — because it's easy and sexy to talk about," Michael Mann, a professor of atmospheric science at Penn State, previously told NBC News. "But it leaves out lots of information you need if you're going to accurately reflect the risk and threat of a storm."
That's because the categories are part of the Saffir-Simpson scale, a measure of a storm's maximum wind speed. The scale, most notably used by the National Hurricane Center, does not account for other potentially devastating criteria.
"This scale does not take into account other potentially deadly hazards such as storm surge, rainfall flooding, and tornadoes," the National Hurricane Center says on a webpage explaining the Saffir-Simpson scale.
Here's more on why wind speeds don't tell you everything.
In Louisiana, evacuating from Hurricane Ida 'wasn't fast' or 'perfect'
The Secretary of the Louisiana Department of Transportation and Development says the agency has assisted "hundreds of stranded citizens," during evacuations ahead of Hurricane Ida's landfall.
The state's interstate system was congested on Saturday as residents scrambled to flee from the Category 4 storm's path.
"The (evacuation) wasn't fast. It wasn't perfect. But to my knowledge, we've had no deaths related to the evacuation effort," said Secretary Shawn Wilson.
Gas prices could rise 'by around 10 cents a gallon' if Ida hits New Orleans as Category 4
Gas prices in the Southeastern and Mid-Atlantic markets will likely rise by around 10 cents a gallon if refineries in the New Orleans area take a direct hit from Hurricane Ida, said Andrew Lipow, president of Lipow Oil Associates.
The Gulf Coast handles around 48 percent of U.S. refining capacity.
Ahead of the storm, oil firms in the region slashed production and evacuated employees at nearby offshore platforms, pulling back even further on output than they did ahead of Hurricane Katrina in 2005.
Crude oil production has been temporarily slashed by more than 90 percent, or 1.65 million barrels per day, compared to Katrina's 1.53 million barrels per day. After that storm, outages continued for weeks. 
While most facilities will go back online after post-storm inspection, any facilities that sustain damage "may take longer to bring back online," the Bureau of Safety and Environmental Enforcement said Saturday.
The Louisiana Offshore Oil Port, the largest privately owned crude terminal in the United States, said "deliveries will be temporarily paused until storm impacts subside."
As of 3:30 p.m. CT on Sunday, around 7.5 percent of gas stations in New Orleans were already out of fuel, and 8.4 percent in Baton Rouge, according to Patrick De Haan, head of petroleum analysis at GasBuddy, the fuel availability and pricing app.
NWS to coastal Louisianans: 'If you are not in shelter, shelter in place immediately'
New Orleans hospitals brace for Hurricane Ida amid Covid-19 surge
Hospitals in New Orleans are bracing for public health emergencies on two fronts as Hurricane Ida threatens to strike at the same time as Louisiana is experiencing a surge in coronavirus cases.
New Orleans is in the midst of a "severe outbreak" with a seven-day average of 220 new infections, according to the city's Covid-19 dashboard. Across the state, more than 3,400 new cases were confirmed as of Friday, according to the Louisiana Department of Health. At least 2,684 people are hospitalized in Louisiana with Covid-19.
Last month, Louisiana hit the biggest single-day increase of Covid-19 hospitalizations since the pandemic's start with 6,800 new cases in a single day, the second-highest single-day case count since Jan. 6, 2021.
WATCH: Al Roker, battered by waves in New Orleans, gives latest on Ida's strength
Live tracker: Follow Ida's path
Thousands of Louisiana residents flee as Hurricane Ida barrels toward Gulf Coast
Many evacuees were met with bumper-to-bumper traffic Saturday that delayed drive times by several hours while frenzied travelers rushed to the airport in hopes of escaping the hurricane.
All Sunday flights were canceled out of New Orleans' Louis Armstrong International Airport, contributing to long security lines Saturday and prompting airport officials to ask that only confirmed passengers go to the airport.
Ida intensifies into 'catastrophic' Category 4 hurricane
Hurricane Ida strengthened rapidly as it barreled its way towards Louisiana's coast early Sunday, prompting the National Hurricane Center to warn of "catastrophic" winds once it moved onshore.
With top sustained winds of 150 mph, Ida was located about 50 miles southwest of the mouth of the Mississippi River, the NHC said in an advisory.
If wind speeds reach 157 mph it will be considered a Category 5 hurricane on the five-step Saffir-Simpson scale, a 1 to 5 rating based on maximum sustained wind speed.