What we know about the Jacksonville Dollar General shooting
Three people were killed in the shooting today at a Dollar General in Jacksonville, Florida, before the gunman killed himself, Sheriff T.K. Waters said.
The identities of the three people killed — two males and one female — have not been publicly released. All three were Black, Waters said.
The shooter, a white man in his 20s, traveled from Clay County, where he lived with his parents, to Jacksonville, where he carried out the shooting, the sheriff said.
The FBI has opened a federal civil rights investigation into the shooting and will investigate it as a hate crime.
Jacksonville shooter who targeted Black shoppers had swastikas drawn on rifle
A white gunman fatally shot three Black people in hate-motivated shooting at a Dollar General retailer in Jacksonville, Florida, on Saturday afternoon, Sheriff T.K. Waters said.
"This shooting was racially motivated, and he hated Black people," the sheriff said at a news conference. "He wanted to kill n------."
The shooter, who wore a tactical vest and was armed with an AR-style rifle and Glock handgun, had left messages for his parents, the media, and federal law enforcement officials detailing racial hatred, Waters said. The firearms were marked in white pen with swastikas.
"This was, quite frankly, a maniac who decided he wanted to take lives," Waters said. "He targeted a certain group a people, and that's Black people, that's what he said he wanted to kill. And that's very clear."
Homeland Security secretary: Stopping hate violence is a priority
U.S. Department of Homeland Security Secretary Alejandro N. Mayorkas tonight spoke out about the Jacksonville violence, saying that preventing such attacks in the future is a priority.
"Too many Americans — in Jacksonville and across our country — have lost a loved one because of racially-motivated violence," he said in a statement. "The Department of Homeland Security is committed to working with our state and local partners to help prevent another such abhorrent, tragic event from occurring."
He confirmed what was made clear throughout the day: Federal law enforcement is taking a major role in the investigation.
"We are and will continue to provide support to law enforcement and to the Jacksonville community to help keep Floridians safe," Mayorkas said.
Suspect in Dollar General attack had 2 weapons, tactical vest
The suspect in today's deadly shooting wore what Sheriff Waters described as a "tactical vest" and carried with him a Glock semiautomatic pistol and a clone of an AR-15, a powerful, semi-automatic rifle originally developed by the Armalite company for combat.
Semi-automatic rifles have been used in about 12% of mass shootings since 2006, and they've been a target of gun regulation advocates, including President Joe Biden, who has called on Congress to bring back an "assault weapons ban."
A photo released by the Jacksonville Sheriff's Office of the rifle allegedly possessed by the shooter shows it branded as a Palmetto PA-15, one of a number of AR-15 replicas that have expanded the market for such long guns since the expiration of the Armalite patents.
Both guns were marked with swastikas, the photos show.
Jacksonville-based special agents from the Bureau of Alcohol, Tobacco, Firearms & Explosives were participating in the shooting investigation, ATF spokesperson Jason Medina said by email.
The family of the AR-15's late inventor, Eugene Stoner, has said he strictly intended the weapon only for battlefield use.
Jacksonville attack latest in mass shootings motivated by hate
Saturday's racially motivated massacre at a Dollar General in Jacksonville, Florida, is the latest mass shooting motivated by hate. Three people were gunned down in what authorities said was an attack against Black people. The shooter killed himself, police said.
The massacre unfolded three weeks after Robert Bowers, whose antisemitic views led him to shoot his way into a place of worship and target people for practicing their faith at the Tree of Life synagogue in Pittsburgh, was sentenced to death. Eleven congregants were killed and seven others were wounded in the 2018 shooting.
Last month, Patrick Crusius, who authorities said was a self-described white nationalist, was sentenced to 90 consecutive life terms in the 2019 fatal shooting of 23 people at a Walmart in El Paso, Texas, in a targeted attack against people of Mexican descent.
Similar attacks have happened across the country. In Buffalo, New York, a white gunman killed 10 Black people at a Tops grocery store last year. In Charleston, South Carolina, a white man shot and killed nine Black members of Emanuel African Methodist Episcopal Church in 2015. And in Orlando, 49 people were gunned down in 2016 at Pulse, a gay nightclub.
Many people on social media noted the grim similarities: "Buffalo and Jacksonville and Charleston and and and," one user wrote on the platform X.
Law enforcement respond to shooting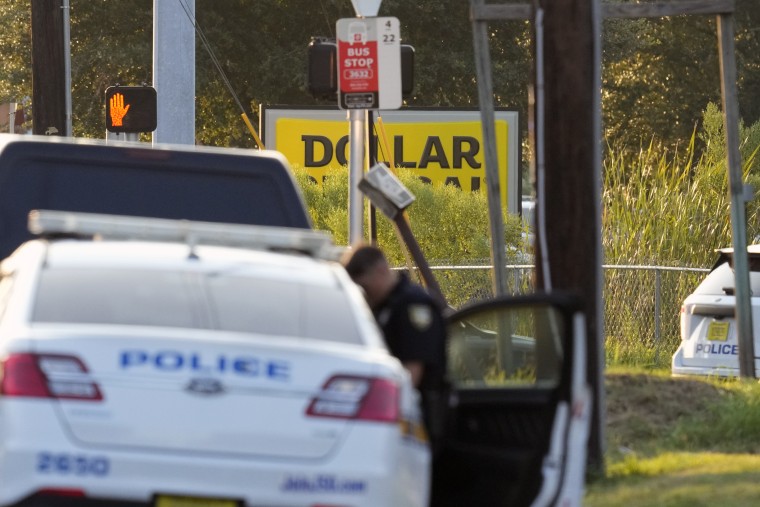 Suspect had 2 previous encounters with law enforcement
The suspect in today's attack got the attention of area law enforcement twice before, authorities said.
In 2016, he was involved in a call about a domestic disturbance, Sheriff Waters said. The report resulted in no arrests, he said.
The next year, the suspect was subjected to Florida's Baker Act, he said.
That's the name of mental health legislation that "enables families and loved ones to provide emergency mental health services and temporary detention for people" who are experiencing disabling mental health issues, according to the University of Florida Health.
In this latter case, it wasn't clear what happened.
President Biden briefed on Jacksonville shooting
President Joe Biden today was briefed on the Jacksonville attack, the White House said.
Upon his return today from vacation in California's Lake Tahoe area, the president did not address the media.
The White House added that Biden was also briefed on other shootings that took place across the nation in the last 24 hours.
Dollar General says it's 'heartbroken' by attack at store
Retailer Dollar General responded to news of today's attack at one of its stores in Jacksonville, saying the killing left it "heartbroken."
"We are heartbroken by the senseless act of violence that occurred at our Kings Road store in Jacksonville, Florida today," the retailer said in a statement.
It said it would work with investigators and support employees affected by the attack.
"At this time, supporting our Jacksonville employees and the DG family impacted by this tragedy is a top priority as we work closely with law enforcement," Dollar General said.
The retailer claims to be the nation's first dollar store. Its first storefront opened in Springfield, Kentucky, on June 1, 1955.
Suspected shooter was aware of gamer shooting 5 years ago to the day
The suspect in today's racially motivated attack was "aware" of a mass shooting in Jacksonville five years ago on this date in which two people were killed and 10 were injured, the city's mayor said.
"He was aware of that," Mayor Donna Deegan said at today's news conference, citing messages the suspect left for authorities, media and his parents. "Perhaps [he] chose this day in alignment with that."
The Aug. 26, 2018, attack happened at the Southeastern Qualifier Tournament for competitors in the "Madden 19" video game. The suspect killed himself.
ESPN reported that gunfire erupted within 10 minutes or so of the suspect's loss by single-elimination on the tournament's second day. Authorities believe the suspected shooter used one of two handguns he had in the venue at Jacksonville Landing, a marketplace.
The suspect, listed as a previous "Madden" contest winner, appeared to have targeted fellow gamers, authorities said. Jacksonville County's sheriff at the time, Mike Williams, said the suspect was likely familiar with the victims.
People gather in prayer after the shooting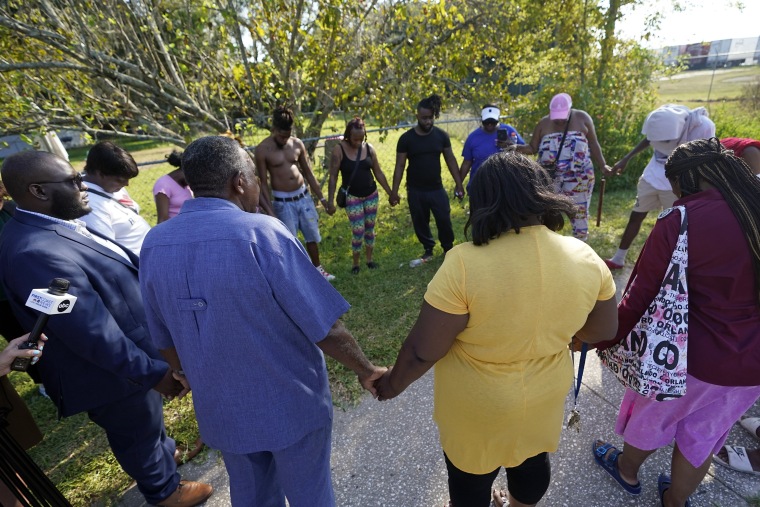 Gov. DeSantis calls suspect a 'scumbag,' says attack was 'a very cowardly act'
Florida Gov. Ron DeSantis said he spoke to Jacksonville Sheriff Waters about the shooting and called the suspect a "scumbag" and his actions "a very cowardly act."
DeSantis, who was campaigning today in Manly, Iowa, for the Republican nomination for president, spoke about the violence in a video.
"This shooting, based on the manifesto that they discovered from the scumbag that did this, was racially motivated," DeSantis said. "He was targeting people based on their race. That is totally unacceptable."
The governor offered condolences to family of the victims.
"This guy killed himself rather than face the music and accept responsibility for his actions," the governor said. "And so he took the coward's way out. But we condemn what happened in the strongest possible terms."
DeSantis, who just finished a two-day PAC-sponsored bus tour of northwest Iowa, will be returning home early from campaigning, spokesperson Jeremy Redfern said.
Shooter left messages detailing his 'disgusting ideology of hate', sheriff says
The shooter in today's racially motivated attack left three messages that detailed, in part, his "disgusting ideology of hate," the sheriff said.
He authored three of the messages, Waters said, to his parents, the media and federal agents.
At 1:18 p.m., the shooter texted his father and told him to check his computer. The shooter's parents called the Clay County Sheriff's Office at 1:53 p.m., but at that point the shooting had already started, Waters said.
Shooter's firearms were marked with swastikas
The firearms possessed by the suspected shooter were marked with swastikas, Waters said today.
He confirmed the symbolism on the weapons, and his office displayed images of the guns that included the markings.
The firearms, Waters said, did not belong to the suspect's parents.
"His parents didn't want them in their house," the sheriff said.
Jacksonville Mayor Donna Deegan said she was heartbroken by the attack.
"You see the swastikas on the gun?" she said. "We must do everything that we can to dissuade this type of hate."
FBI to investigate shooting as a hate crime
The shooting at a Jacksonville Dollar General today will be investigated as a hate crime, the FBI special agent in charge for the Jacksonville area said.
"We have opened a federal civil rights investigation and we will pursue this incident as a hate crime," said the bureau's Sherri Onks during a news conference.
Shooter killed three at Dollar General before killing himself
Three people — all Black – were killed in the shooting today at a Dollar General, Waters said.
The gunman, a white man in his early 20s, intentionally targeted Black people, the sheriff said.
"This shooting was racially motivated, and he hated Black people," Waters said at a news conference. "He wanted to kill n------."
The victims and the gunman have not been publicly identified.