The latest on the Colorado Springs shooting:
Five people are dead and 25 injured after a gunman entered Club Q, a Colorado Springs LGBTQ club, Saturday and began firing with a long rifle.
The gunman is in custody after being subdued by at least two people inside the club.
Police said a motive for the shooting remains unclear at this time.
Club Q was hosting a "Drag Divas" show followed by a DJ night on Saturday the night before Trans Day of Remembrance. Colorado Springs Police Chief Adrian Vasquez called Club Q "a safe haven for our LGBTQ citizens."
This liveblog coverage has ended. Click here for the latest updates.
Colorado governor orders flags to be lowered in honor of shooting victims
Colorado Gov. Jared Polis has ordered that flags on all public buildings across the state be lowered this week in honor of those who were killed in the Club Q shooting in Colorado Springs on Saturday.
In a statement, his office said all flags should be lowered from sunrise Monday until sunset on Saturday to "honor and remember the victims of the horrific shooting."
"Flags will be lowered for 5 days to remember each of the 5 individuals who lost their lives in this senseless tragedy," his office said.
His office said a Pride flag would also be raised at the Colorado state capitol for the next five days.
New Colorado Springs residents had just discovered Club Q, community
New to Colorado Springs, Aeron Laney and Justin Godwin went to Club Q on Saturday evening for their first night out on the town, they said. The pair stayed for two hours to watch a drag show and left at 11:54 PM, a handful of minutes before the gunman entered, they added.
For Laney, who is bisexual, it was the first time ever going to an LGBTQ bar.
"It's devastating," Laney, 24, said, standing outside the bar on Sunday evening. "We thought we had found a new home and a community, and we were expecting to make new friends and making this a regular place to go where we could openly be ourselves and now it's just gone — it's just ripped away."
They estimate that roughly three dozen people were at the bar when they left. With five dead and 25 others wounded, according to police, "We just keep thinking everyone we saw was a victim," Laney said.
Survivors describe chaos and terror: 'I was scared. I was trapped.'
COLORADO SPRINGS, Colo. — The music was pounding at the LGBTQ nightclub Club Q when a lone gunman walked in and started shooting, sending people scrambling for cover and leaving horror in his wake.
In interviews, people who survived the shooting described the terror they felt when the suspect starting firing bullets indiscriminately, killing five people and injuring 25 others.
Michael Anderson, a bartender at Club Q, recalled that he heard "a few popping sounds" and initially assumed someone inside the club might have been clapping.
"Then I looked up," he said, "and I realized people were running."
Mourners lay flowers, remember the dead outside Club Q
COLORADO SPRINGS, Colo. — Mourners gathered Sunday outside the shopping center that houses Club Q, laying flowers on the ground in remembrance of the victims.
The people who came to pay their respects lamented that even simple activities — like going out for a night of fun with friends — seem to have become unsafe.
"No matter where you go or who you're with, you just have to catch out for your surroundings," said Moana Aona, 20, a Colorado Springs resident.
"At this point, I don't think it's safe to go anywhere," Aona added.
Cheyenne Schulman, 20, a Colorado Springs resident who identifies as bisexual and uses she/her pronouns, decried the massacre as an assault on the LGBTQ community.
"I feel like I have to tell my mom I love her every time I leave the house because I don't know if I'm going to come home," Schulman said. "This is an attack on our community. ... We can't even go outside anymore."
Pulse foundation says anti-gay violence must end
The nonprofit organization established in the wake of the Pulse nightclub shooting in Orlando, Florida in 2016 responded Sunday to the Colorado Springs attack, saying anti-gay violence in America must cease.
"We are deeply saddened and horrified by the mass shooting at the Club Q nightclub in Colorado Springs that killed five people," the organization, onePULSE Foundation, said. "Our heartfelt sympathies go out to the victims and their families, as well as the wounded and those affected by this tragedy."
The nonprofit thanked those inside the Colorado venue who helped to stop the shooting, and it expressed gratitude to first responders who ran toward the chaos.
"Violence directed at members of the LGBTQIA+ community must come to an end," it said.
The Florida attack ended with 49 dead and was one of the worst mass shootings in United States history.
OnePULSE Foundation is planning the National Pulse Memorial & Museum in Orlando as "a sanctuary of healing and a beacon of hope by memorializing the lives taken, the lives saved, and all the lives affected by the Pulse nightclub tragedy of June 12, 2016," according to a statement.
Club Q founder says gunman stormed in with a 'definite mission'
The lone gunman who opened fire at Club Q came in through the front door and appeared to be on a "definite mission" as he sprayed bullets indiscriminately, the founder of the club told NBC News.
Matthew Haynes, the founder of the LGBTQ-friendly club, said he believes the suspect "targeted" the establishment. Haynes described the gunman's demeanor in stark terms.
"The look on his face, the determination, that anger as he entered the building," he said. (Haynes said he could not provide extensive details on the attack because it is still under police investigation.)
Police have said a motive for the shooting remains unclear at this time.
Haynes told NBC News that he arrived at the club "6 to 8 minutes" after the shooting. "We were arriving as the first responders were arriving," he said.
Officials have said the suspect was detained roughly five minutes after the initial 911 calls.
Joshua Thurman, who witnessed the massacre inside Club Q, described the chaotic and horrifying moments when the gunman opened fire, leaving "bodies, blood and shattered glass" in his wake.
Thurman said he was on the dance floor and heard loud sounds. Initially, he said, "I thought it was the music ... Either the music was so loud that we couldn't hear anybody scream for help, or we just didn't hear anybody scream for help."
But then he heard another round of gunshots. He turned to his left and saw muzzle flash. He bolted to a dressing room, where he hunkered down with two other people.
Thurman and the two others locked the doors, got down on the ground and turned off the lights. They could hear the sound of police officers storming inside to detain the suspect while they shook and wept, "fearing for our lives."
Thurman, fighting back tears and wiping his nose with a crumpled tissue, said he thought to himself: "At any second, this man could just burst through the door and kill us if he really wanted to."
Colorado Gov. Polis tweets heartbreak emoji on his personal account
Colorado Gov. Jared Polis tweeted a heartbreak emoji in a post to his personal Twitter account later Sunday.
Polis, the first openly gay man elected governor in the United States, decried the deadly shooting as "horrific widening and devastating" in a statement earlier Sunday.
Update: 15 victims being treated at two hospitals
Fifteen victims injured in the shooting at LGBTQ nightclub Club Q were being treated at two hospitals on Sunday afternoon, officials said.
Eleven patients were being treated at Memorial Central Hospital, up from the 10 officials announced Sunday morning, according to UC Health public and media relations manager Kelli Christensen.
Further information on their conditions was not immediately available.
Four victims were being treated at Penrose Hospital, spokesperson Lindsay Radford told NBC News. Two of those victims were in critical but stable condition, and the other two were in stable condition.
Three had been discharged from Penrose, marking an increase from the two who officials said had been discharged earlier on Sunday.
No patients were being treated at Memorial North Hospital as of Sunday afternoon, Christensen said. Officials had said at the Sunday morning news conference that that hospital had initially received two patients.
Twenty-five victims total were injured in the shooting, officials said. It was not immediately clear where the rest were being treated or if they had received treatment.
GLAAD calls Club Q shooting 'horrific tragedy,' says 'vile rhetoric' and anti-LGBTQ legislation responsible for the attack
The Gay & Lesbian Alliance Against Defamation released a statement on the Club Q mass shooting on Sunday, calling it a "horrific tragedy."
"This unspeakable attack has robbed countless people of their friends and family and an entire community's sense of safety," said Sarah Kate Ellis, the president and chief executive officer of GLAAD.
Ellis also said that false rhetoric and anti-LGBTQ legislation is responsible for attacks like this one on the community.
"You can draw a straight line from the false and vile rhetoric about LGBTQ people spread by extremists and amplified across social media, to the nearly 300 anti-LGBTQ bills introduced this year, to the dozens of attacks on our community like this one," she said. "The media must stop spreading misinformation and elevate the truth that LGBTQ people exist, belong and want to live in peace and safety. Elected officials and corporate leaders must act immediately to prioritize this truth, and protect everyone's safety."
The mass shooting that claimed the lives of at least five people and injured more than two dozen happened on the eve of the Transgender Day of Remembrance, an annual observance that started in 1999 to honor the memory of transgender people killed in acts of anti-trans violence, according to GLAAD.
Colorado Springs local says climate felt increasingly unsafe for LGBTQ people
Parker Grey, 25, said he used to be a regular at Club Q because he lived next door, but he stopped going about a year and a half ago "because of the growing hatred for our community that started in the Springs."
Grey said the most recent Pride celebration drew a small crowd compared with the city's first Pride event a few years ago, and there were always protesters. Recently, he and his friends have instead traveled to Denver for most LGBTQ events.
"The numbers thinned out at the club naturally with Covid, but I think people began to fear for their safety again, like they did back in 2016 when Pulse happened," he said, noting the rise in violence against transgender people, particularly trans women of color, over the last few years. "You can just feel it. As a community, being through so much grief and so much loss after so many years, it's almost like you can feel tragedy coming."
Grey is going to host a "Remembrance and Radicalization" event on Monday at 7 p.m. MT (5 p.m. ET) in Acacia Park. He said he has received a lot questions about using the word "radicalization," and that he "wanted it to be very clear that we are not just sad but that we're also angry."
He said violence is a major part of LGBTQ people's lives "and it's happening continuously, and you hear all these half-assed apologies from these politicians on their Twitters and then we see no action." 
FBI assisting Colorado Springs Police Department in investigation
The FBI is assisting the Colorado Springs Police Department in its investigation into the mass shooting at the LGBTQ nightclub Club Q, the bureau's national press office said in a statement Sunday afternoon.
"The Denver FBI Field Office, the Justice Department's Civil Rights Division, National Security Division, and the U.S. Attorney's Office for the District of Colorado are aware of the situation regarding the shooting in Colorado Springs at Club Q, and we will review all available facts of the incident to determine what federal response is warranted," the statement said.
"The FBI is providing assistance to the Colorado Springs Police Department."
Club Q owner decries 'this level of hate'
COLORADO SPRINGS, Colo. — Club Q owner Matthew Haynes said he never envisioned "this level of hate" as he described the mass shooting that took the lives of five people and injured 25 others at his LGBTQ club Saturday evening.
Haynes said the timing of the shooting worsens the situation with Thanksgiving on the horizon.
"Family members won't be with their family members," he said.
Haynes said he opened his club 20 years ago to give people a place to gather and be themselves.
"We started it when there were darker days. We didn't have a lot of rights and we needed places to have a community and that's what Club Q has been for 20 years," he said.
Photos: People gather for a vigil following Colorado shooting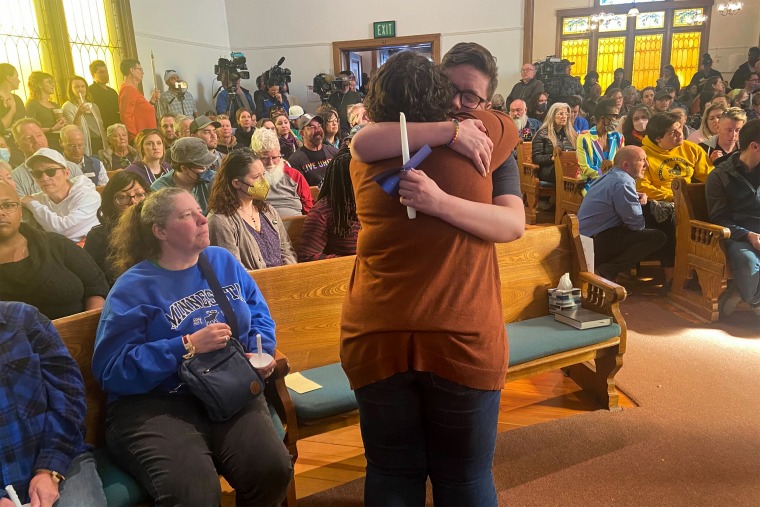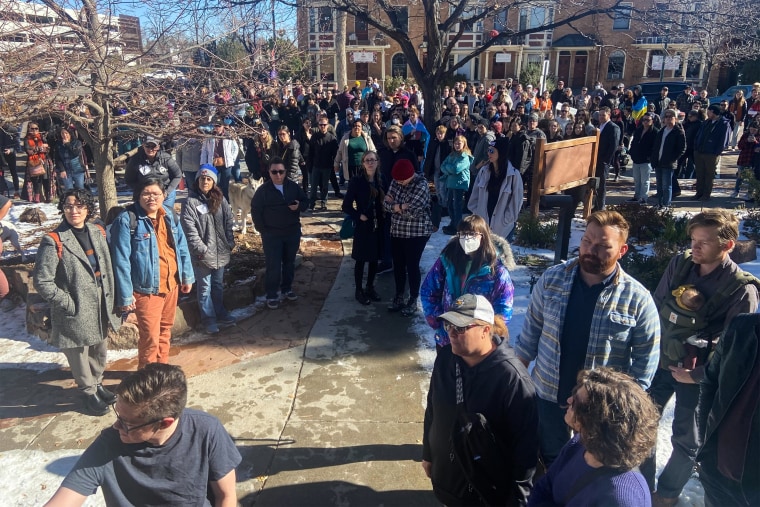 Man with same name as Colorado suspect involved in bomb threat last year
A man with the same name and age as the suspect arrested in Colorado Springs Saturday was arrested by sheriff's deputies last year after a bomb threat was made in a residential area outside Colorado Springs. The man's mother told officials her son was threatening to harm her with a homemade bomb and weapons, the sheriff's office said at the time. The man at first refused to surrender to police but eventually complied with authorities. No bombs were discovered during the incident.
Biden condemns 'devastating' Colorado Springs shooting
President Joe Biden issued a statement in response to the deadly shooting Sunday, acknowledging that the LGBTQ community has been "subjected to horrific hate violence in recent years," with gun violence continuing to have a "devastating and particular impact" on communities nationwide.
"Places that are supposed to be safe spaces of acceptance and celebration should never be turned into places of terror and violence. Yet it happens far too often," the president said. "We must drive out the inequities that contribute to violence against LGBTQI+ people. We cannot and must not tolerate hate."
The president pointed to his signing of legislation aimed at preventing gun violence earlier this year but said more must be done. Biden urged a ban on assault weapons.
"Today, Jill and I are praying for the families of the five people killed in Colorado Springs last night, and for those injured in this senseless attack," Biden said.
Denver Broncos to hold moment of silence following mass shooting
The Denver Broncos said in a tweet they would hold a moment of silence "remembering the lives lost" ahead of their game against the Las Vegas Raiders on Sunday.
"Our hearts go out to the victims of the senseless act of violence that occurred last night in Colorado Springs," the team wrote. "There is no place for hate, and we stand with the LGBTQ+ community and all impacted."
Photos: People mourn outside Club Q following mass shooting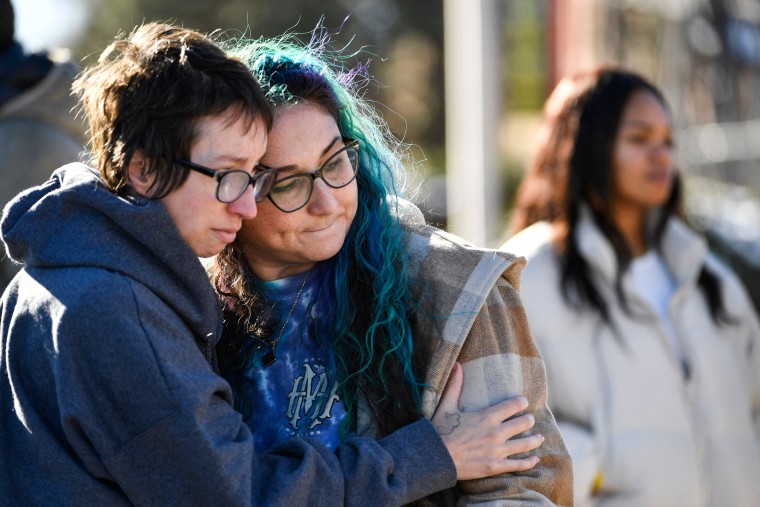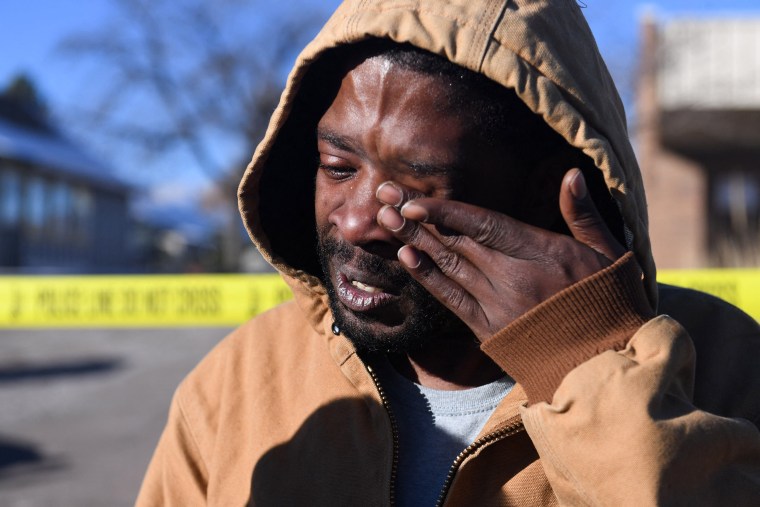 Jared Polis, first gay man elected governor in the U.S., has been a vocal critic of attacks on LGBT people
Colorado Gov. Jared Polis, who won re-election earlier this month, was part of the so-called rainbow wave in 2018 — referring to the record number of LGBTQ candidates who ran for office in that year's midterm elections. He is the second out LGBTQ person to be elected governor of a state, after Gov. Kate Brown of Oregon, a Democrat who identifies as bisexual, was first elected in a special election in 2016.
During Polis' first gubernatorial run, his sexuality played only a small role in his run for governor, and he has said in past news interviews that he found Colorado voters to be more concerned with kitchen-table issues.
Though his campaign focused largely on delivering more government services while continuing to grow Colorado's booming economy, he has since become a vocal critic of the rise of attacks on the LGBTQ community in recent years.
"Today Colorado took an important step forward in recognizing our diversity as a strength," Polis told NBC News in an emailed statement when he signed the 2019 bills. "These bills truly underscore the idea that Colorado is a state where everyone can be their true selves and live the life they want."
At least two in critical condition, hospital officials say
The shooting victims were split between three hospitals, Centura Penrose, UCHealth Memorial North and UCHealth Memorial Central, said Colorado Springs Fire Chief Randy Royal.
Penrose Chief Medical Officer Bill Plauth said seven people were in their care, including two in critical condition and two who had already been discharged.
Another 10 patients were under the care of UCHealth Central, said its Chief Medical Officer David Steinbruner. "We have several people who are being taken care of in our ICU," he said, without specifying the exact number of those in critical condition.
An additional two patients were being treated at UCHealth North, said Royal.
Shooter began firing immediately after entering club, police chief says
The suspected gunman in the Colorado Springs mass shooting began firing immediately after entering Club Q, said Colorado Springs Police Department Chief Adrian Vasquez.
At least two people subdued the attacker and prevented him from shooting more people, Vasquez said at a news briefing.
"Whether this was a hate crime remains a part of the investigation," Vasquez added.
Club customers subdued gunman, officials say
Two people subdued the gunman who opened fire at Club Q, a Colorado Springs LGBTQ nightclub, late on Saturday, saving lives, officials say.
"While the suspect was inside of the club, at least two heroic people inside the club confronted and fought with the suspect and were able to stop the suspect from continuing to kill and harm others," said Colorado State Deputy Chief Adrian Vasquez at a news conference Sunday morning. "We owe them a great debt of thanks."
Colorado Gov. Jared Polis, who in 2018 was the first openly gay man elected governor, said "brave individuals" stepped in during the "horrific, sickening and devastating" shooting.
"We are eternally grateful for the brave individuals who blocked the gunman likely saving lives in the process and for the first responders who responded swiftly to this horrific shooting," he said in a statement issued Sunday morning.
Officials name suspect in Club Q shooting
Police on Sunday named the suspected gunman in the Club Q nightclub shooting as Anderson Lee Aldrich, 22.
Officials said that two people in the club had subdued Aldrich, who was believed to be carrying two weapons, one of them a long rifle. He was injured during the attack and was under arrest.
Police did not provide details about his injuries.
Mondaire Jones, one of first gay Black men in Congress, 'outraged'
Rep. Mondaire Jones, D-N.Y., one of the first gay Black men elected to Congress, tweeted that he was "outraged" by the attack on an LGBTQ nightclub in Colorado Springs.
"I'm praying for the loved ones of those lost, and wishing those injured a quick recovery. The perpetrator must be brought to justice," he wrote Sunday morning. "Members of the LGBTQ community deserve to live full lives."
Sen. Hickenlooper: Nightclub shooting an 'unspeakable act'
The Colorado Springs nightclub shooting is an "unspeakable act," Sen. John Hickenlooper, D-Colo., tweeted Sunday morning.
"Horrendous to hear about the shooting at Club Q in Colorado Springs. An unspeakable act. We have to protect LGBTQ lives from this hate," he wrote.
Lawmakers across the state joined him in condemning the attack.
"I'm thinking of all victims and their families, & will continue monitoring the situation," Rep. Jason Crow, D-Colo., tweeted. "My heart is with our LGBTQ+ community as we all reel from this violence."
"We have so much work to do to stop this from happening again," Rep. Judy Amabile, a Democratic state lawmaker who represents Boulder, tweeted.
Rep. Lauren Boebert, R-Colo., a vocal gun rights advocate, called the shooting "absolutely awful," The New York Times reported.
"This lawless violence needs to end and end quickly," she said, according to the newspaper.
Meanwhile, Rep. Mondaire Jones, D-N.Y., one of the first gay Black men elected to Congress, tweeted that he was "outraged."
"Members of the LGBTQ community deserve to live full lives," he wrote.
And Rep. Adam Schiff, D-Calif., tweeted that he was "sickened and horrified."
"The LGBTQ+ community is once again the target of the most terrible violence," he wrote. "And devastating attacks like these will only become more common if we don't fight back."
Colorado governor commends 'brave individuals' who blocked gunman
Colorado Gov. Jared Polis called Saturday's attack on an Colorado Springs LGBTQ nightclub "horrific, sickening and devastating," and commended the the "brave individuals" who stopped the shooter.
"My heart breaks for the family and friends of those lost, injured, and traumatized in this horrific shooting," Polis, the first openly gay governor of a U.S. state, said in a statement. "We are eternally grateful for the brave individuals who blocked the gunman likely saving lives in the process and for the first responders who responded swiftly to this horrific shooting." 
'Sickened and horrified' by Club Q attack, Schiff says
Club Q thanks 'quick reactions of heroic customers'
FBI assisting in investigation of deadly shooting
Victims taken to area hospitals via ambulance and police cars
Victims of the shooting at Club Q were taken to local hospitals via ambulance and police cruisers, according to Sgt. Pamela Castro, a Colorado Springs Police Department spokeswoman .
"The hospitals are helping us to notify family who have been injured," Castro said at an early morning briefing.
Castro said she expected the number of casualties to change as the investigation unfolded.
"We will be here for many many hours to come," Castro said.
New York Gov. Hochul 'horrified' by shooting
New York Gov. Kathy Hochul said she was "horrified" by the shooting at Club Q.
"My heart breaks for the victims and their loved ones," she said in a statement. "This senseless loss of life is yet another tragedy due to gun violence and hate, and I join all New Yorkers in praying for the people of Colorado. 
She added: "As the birthplace of the LGBTQ rights movement, New York has always stood strong against all forms of hatred and bigotry, and this horrific attack reminds us that we must condemn anti-LGBTQ violence in all forms. We stand in solidarity with the LGBTQ community, today and always."