What you need to know about the storm hitting the Northeast
A flood watch covered New York City and the region until 6 a.m. Saturday, but was later canceled for all but New Haven County, Conn., and Suffolk County on Long Island.
New York Gov. Kathy Hochul declared a state of emergency for New York City, Long Island and the Hudson Valley. Mayor Eric Adams issued a separate state of emergency for New York City.
Subway stations flooded, and service on some lines were suspended earlier in the day. Metro-North service was also disrupted by flooding.
As of 9:30 p.m. more than 8 inches of rain fell at JFK airport in New York City, and over 7 inches was reported in Brooklyn, according to the National Weather Service. Central Park got over 5 inches of rain, and Fordham in the Bronx saw over 6 inches.
Flood watches canceled for all but New Haven and Suffolk County
Flood watches that had been in place for the New York City and the tri-state area until tomorrow were canceled for all but part of Connecticut and Long Island late tonight, the weather service said.
How climate change is testing limits of city's infrastructure
The storm, which hit just two years after flooding from the remnants of Hurricane Ida battered the five boroughs and killed at least 13 people in the city, laid bare how vulnerable the Big Apple's aging infrastructure is to extreme weather events that are intensified by climate change. And more than a decade after Hurricane Sandy forced officials to rethink the meaning of climate resilience in New York City, it appears there's still much to be done.
Heavy rainfall of up to 2.5 inches per hour were reported in some of the hardest-hit places. A number of roads were closed, cars were submerged and several city buses were trapped as a result of flash flooding. Subways, regional rail lines and air travel was suspended or severely delayed, and at least one school in Brooklyn was evacuated during the storm.
"The reality staring city leaders in the face, including in places like New York, is that the climate is getting more extreme, more unpredictable and requiring more investment," said Joseph Kane, a fellow who focuses on infrastructure at the Brookings Institute, a nonprofit think tank. "Usually, it's too little too late." 
A tree falls in Brooklyn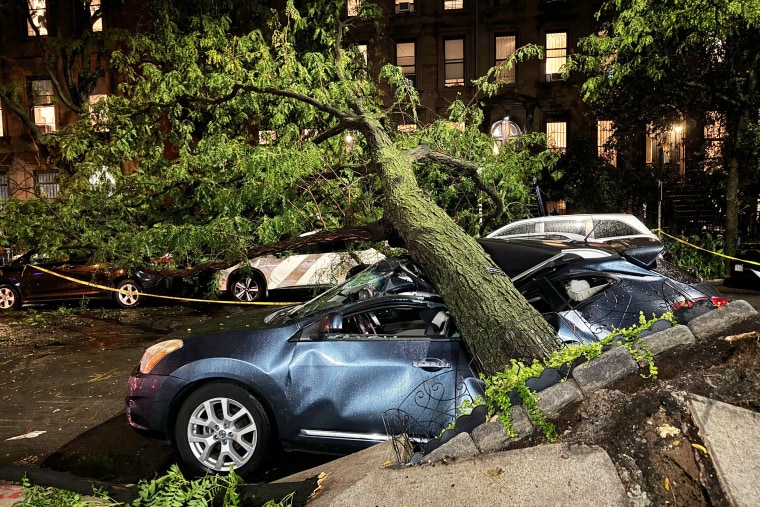 LaGuardia's Terminal A reopens after flooding
LaGuardia Airport's Terminal A reopened tonight after being closed earlier due to flooding, the airport said.
"All access to Terminal A is currently opened. All operations have resumed normal," the airport said on X, formerly known as Twitter.
The terminal had been closed earlier today due to floods from heavy rains that struck New York City and the region. LaGuardia got 4.87 inches of rain as of 5 p.m.
On the ground, more of the Metro-North commuter railroad system reopened after being closed in New York City due to flooding. The New Haven line resumed service after flooding was cleared in The Bronx, and the Harlem line reopened in some sections.
All three lines are now running, Metro-North said.
NY governor warns area could get 10 inches
New York Gov. Kathy Hochul said that the New York City area could get 10 inches of rain in all, and warned residents to take it seriously.
"This is Hurricane Ida-level waters," Hochul said, referring to the storm that struck New York City in 2021 that caused flooding all over the city, killing some in their basement apartments.
No deaths or serious injuries have been reported in the storm that struck New York today, but there have been rescues at basement apartments and from stalled vehicles.
"It is not finished yet. There is more rain on the way," she said Friday evening. She urged all New Yorkers to continue to be vigilant.
'I don't remember it being like this,' says lifelong New Yorker
Josiah Gluck spent an hour in a rideshare today so he could avoid the heavy rains that pelted the city on his way to his job in Manhattan. He said he doesn't recall such widespread impacts from rainfall in the past.
"I grew up in Manhattan," Gluck said. "I don't remember it being like this, where the subways [in] the rain or the snowstorms, would just completely grind to a halt."
Subway lines were shut down due to heavy rain, and stations flooded. By 5 p.m. Brooklyn had received more than 7 inches of rain, and Central Park over 5 inches.
Brenden Alberti, of Brooklyn, said he wasn't prepared for the rain, but he loves it. "It washes all the bad energy out there, so that ain't bad," he said. He was worried about finding flooding when he returns home.
"I'm scared of that, but we'll be all right," he said. Informed that Brooklyn was getting hit hard by rain, he was nonchalant. "That's Brooklyn for you," he said.
LaGuardia, JFK airports top list of cancelled flights
The New York City airports of LaGuardia and JFK had the most cancellations of flights on FlightAware's website today, after the region got soaked with heavy rains.
LaGuardia had 154 flights from the airport canceled, and 141 flights bound for the airport scrubbed, according to the flight-tracking site.
JFK saw 101 originating flights canceled, and 102 flights that were to travel to JFK canceled.
JFK, in southeastern Queens, got around 8 1/2 inches of rain today, according to the National Weather Service. LaGuardia got 4.87 inches.
NYC metro area could still see another 1 to 3 inches of rain
Already battered by heavy rains that flooded subway stations, streets and basement apartments, New York City and the area remain under a flood watch until 6 a.m. tomorrow.
More rain could fall on top of the more than 7 inches reported in Brooklyn and 5 inches at Manhattan's Central Park, forecasters said.
There could be an additional 1 to 3 inches of rain, the National Weather Service said.
15 rescued from stalled vehicles in New York City
FDNY firefighters have rescued 15 people from vehicles that became stalled as heavy rain caused flooding in New York City, Mayor Eric Adams said.
No deaths or serious injuries have been reported, Adams said in an interview live on NBC New York late this afternoon.
There were also rescues at flooded basement apartments. "There's an all-hands-on-deck moment as we deal with these storms, when they are here with us and long term," Adams said.
"For the most part, we are getting through this storm. We're ready for the rain that's going to come this evening," the mayor said.
One of three Metro-North lines resumes service after floods
The commuting nightmare for New Yorkers got a little easier — for some — this afternoon after Metro-North Railroad resumed limited service on its Hudson Line.
All three commuter railroad lines had been suspended in both directions between Manhattan and the Bronx.
The railroad urged people to listen for announcements, as websites and apps may not have current information about arrival times.
The other two lines that were suspended are the Harlem Line and the New Haven Line.
Sea lion briefly swims out of pool after flooding at Central Park Zoo
A female sea lion was able to swim out of her pool today because of flooding at the Central Park Zoo, according to the Wildlife Conservation Society.
"Zoo staff monitored the sea lion as she explored the area before returning to the familiar surroundings of the pool and the company of the other two sea lions," said Jim Breheny, executive vice president of the Wildlife Conservation Society's Zoos and Aquarium.
The water levels have since receded and "the animals are contained in their exhibit," Breheny said. "No staff or visitors were in danger and the sea lion remained inside the zoo, never breaching the zoo's secondary perimeter."
The Central Park Zoo was closed today, along with the Bronx Zoo, Queens Zoo, Prospect Park Zoo and New York Aquarium.
Famed Central Park fountain is flooded
Rescuers in raft search for victims in New York City suburb
Video shows severe flooding on Bronx parkway, cars almost fully submerged
Gov. Phil Murphy declares state of emergency for New Jersey
"I am declaring a State of Emergency effective at 3:00 p.m. We are experiencing heavy rainfall that is expected to accelerate in many parts of the state over the next several hours," Murphy wrote on social media.
"Residents should stay off the roads, remain alert, and follow all safety protocols."
Amtrak warns of delays of up to an hour for New York trains
Nearly 8 inches of rain have fallen at JFK, making it the wettest day in the airport's history
MTA chief: 'About half of the subway system is either fully suspended or partially suspended'
Heavy rainfall in New York City today has made it a tough day for travel, Metropolitan Transportation Authority Chair and CEO Janno Lieber said.
"About half of the subway system is either fully suspended or partially suspended," Lieber said at a news briefing today. "But we are starting the process of trying to get some of those lines back."
Metro North has also been shut down due to water in south Bronx, but the Long Island Rail Road is in service, Lieber said.
The MTA is working on developing a limited service plan this afternoon to get residents home from school and work.
Lieber said those who must travel today should take the bus, adding that 3,500 buses are in operation in the city.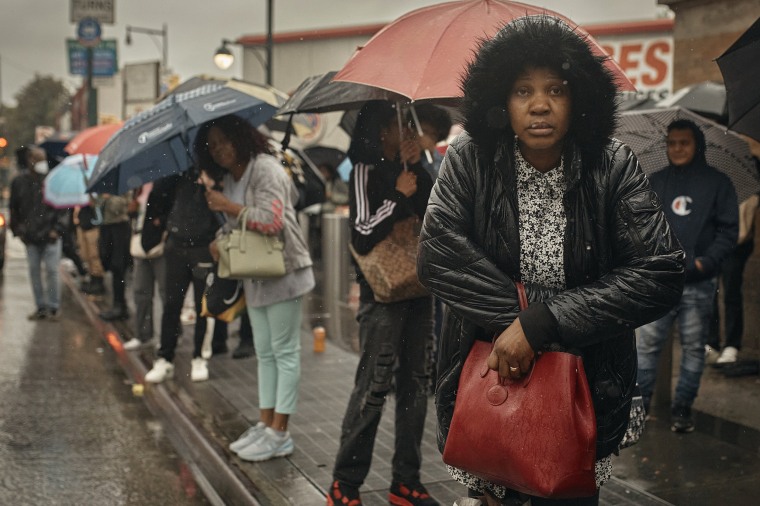 Video shows flooding on Brooklyn sidewalk and major expressway
4 to 7 inches of rain reported in most of NYC metro area
Most areas around the New York City metro region had received 4 to 7 inches of rain as of 12:45 p.m. ET., according to the National Weather Service
At Greenwood Cemetery, in southwest Brooklyn, 6.78 inches of rain were recorded, while Ozone Park in Queens has received 6.56 inches.
John F. Kennedy Airport has received 5.97 inches of rain while LaGuardia Airport recorded 4.37 inches of rain.
Central Park has received 5.46 inches of rain so far.
Rainfall rates in the region have averaged around 1 inch per hour, with 2 inches per hour estimated in areas with heavier rainfall, according to the NWS field office in Upton, New York.
The office warned of possible "life-threatening flash flooding."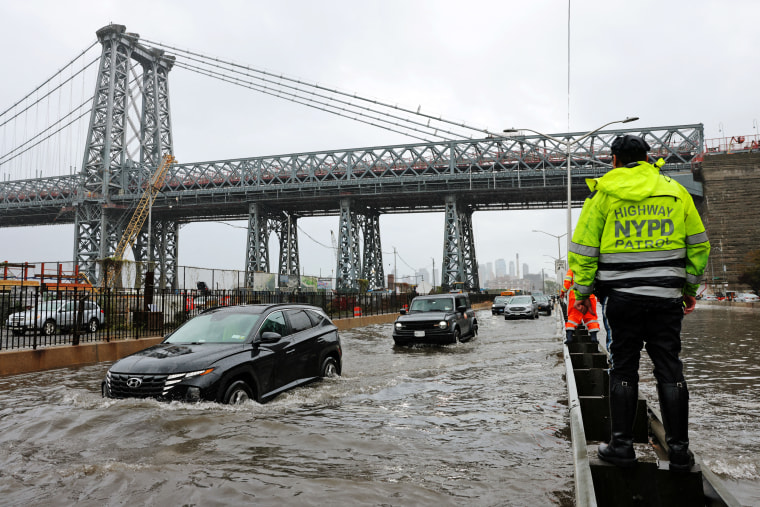 Video shows waves of floodwater rising around vehicles in Queens
New York Rangers vs. New York Islanders hockey game postponed
Today is the 'wettest day' in NYC since Hurricane Ida
Today is the "wettest day" New York City has had since Hurricane Ida swept through the area in 2021, NYC Emergency Management Commissioner Zachary Iscol said.
"That's not a statistic to take lightly, it highlights just how crucial it is for all of us to pay close attention to the weather advisories and to always take the necessary precautions," he said.
Iscol also said that the most significant flooding has been in Brooklyn and parts of Queens, and that the city can expect another 2 to 4 inches of rain throughout this afternoon.
"If you live in these boroughs or in a basement apartment, or flood prone area, please make sure you have plans and are prepared to move to higher ground," he said.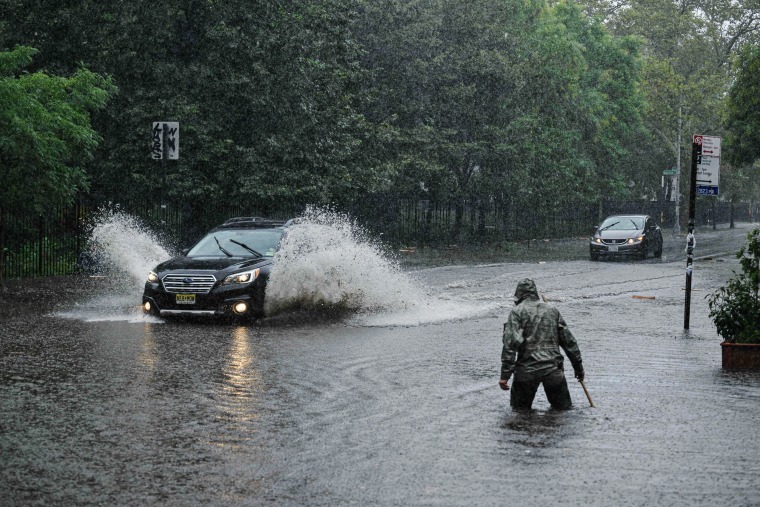 Images show dramatic flooding on New York state parkway, submerged cars
Images show major flooding inside LaGuardia Airport terminal
Gov. Hochul calls weather conditions a 'life-threatening rainfall event'
New York Gov. Kathy Hochul called the ongoing weather conditions affecting the state a "life-threatening rainfall event."
Hochul issued a state of emergency across New York City, Long Island and the Hudson Valley due to the rainfall and deployed members of the National Guard around the state.
"People really need to be taking this extremely seriously," she said in a news briefing today. "The state is there to help and we'll get through this together, as we always do."
Hochul warned residents not to venture out in vehicles and stay home if possible. She also recalled Hurricane Ida, which hit New York City in 2021, and claimed the lives of people living in basement homes.
"Leave your home if you're starting to see water accumulate, don't wait until it's up to your knees or higher," Hochul said.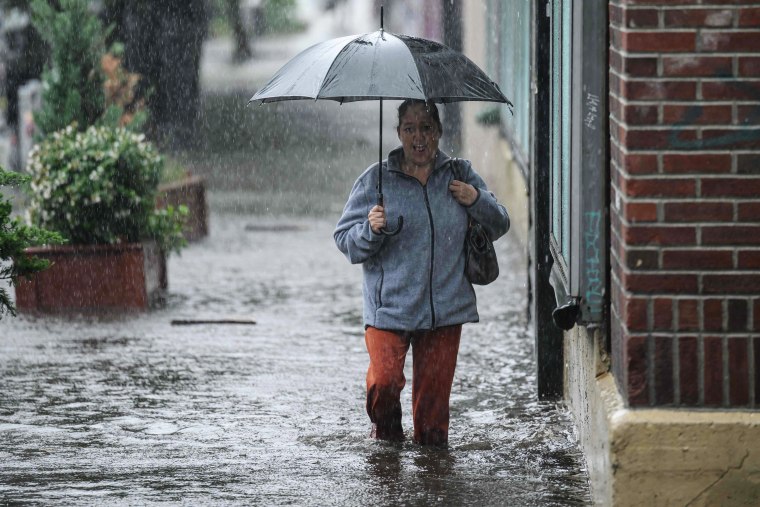 State of emergency declared in more New York, New Jersey communities
More communities in the tri-state area — Mount Vernon and Westchester County in New York, and Hoboken in New Jersey — have declared a state of emergency and are asking residents to take precaution.
"Due to the flooding in Hoboken and throughout the tri-state area, I urge residents to stay off roads and only travel if it is essential, especially during the evening rush hour when we anticipate more rain," Hoboken Mayor Ravi Bhalla said in a statement.
Meanwhile, Mayor Shawyn Patterson-Howard said she has instructed all Mount Vernon agencies to "take whatever steps necessary at all affected locations to protect life, property and public infrastructure."
Westchester County Executive George Latimer issued a statement saying, "Dangerous rainfall is currently impacting the area and is expected to continue, leading to concerns of flash flooding and hazardous conditions throughout Westchester."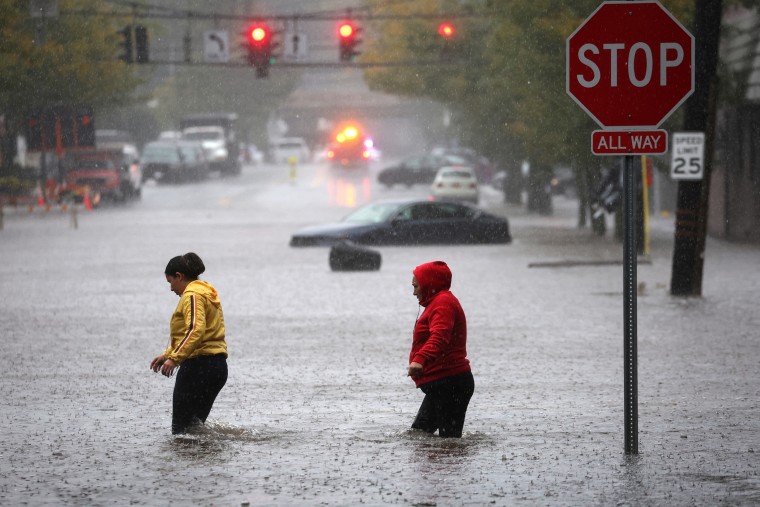 NYC Mayor Adams questioned for not speaking sooner
New York City Mayor Eric Adams faced repeated questions today about why he didn't warn residents about the heavy rainfall that has led to severe flash flooding in the city.
Adams said that his administration, including NYC Emergency Management Commissioner Zachary Iscol, acted according to protocol.
"We have, number one, Notify NYC and using the various social media channels and Commissioner Iscol has been speaking about this from afternoon yesterday, so all the necessary precautions were taken," Adams said at a news conference.
"We've gone through these flood-related and heavy rain conditions before and we followed the right protocol," he added.
A spokesperson for the mayor's office, Fabien Levy, echoed these sentiments. He said the first Notify NYC alert was sent out yesterday afternoon and that they've been in touch with local elected officials and working with nonprofit organizations in order to assist residents.
Video shows spring of water gushing out on one of Manhattan's busiest parkways
NYC Mayor Eric Adams: 'This is a dangerous weather condition and it is not over'
New York City Mayor Eric Adams warned residents at a news conference today to continue to stay alert while heavy rainfall impacts the area.
"This is a dangerous weather condition and it is not over," he said. "And I don't want those gaps in heavy rain to give the appearance that it is over, it is not."
Adams warned that the city may receive up to 8 inches of rain "before the day is over."
"I want to say to all New Yorkers, this is time for heightened alertness and extreme caution," he said. "If you are home, stay home. If you are at work or school, shelter in place for now. Some of our subways are flooded and it's extremely difficult to move around the city."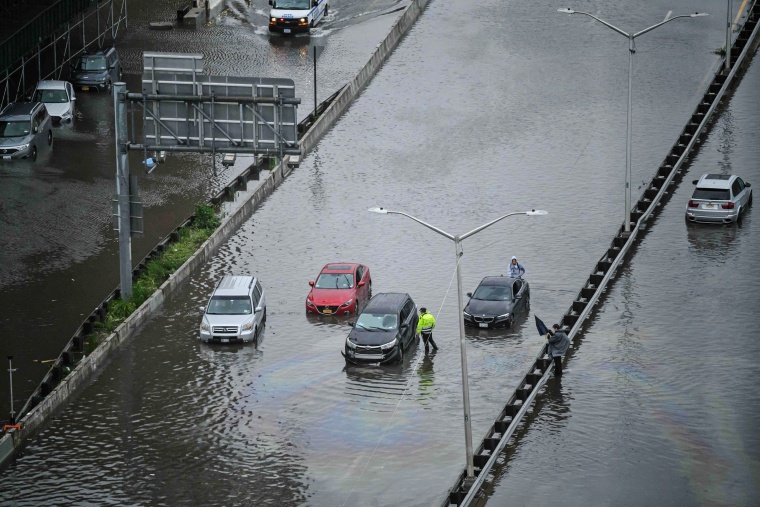 6 rescues so far at flooded NYC basement apartments
FDNY rescuers have already responded to six flooded basement apartments as city officials urged residents of those sub-sidewalk dwellings to get to higher ground.
All six of those calls ended in successful rescues with no fatalities or critical injuries, City Hall said.
Residents of basement apartments in New York City are at risk of fast-moving flood waters when heavy rains soak the area.
When Hurricane Ida drench the city in 2021, 11 New Yorkers died in basement apartment floods. The victims were predominantly immigrants of Asian descent.
Video shows New Jersey driver rescued from car trapped in floodwaters
LaGuardia Airport closes terminal amid flooding
LaGuardia Airport, one of the major airports in the New York City area, announced it has closed Terminal A, which serves Frontier and Spirit airlines, "until further notice."
LaGuardia currently has the most cancellations and delays of any airport worldwide, according to FlightAware.
Phillies-Mets game in NYC rained out
Friday night's game between the New York Mets and the Philadelphia Phillies, set for Citi Field in Queens, New York, has been postponed due to the severe weather.
It'll be made up in a single-admission doubleheader on Saturday, with first pitch set for 4:10 p.m.
These games have little value to the standings, as New York has long been out of postseason contention and Philadelphia is already locked into the No. 4 spot of the National League playoffs.
The heavy rains, though, are having an impact on the playoff picture, as Thursday night's Mets game against the visiting Miami Marlins was suspended in the top of the ninth inning after a lengthy rain delay.
The Marlins are clinging on to the NL's last playoff spot and Thursday night's suspended game would need to be resumed back in New York on Monday if the contest could still impact standings. The Marlins lead the Chicago Cubs by a half-game and the Cincinnati Reds by 1.5 games for that final postseason ticket.
Mayor Eric Adams declares state of emergency for New York City
Video shows rushing water flood stairs of Manhattan subway station
'This water is deadly,' New York governor warns
New York Gov. Kathy Hochul is warning New York City residents to take extra precaution after parts of the city were swamped with 5 inches of rain in 12 hours, and as much as 3 inches in an hour, "a scale we're not accustomed to dealing with."
"If there's any way to stay home, please do that," she told news outlet NY1.
"Have an escape route if you're in a home that's been subject to flooding," she said, adding, "This water is deadly, that is my message for New Yorkers."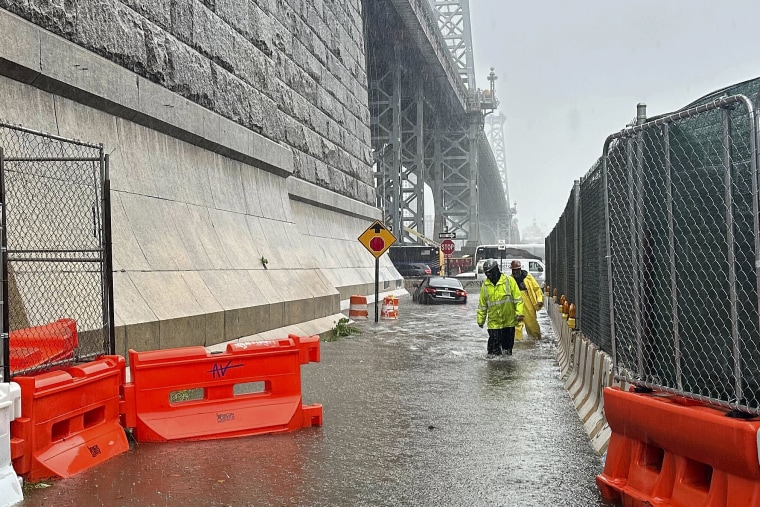 Metro-North commuter trains in and out of Manhattan washed out
The heavy rains washed out a major commuter rail service connecting Manhattan to suburbs north of the city, officials said.
Metro-North Railroad riders can jump on northbound Hudson Line service in the Bronx if they can get to the Yankees—East 153rd Street Station, near Yankee Stadium.
Northbound Harlem Line service could still be used by riders who can get to the Wakefield Station in the Bronx, which is an 8-minute walk from the closest subway at the Wakefield 241st Street Station on the 2 line.
Video shows waterfalls in Brooklyn subway station
The videos show flooding at the Grand Army Plaza station.
Video shows completely submerged road and sidewalk in Brooklyn
Historic flooding possible in New York City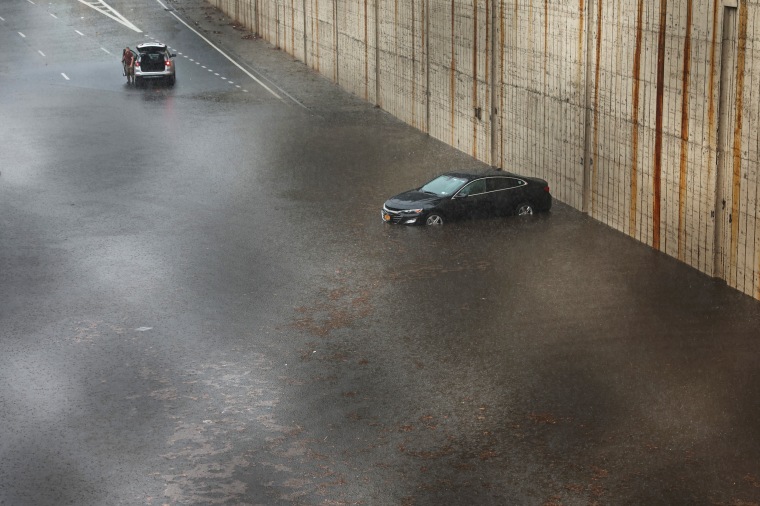 Twenty-three million people were under flood watches across parts of New Jersey, New York and Connecticut on Friday morning with flash flood warnings in effect for parts of Long Island, Brooklyn, Queens, Manhattan and New Jersey.
In some places, flooding was already occurring or imminent and causing severe delays to the subway system in New York City and other travel in the area.
The rain is not expected to let up after the morning hours, and the Northeast could see potentially historic amounts of rainfall Friday into Saturday morning.
New York City's rainfall total will likely rank in the top 5 for wettest Septembers on record. If New York City picks up more than 7.13 inches of rain over the 24-hour period on Friday, it will eclipse the record rainfall that fell from the remnants of Hurricane Ida on Sept. 1, 2021.
Video shows floodwater streaming out of walls in New York City subway
Governor declares state of emergency for New York City and surrounding areas
New York officials to brief the media
New York Gov. Kathy Hochul, New York City Mayor Eric Adams and other local leaders are expected to brief on the storm's damage and ongoing flooding in the area.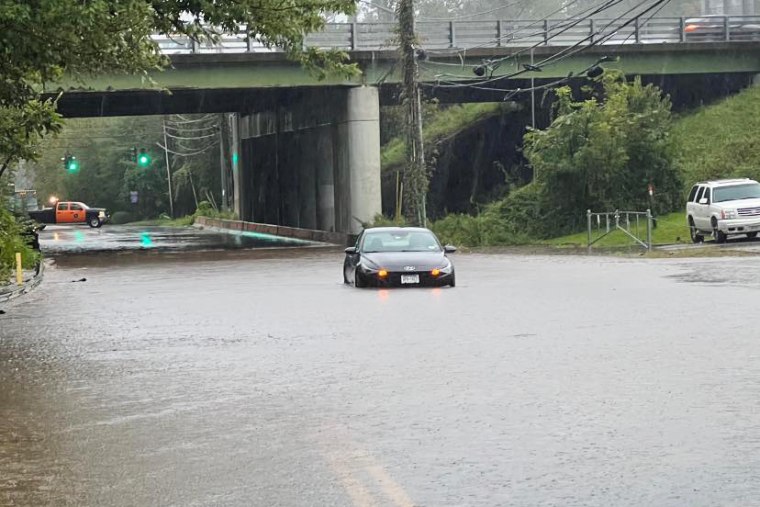 Flash flooding warning for parts of NYC and Long Island
Roof collapses, flooding and every NYC subway line affected
New York City first responders are responding to calls of minor roof collapses, flooded basements with people inside of them, and numerous cars stalled out on flooded roads with people inside them citywide but particularly in parts of Brooklyn and Queens but there are no fatalities so far, a senior NYC official says.
Right now, FDNY and NYPD are handling the situation and feel like they are getting to the calls quickly given the weather situation — but the rain is continuing, the official said.
Every single subway line is affected, according to the MTA with significant flooding on some of the lines. 
Trains into and out of NYC affected by storm