What we know about the Virginia Walmart shooting
Six people were killed Tuesday night at a Walmart store in Chesapeake, Virginia. At least six others were rushed to hospitals for treatment.
The shooter died from what authorities believe is a self-inflicted gunshot wound.
Officials have not determined a motive, but a senior law enforcement official told NBC News the suspect was a disgruntled employee.
Live coverage has ended. For complete coverage, read here.
Victims killed in Walmart shooting identified
The city of Chesapeake, Virginia, on Wednesday released the names of five of the six victims killed in Tuesday's shooting at a Walmart store, and asked for prayers.
Those killed were Lorenzo Gamble, 43; Brian Pendleton, 38; Kellie Pyle, 52; Randall Blevins, 70; and Tyneka Johnson, 22; officials said.
A 16-year-old was also killed, but his name was not released because he was a minor.
"Please join us in praying for the family and friends of these community members who we have lost," the statement said.
Walmart sets up resource center for workers, families after shooting
Walmart has set up an associate resource center for employees and their families in the wake of a shooting at a supercenter in Chesapeake, Virginia, the city said Wednesday.
It is planned to be open for two weeks, and will provide counseling, as well as meals and a place to gather, the city said in an update on its website.
A Walmart employee opened fire at the store around 10 p.m. Tuesday, killing six people before apparently killing himself. At least six others were injured. The store is closed as police continue to investigate and collect evidence, the police department said.
"Investigators are actively working to learn more about the suspect's background and what may have motivated the shooting," Chesapeake police said in a statement.
At least 50 people were in the Walmart at the time of the shooting, police say
At least 50 people were inside the Walmart store in Chesapeake when a 31-year-old employee opened fire, killing at least six people, police said in a news release Wednesday afternoon.
"Police are still trying to account for anyone who may have been at the store and witnessed the incident, but fled prior to police arrival," officials said.
The police department encouraged anyone with information to call the FBI hotline: 1-800-CALLFBI.
At a Walmart nearby, tears and a plea from a manager to speak up
Jasmine Copeland works at a Walmart about 15 minutes away in Virginia Beach. Copeland, who uses they/them pronouns, said their store manager held a team meeting this morning to talk about the Chesapeake store shooting. With tears in his eyes, the manager urged anyone who was struggling with anything related to work to speak up, Copeland said.
"He kept reiterating that we're a family," Copeland, 22, said. "He was like, 'If you're going to take anyone out, take me out. But please, talk to someone. None of us want to come in here and work. It's Walmart. No one's aspirations are Walmart. But nothing is ever so serious to take lives."
Copeland has worked at Walmart for two years and said they didn't know the gunman or any of the victims at the Chesapeake store. Nonetheless, they said, they and other employees at their store felt rattled. Some told Copeland they didn't sleep all night.
"The mood is somber," Copeland said. "It's heart-wrenching."
Biden calls Virginia governor to offer support
President Joe Biden spoke on the phone with Virginia Gov. Glenn Youngkin on Wednesday afternoon to "offer his support and any federal assistance" after the mass shooting in Chesapeake, the White House said.
Homeland Security chief laments 'senseless loss of life' in Cheasepeake
"Today we mourn the tragic and senseless loss of life in Chesapeake, Virginia," Secretary of Homeland Secretary Alejandro Mayorkas said in a statement Wednesday afternoon. "We are sending strength to the families and loved ones of those affected."
"We have seen too many acts of violence across our country," he said. "Whatever the motive – whether personal grievance, an ideology of hate, or other evil motive – communities continue to be victimized and made to feel unsafe."
He added that his department would continue to "devote every available resource to combat all forms of targeted violence."
Walmart shooter identified as Andre Bing, 31
The city of Chesapeake on Wednesday afternoon identified the Walmart gunman as 31-year-old Andre Bing.
"We are still communicating with the victims' families and will release their information as soon as possible," the city said in a tweet. "We can confirm that the shooter was 31-year-old Andre Bing of Chesapeake. He was armed with one handgun and had multiple magazines on his person."
In a statement, a Walmart spokesman confirmed that Bing was a store associate.
"Andre's position with the company was overnight team lead and he's been employed with us since 2010," the spokesman said.
Graphic: A sharp increase in active-shooter incidents
Chesapeake shooting 'hit our Walmart family hard,' CEO says
"The devastating news of last night's shooting at our Chesapeake, VA store at the hands of one of our associates has hit our Walmart family hard," Walmart CEO Doug McMillon said in a Facebook post Wednesday.
"My heart hurts for our associates and the Chesapeake community who have lost or injured loved ones. We are here for them today and in the challenging days ahead they will have our support," he said.
McMillon thanked store associates, first responders and local officials.
Walmart has more than 1,000 locations in Virginia and employs over 45,00 store associates in the state, according to the company's website.
Three people, including shooter, were found dead in Walmart break room, Chesapeake officials say
Three people fatally shot in the Walmart in Chesapeake, including the gunman, were found dead in the store's break room, the city of Chesapeake tweeted Wednesday afternoon.
City officials tweeted that another victim was found dead near the front of the store. Three other victims were rushed to local hospitals but died of their injuries, officials said.
At least six other victims were taken to local hospitals for treatment, including one person who was in critical condition Wednesday afternoon, city officials said.
Doctor says Norfolk hospital is treating 3 patients, including 2 in critical condition
Dr. Michael Hooper of Sentara Norfolk General said Wednesday that five patients were transferred to his hospital, including two who died.
The three other patients are still being treated, he said in a live interview on CNN — two are in critical condition and one is in good condition.
Hooper said he was not sure whether the two people who died were among the six already confirmed by police to have been killed.
Investigators search Walmart gunman's house
Investigators on Wednesday scoured the home of the Walmart employee who opened fire at the Chesapeake store where he worked. Photos from the scene appeared to show a knocked-in front door and a black SUV parked outside.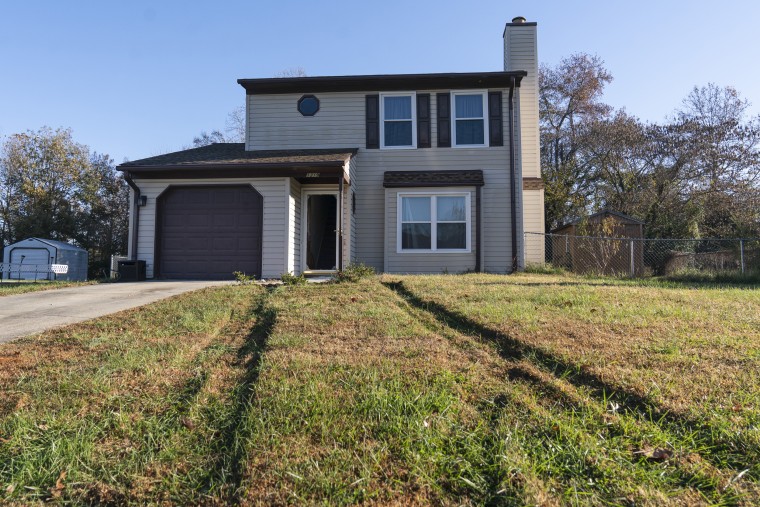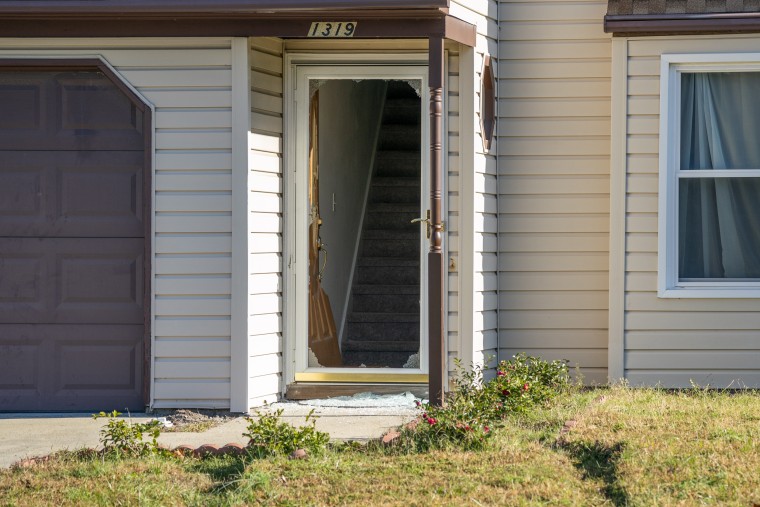 Virginia governor orders flags to fly at half-staff
Virginia Gov. Glenn Youngkin has ordered that the national and the state flags must be flown at half-staff over all government buildings in the state "in respect and memory of the victims" of the Chesapeake shooting.
In a signed order, he said flags should be lowered immediately Wednesday and remain at half-staff until Sunday at sunset.
Chesapeake municipal government shares location for family reunifications
Biden condemns 'horrific' Virginia Walmart shooting
President Joe Biden lamented the loss of lives in the shooting, noting in a statement Wednesday that "yet another horrific and senseless act of violence" happened on the eve of Thanksgiving.
"There are now even more tables across the country that will have empty seats this Thanksgiving," he said. "There are now more families who know the worst kind of loss and pain imaginable."
Biden said that he and first lady Jill Biden are grieving for the families of the shooting victims, the Chesapeake community and the commonwealth of Virginia, which suffered a "terrible shooting" at the University of Virginia earlier this month.
"We also mourn for all those across America who have lost loved ones to these tragic shootings that we must come together as a nation to stand against," Biden said, adding that he is grateful to the first responders on the scene.
The president said he has directed federal officials to provide the support and assistance needed to the people of Chesapeake.
Obama calls for action against gun violence after Chesapeake shooting
Former President Barack Obama, who repeatedly called for tougher gun control measures during his time in office but was met with stiff resistance from Congress, called for action Wednesday morning after the mass shooting in Virginia.
"We can and must do more to reduce gun violence in America," he tweeted, linking to a news article about the shooting at a Walmart store in Chesapeake.
Rumors of an active shooter at a Chesapeake Target store are untrue, officials say
Chesapeake city officials said rumors circulating on social media Wednesday morning of an active shooter at a local Target store are untrue.
"Rumors of an active shooter at Target in Chesapeake are UNTRUE," officials tweeted from the city's account. "Please help us control rumors by only sharing information from this account."
Elizabeth Vaughn, the city's deputy director of public communications, told NBC News in an email that "police responded to reports of an armed person but found this to be untrue."
Tweets from a local reporter show people shaken up by the false alarm.
What we know about the Walmart shooter
Authorities have not yet released the identity of the shooter or a possible motive.
At a Wednesday morning news conference, Chesapeake Police Department Chief Mark Solesky said the shooter was an employee of the store and died from what authorities suspect was a self-inflicted gunshot wound. Authorities believe the shooter used a pistol.
Solesky said the shooter's relatives had not yet been notified of his death. He said officials executed a search warrant at the suspect's home.
FBI assisting Walmart shooting investigation, agency says
The FBI's press office said the national law enforcement agency is assisting the Chesapeake Police Department in its investigation of Tuesday night's shooting.
The city police department, which held a press conference earlier Wednesday in which it revealed the shooter was an employee of the store, remains the lead agency in the probe surrounding the shooting, the FBI said.
Walmart says it is 'shocked' after shooting at Chesapeake store
"We are shocked at this tragic event at our Chesapeake, Virginia, store," a spokesperson for the retail giant said in a statement. "We're praying for those impacted, the community and our associates."
The spokesman added that the company was working closely with law enforcement and "focused on supporting our associates."
Walmart has over 100 retail locations in Virginia and employs over 45,000 store associates in the state, according to the corporation's website.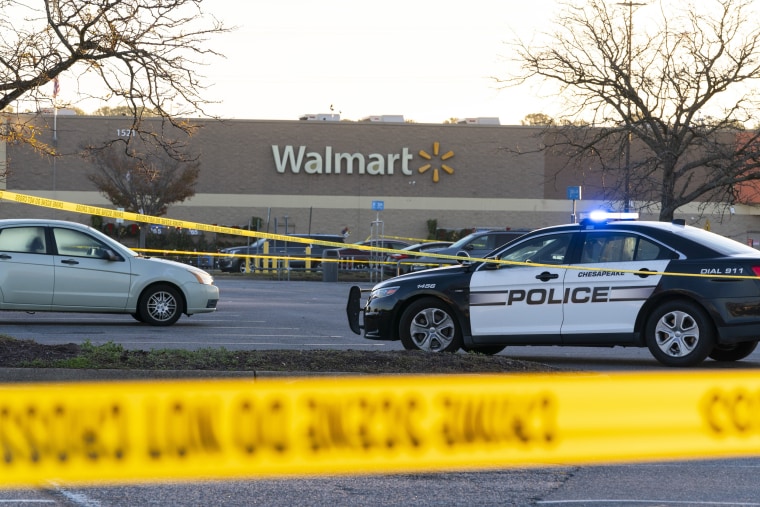 Walmart attack is 2nd mass shooting in Virginia, 7th in U.S. since Friday, Gun Violence Archive says
The Walmart shooting in Virginia by a disgruntled employee is the second mass shooting in the state and the seventh in the United States since Friday, according to the Gun Violence Archive.
The seven shootings account for 22 deaths and 36 injuries, the archive said. The nonprofit group defines a mass shooting as a single incident in which at least four people — other than the person wielding the weapon — are shot.
NBC News previously reported that this is the third straight year that there have been more than 600 multiple-victim shootings in America, according to the archive.
Police provide a timeline of the law enforcement response
Chesapeake Police Chief Mark G. Solesky spoke to reporters at a news conference Wednesday morning and gave a rundown of the law enforcement response to the shooting:
The first 911 call came in at 10:12 p.m. ET
Police officers first entered the store four minutes later, at 10:16 p.m. ET.
The scene was declared "safe" roughly an hour later, at 11:20 p.m. ET.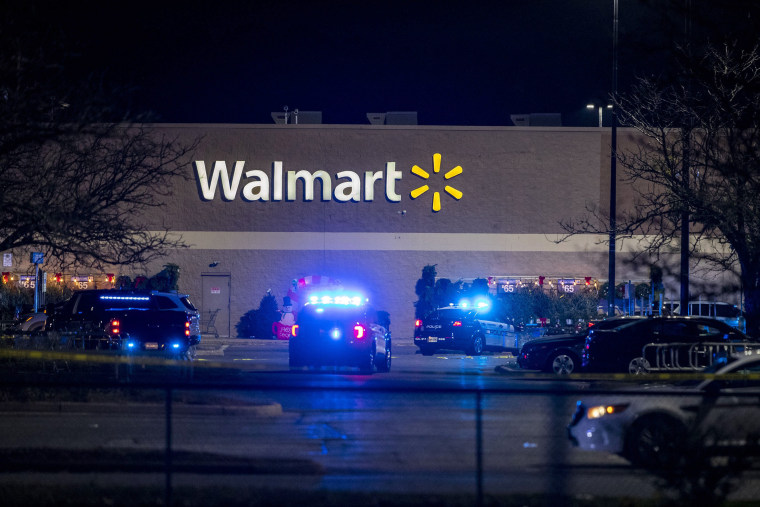 Sens. Warner, Kaine of Virginia condemn the violence
Virginia's two Democratic senators — Mark Warner and Tim Kaine — decried the mass shooting at the Walmart store in Chesapeake.
"Sickened by reports of yet another mass shooting, this time at a Walmart in Chesapeake. I'll be monitoring developments closely," Warner said in a tweet just after midnight.
"The Walmart shooting in Chesapeake is horrific. My prayers to all affected and my thanks to brave first responders," Kaine tweeted early Wednesday.
"Both Congress and the Virginia General Assembly have taken steps, finally, to reduce gun violence, but there is so much more to do," the former Democratic vice presidential contender added.
Shooting described on Facebook
A self-described survivor posted a Facebook live video showing the aftermath of the tragedy. The person was in the store's bakery section when the shooting began, according to the post.
At first, the person said, the shots sounded like "fireworks."
"People gone bro," the person said in the video. "In the aisle. Just walked out that aisle, bro." NBC News has contacted the poster of the video for comment and has not yet been able to verify the account.