Immigration lawyer Raymond Lahoud looks exhausted.
He admits he's gone days without shaving, and that the aromatherapy candles in his Lehigh Valley, Pennsylvania, office are burning to mask the smell of the cigarettes he's been smoking out of stress.
It's been a long week.
"Am I frustrated? I'm extremely frustrated," he said with a heavy sigh. "I can't give answers. I have no idea what President Trump is going to­­­ do next."
Lahoud watched the president's joint address to Congress closely. He said the tone of the speech seemed to suggest that the Trump administration is open to some aspects of immigration reform, but exactly what that means for his clients and practice is still unclear.
In the month since President Trump signed an executive order banning travelers from seven Muslim-majority countries from entering the United States, the law office of Baurkot & Baurkot has been inundated with calls and walk-in clients.
Lahoud and his legal partner, William Menard, said they now play the dual roles of legal counselor and therapist, as residents in Lehigh Valley, home to one of the country's largest Arab immigrant communities, try to process how Trump's approach to immigration will impact their lives.
"In terms of the reaction that we got here in the Valley, I think now it's a fear of what's going to come next, who's next?" Lahoud said.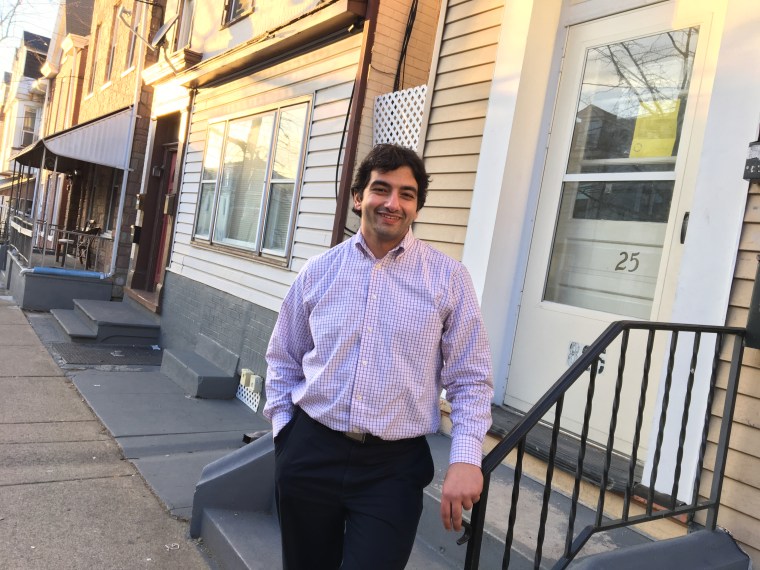 Under the direction of Trump, Lahoud said Immigration and Customs Enforcement (ICE) agents have come down hard on immigrants with a criminal history, no matter how small the infraction. Several of his clients have been stopped and detained by ICE and, while that isn't necessarily abnormal, Lahoud said he now worries that other undocumented immigrants will be swept up as "collateral damage."
Trump has praised his administration's crack down on undocumented workers, calling the recent wave of ICE raids a "military operation" that targeted undocumented immigrants and "bad dudes."
But in Lehigh Valley, residents say they resent the notion that all Muslims and immigrants are "bad dudes."
Iraqi-born Ali Almaiali, fled to the United States in 2008 on a refugee visa. In Baghdad, he and his younger brother both worked for an American company that provided small business loans to Iraqi citizens. But working for Americans made them targets for Islamic militants.
"It was like 'If you're for them, you're against our people,'" he said. "They didn't care that I was helping Iraqis too."
Their office in Iraq received multiple threats, he said. An uncle was kidnapped and killed. Their older brother was detained, tortured and then released, he added.
Fearing for their lives, as well as those of their families, Almaiali and his brother applied for refugee visas on the same day he was released. The process involved months of interviews, endless paperwork and multiple visits to immigration offices in Jordan.
It took Almaiali nine months to receive a refugee visa for himself and his wife, Reem.
His brother's application has been stalled for more than eight years.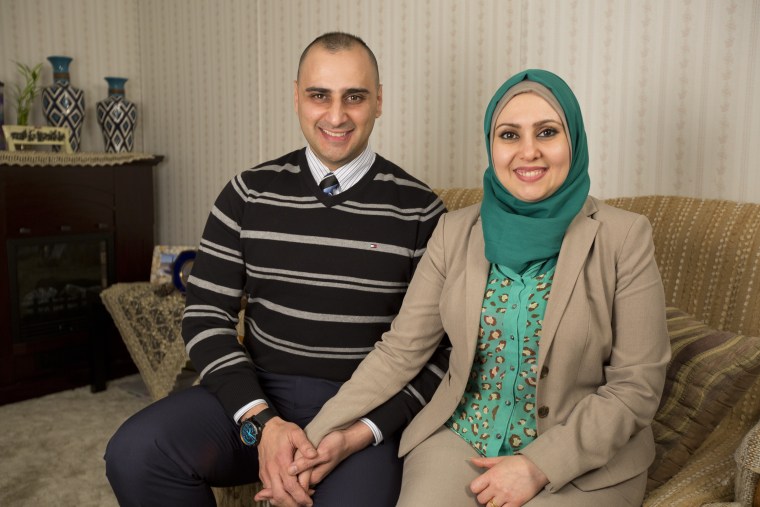 Initially the visa was approved, but his wife's pregnancy postponed their departure and a new travel date was never confirmed. Now, trapped in bureaucratic limbo without a clear explanation for the delay in his paperwork, his brother is forced to move with his family every few months for their own safety, Almaiali said.
Since moving to the United States, Almaiali said he has tried to live the American dream. He and his wife became citizens and bought a house with a backyard for their two children. His wife works at a bank, and he works part-time while going to school at night for radiology.
Related: Nationality Is 'Unreliable Indicator' of Threat: DHS Report
But their happiness is bittersweet, tinged with sadness that the rest of their family cannot also share in the safety and joys of their newly adopted home, especially as conditions continue to deteriorate in Iraq.
A few years ago, his brother was injured by a roadside bomb. Almailai still has a hard time talking about it.
"I want him to be here. I want him to be safe," he said. "He has two beautiful kids, a beautiful family ... "They deserve to be here, as do many other refugees. They deserve to be here, for a better life."
After years of struggling to sponsor his brother's visa on his own, Almaiali decided to hire Barkourt & Barkourt to help him negotiate the immigration system. Within months, Lahoud had revitalized their visa claim in the U.S. and it was on track to move toward finalization in Iraq.
Related: Trump Takes a Victory Lap With Conservative Activists
But then Trump signed the executive order. Now, with a revised version of the immigration order on the horizon, Lahoud is racing against the clock to get the new documents approved in time.
Almaiali said he feels attacked for his faith and country of birth. He also worries the travel ban will serve as propaganda for ISIS.
"They want to be able to say, 'Look Americans they hate us because we're Muslim' and now this ban gives them an example," he said.
Almaiali admits he hasn't really explained to his brother what's going on, partially because he's having a hard time explaining it to himself.
"I didn't have a good answer for him and I still don't know what to tell him," he said. "If my brother had known that it had reached that far, he would've gone crazy.
"So I tell him he has to wait, it's been eight years ... what's a few more months?"