On Friday, as the civilized world was reeling from the images of angry white men marching through a college campus in defense of white supremacy, activist Logan Smith got to work.
The North Carolina man's task: Naming and shaming alleged white supremacists through his Twitter account, @YesYoureRacist.
Within hours, Smith had publicly identified two men he believed had participated in the march. Within days, both men had lost their jobs.
Since 2012, the Raleigh-based activist has used social media to crowd source the identities of neo-Nazis and white supremacists and call them out for spreading racism and hatred.
Smith told MSNBC's Ali Velshi and Stephanie Ruhle on Tuesday that he feels in today's social media-centric world if racists are no longer going to hide behind hoods then their identity should be made public.
"Bigotry thrives on silence. It requires people to say nothing — and I refuse to let that happen."
"If they're really so proud to stand shoulder to shoulder with white supremacists and neo-Nazis then I think that their communities need to know who these people are," he said.
Related: Trump Must Confront Hate Groups that Love Him: Experts Say
But crowd sourcing is not a reliable method of investigation and Smith admits his tweets could expose him to a host of lawsuits if he misidentifies someone. He's already been accused of mistakenly naming an Arkansas engineering student as one of marchers in Friday's Charlottesville rally. Smith denies the charge.
He insists that he confirms the identities of all of protesters before calling them out in a tweet by comparing their photos to other publicly available images and combing through previous posts on social media.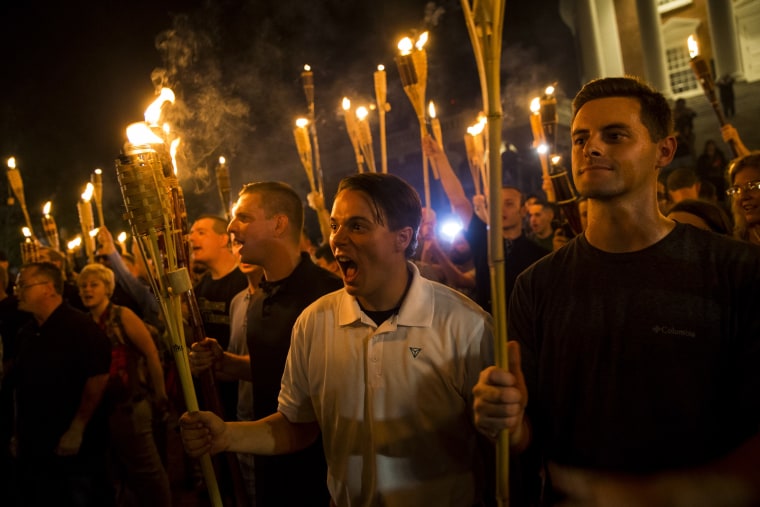 "In many cases these people were posting white supremacist propaganda on their profiles, so it wasn't hard to determine who these people were," he said.
Although many of Smith's 300,000 Twitter followers seem to find his brand of retribution appealing, the practice of naming and shaming alleged white supremacists has brought out a darker side of the internet on both the left and the right.
Related: Fallon Delivers Emotional Charlottesville Monologue: 'We Can't Go Back'
Since Saturday, Smith said he's received a spate of death threats against both himself and his family.
But so has University of Nevada Reno student Peter Cvjetanovic, who was among the first men Smith identified after Friday's protest.
"I understand the photo is very bad looking, but I don't believe you should threaten my family," Cvjetanovic told NBC News's Jo Ling Kent. "To me that's monstrous. You can call me Nazi, you can hate my ideology, but I wouldn't threaten anyone."
Smith scoffed at the idea that the men who marched and fought over the weekend did not intend to intimidate or threaten anyone and he vows to continue naming and shaming alleged white supremacists, no matter the personal cost.
"Intimidation tactics are how these people work — it's how they've worked back since the days of the KKK burning crosses in people's yards,"he said.
"That's how they win. Bigotry thrives on silence. It requires people to say nothing — and I refuse to let that happen."