More than 50 years after Lolita the Orca was captured in the Pacific Ocean and held for decades at the Miami Seaquarium, a plan to return her to "home waters" to live out the rest of her days was announced Thursday.
Lolita's hopeful fate was announced at a news conference Thursday held by the Miami Seaquarium, along with the Florida nonprofit group Friends of Lolita and Jim Irsay, the philanthropist and owner of the NFL's Indianapolis Colts.
The Miami Seaquarium did not immediately respond to an overnight request for comment.
Lolita, a southern resident orca also known as Tokitae, was pulled from the waters of Washington state in 1970 when she was around four years old, according to NBC Miami. The orca, now believed to be around 57, is the oldest in captivity.
Lolita had fallen ill in recent years, with the company then taking over the Miami Seaquarium, MS Leisure, announcing last year that the roughly 7,000-pound orca would no longer be put on display in the whale stadium.
At the time, Miami-Dade County Mayor Daniella Levine Cava said she was "hopeful that this transfer of ownership will usher in an era of accountability."
In June, an independent assessment found that Lolita's condition had improved.
Southern resident orcas, which spend several months of the summer and autumn every year in Washington state's Puget Sound, were added to the endangered species list in 2005, according to NOAA Fisheries, the U.S. agency responsible for the stewardship of the country's ocean resources and their habitats.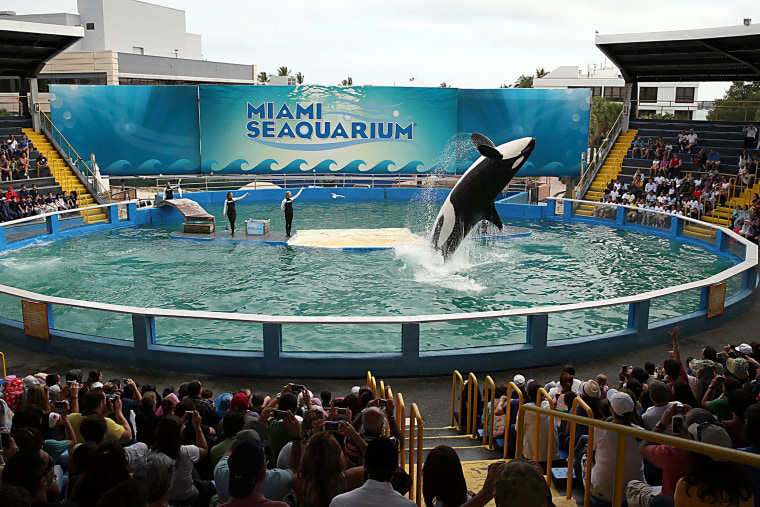 The southern resident population has "fluctuated considerably" since the 1970s, with pods "reduced during 1965-75 because of captures for marine parks," it says on its website.
The population was 71 whales in 1974, the first year individual animals were counted, and peaked at 97 in 1996 before declining again to 79 in 2001, it says, noting that as of around August, the population numbered in the 70s.
Animal rights activists have for years advocated for Lolita to be moved back to her home pod in Puget Sound, with groups like People for the Ethical Treatment of Animals taking the Seaquarium to court over her captivity.
"If Lolita is finally returned to her home waters, there will be cheers from around the world, including from PETA, which has pursued several lawsuits on Lolita's behalf and battered the Seaquarium with protests demanding her freedom for years," the PETA Foundation's vice president and general counsel for animal law, Jared Goodman, said in a statement Tuesday.
"If the Seaquarium agrees to move her, it'll offer her long-awaited relief after five miserable decades in a cramped tank and send a clear signal to other parks that the days of confining highly intelligent, far-ranging marine mammals to dismal prisons are done and dusted," Goodman said.