HOUSTON — Friends and family of George Floyd, the Minneapolis man whose death touched off a national debate about systemic racism, were joined by thousands of strangers who showed up to pay their final respects to the Houston native on Monday.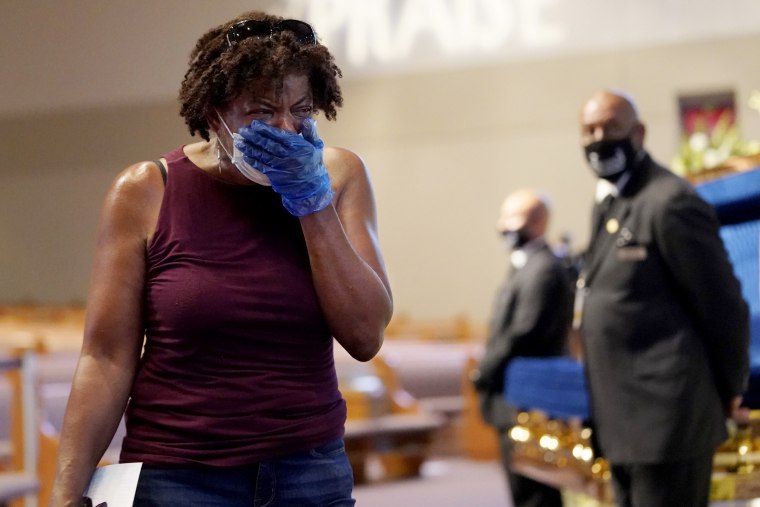 Floyd's casket arrived at Fountain of Praise church, where mourners braved 90-degree-plus heat to wait outside before coming in for their personal tributes. Floyd was raised in Houston's Third Ward and played football at Jack Yates High School.
Milton Powell was among those who waited in line for more than 30 minutes to catch a glimpse of Floyd's body.
To him, the man was more than a hashtag or a slogan on a T-shirt. Powell graduated a year after Floyd and played football with him at Yates, where his classmates referred to him only as "Floyd."
Powell said it was disappointing that he was only able to spend a few seconds at the casket and couldn't get closer than 10 feet away.
"That's not how I wanted to pay my respects to a close friend, ya know? We didn't want any of this for him," said Powell, who spent the rest of the afternoon volunteering outside the church as an usher. "So for me, just helping out like this, that may be my form of paying respects. Because even though that is my close friend, this situation is bigger than me. This is for the world."
Well-wishers, wearing masks as a precaution against the coronavirus, filed into two lines as ushers directed them to Floyd's gold-colored casket where they said their goodbyes. More than 6,100 people came to honor Floyd by 5:30 p.m. local time, according to church administrator Ricky Mays.
Most stood silently while bowing their head in front of the open casket, while some took a kneein front of Floyd, who was dressed in a seemingly copper suit jacket that gave off a slight sheen and a light blue shirt underneath.
The bended knee has become a protest symbol, calling attention to how Floyd died and the movement against racism and police brutality launched in 2016 by former San Francisco 49ers quarterback Colin Kaepernick.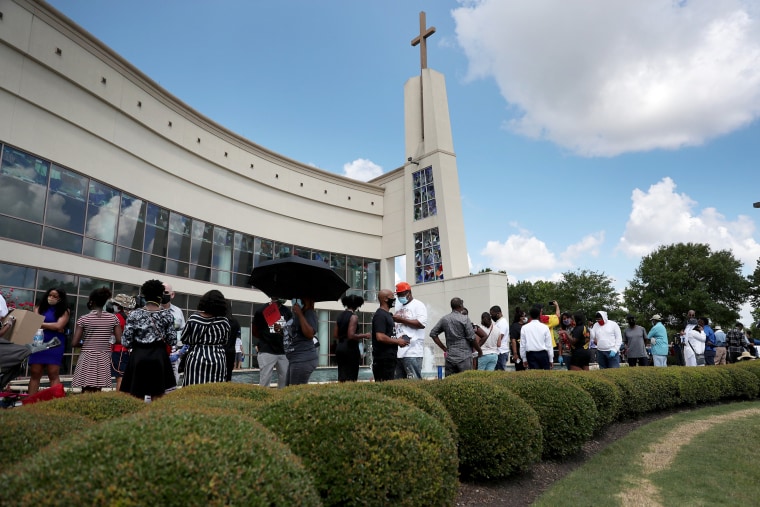 Rodney Floyd said his brother was so generous, he would have willingly given his life for the cause unity, NBC affiliate KPRC reported.
"If he was told he would have to sacrifice his life to bring the world together, knowing him, I know he would have did it," Rodney Floyd told reporters outside the church.
Texas Gov. Greg Abbott and Houston Mayor Sylvester Turner were among those paying tribute at the church on Monday.
More than 200 people lined up before the doors opened, as Red Cross volunteers outside distributed water on one of Houston's hottest days of 2020.
Some carried signs depicting Floyd's face or wore T-shirts with his final words written on them: "I can't breathe."
Joey Lucio Sanjavier, a 26-year-old son of Mexican immigrants, used a black marker to write, "las vidas negras importan" — Black Lives Matter — on his mask.
"I feel like, as a Latino, I have to be here," Lucio Sanjavier said, while waiting in line to view Floyd's golden casket. "If we're not here to support our black community, how are we going to stand up for our own rights?"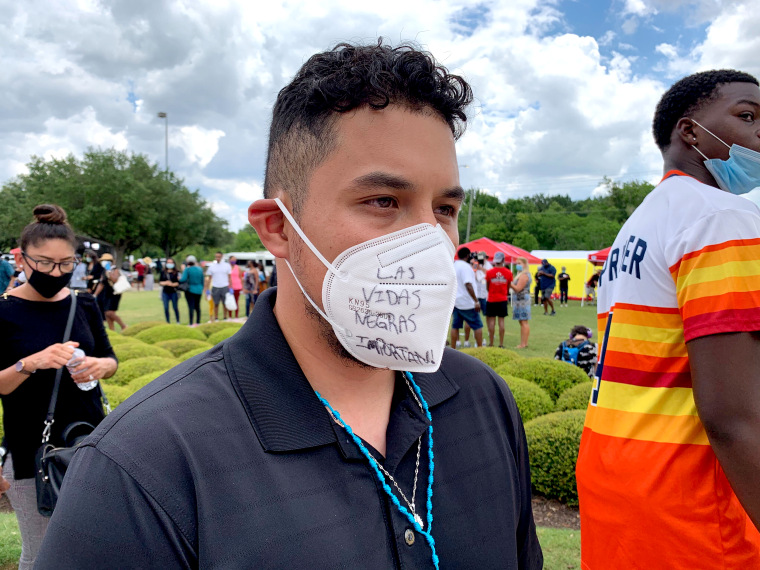 Dolly Spencer, 72, brought flowers.
"Mr. Floyd gave his life, not intentionally, but I wanted to pay my respects," said Spencer, who is black. "And maybe we'll get something out of this, that something bad will lead to something good."
The viewing Monday precedes a final memorial service on Tuesday at the same church that's being limited to 500 people, also a result of the pandemic.
Floyd, 46, died two weeks ago after he was arrested on suspicion of passing a counterfeit $20 bill and a Minneapolis police officer pressed his knee into his neck for nearly nine minutes, officials said.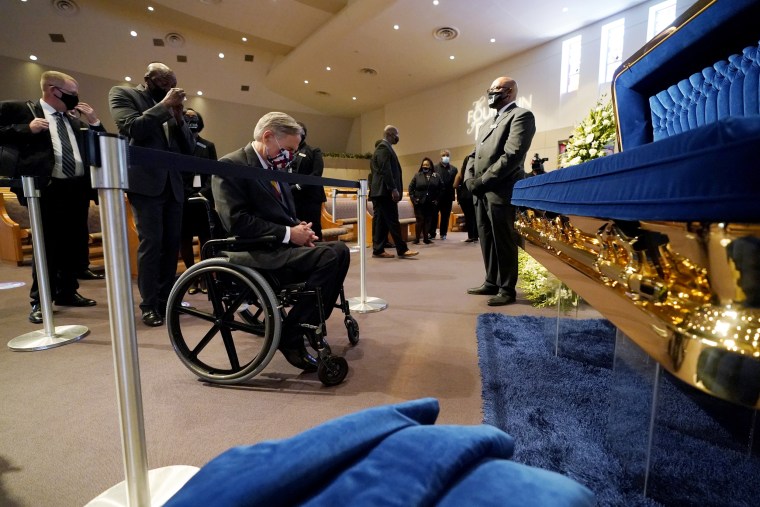 That officer was fired the day after Floyd's arrest and has been charged with murder. Three other officers involved in the arrest were also fired and have been charged with aiding and abetting.
The incident has sparked worldwide protests against police brutality and systemic racism. Floyd was eulogized in Minneapolis last week and a viewing was held Saturday in Raeford, North Carolina, near where he was born.
Kevin Block, 38, graduated from Yates a decade after Floyd, but said he was a role model for young men in neighborhood.
"He was a good guy, always looking out for the younger generation," Block said. "We had to come out and represent for the neighborhood."
This is a developing story please refresh for updates.
Michael Hixenbaugh reported from Houston, and David K. Li, Doha Madani, Rima Abdelkader and Janhvi Bhojwani from New York.