The modern gay rights movement in the United States began as a long, slow march, then picked up astonishing speed.
Its apex, the Supreme Court ruling on Friday that the Constitution guarantees gay couples the right to marry across the country, came on the anniversaries of two pivotal decisions.
Both were also written by Justice Anthony Kennedy: Lawrence v. Texas, in 2003, which struck down criminal sodomy laws, and United States v. Windsor, two years ago, which overturned the federal Defense of Marriage Act.
A third anniversary will be observed this weekend: On June 28, 1969, a police raid on the Stonewall Inn, a New York gay bar, touched off days of riots that galvanized gays and lesbians.
Almost exactly 46 years later, outside the Supreme Court, an Ohio man named James Obergefell held up a photo of his late husband, John, and praised the justices for declaring that "our love is equal."
Then he took a congratulatory phone call from the president.
Here is a history of what came between.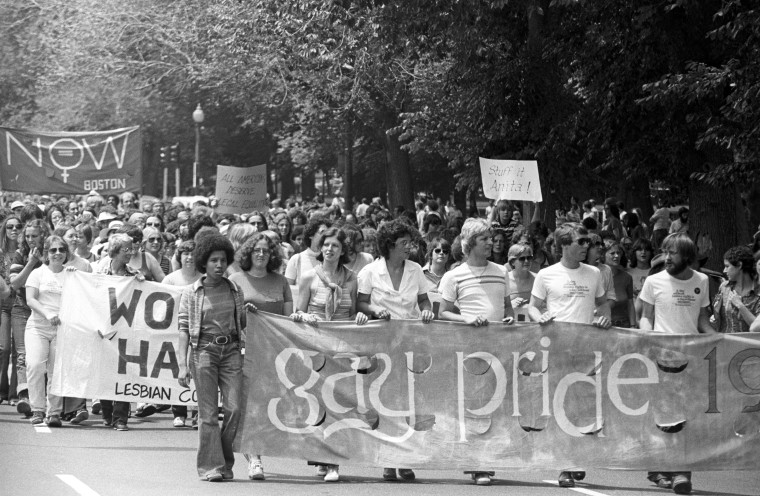 June 27 and 28, 1970
On the anniversary of the Stonewall riots, the first gay pride parades are held in New York, Chicago, San Francisco and Los Angeles.
Fred Sergeant, who was at the New York parade, reflected on the march years later in the Village Voice newspaper.
"It took a new sense of audacity and courage to take that giant step into the streets of Midtown Manhattan," he said. "I stayed at the head of the march the entire way, and at one point, I climbed onto the base of a light pole and looked back. I was astonished; we stretched out as far as I could see, thousands of us." Pride events now are held worldwide every year.
1973
The American Psychiatric Association's board of trustees removes homosexuality from its Diagnostic and Statistical Manual of Mental Disorders.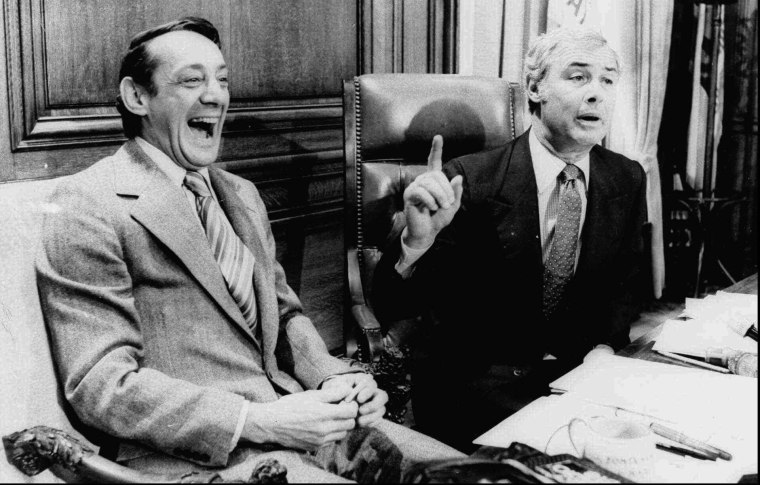 Nov. 27, 1978
Harvey Milk, a San Francisco city supervisor and the first openly gay man elected to major office in the United States, is assassinated, along with Mayor George Moscone, by a former supervisor.
June 5, 1981
The Centers for Disease Control and Prevention, in its Morbidity and Mortality Weekly Report, publishes an account of five mysterious cases of pneumonia in gay men in Los Angeles.
The CDC sets up an investigative team and, a year and a half later, identifies all the major risk factors for what would become known as AIDS.
June 30, 1986
The Supreme Court, in Bowers v. Hardwick, rules that states have the right to outlaw sodomy.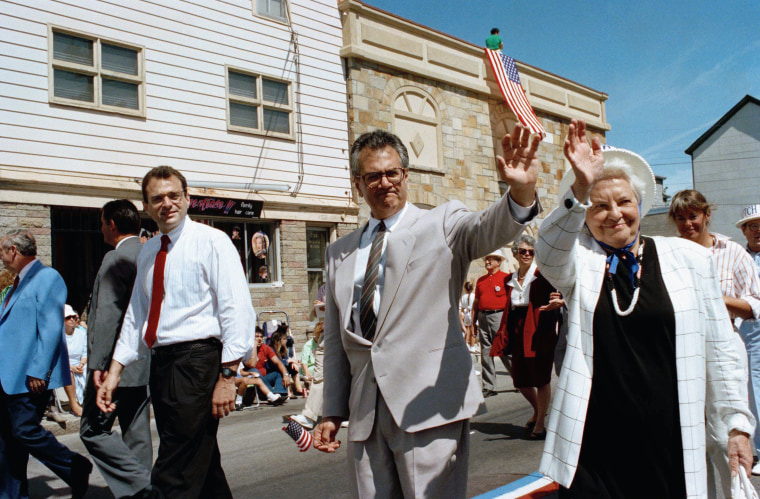 May 30, 1987
Rep. Barney Frank of Massachusetts becomes the first openly gay member of Congress.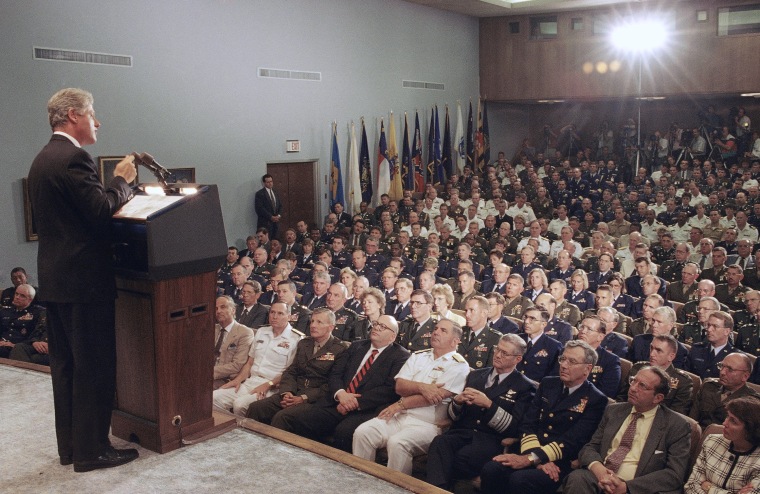 July 19, 1993
President Bill Clinton announces the policy that would become known as "don't ask, don't tell."
"It is the best way to proceed because it provides a sensible balance between the rights of the individual and the needs of our military to remain the world's No. 1 fighting force," he says at the National Defense University.
May 20, 1996
The Supreme Court, in Romer v. Evans, strikes down a Colorado law that blocked any legislative or executive action to protect gays and lesbians from discrimination.
"If the constitutional conception of 'equal protection of the laws' means anything, it must at the very least mean that a bare desire to harm a politically unpopular group cannot constitute a legitimate governmental interest," Kennedy writes.
Sept. 21, 1996
Just before 1 a.m. and before no cameras, Clinton signs the Defense of Marriage Act, which defines marriage for federal purposes as between one man and one woman. It also allows states to refuse to recognize same-sex marriages performed in other states.
April 14, 1997
Ellen DeGeneres appears on the cover of Time magazine with the headline "Yep, I'm Gay." Two weeks later, on the television show "Ellen," the character she plays comes out.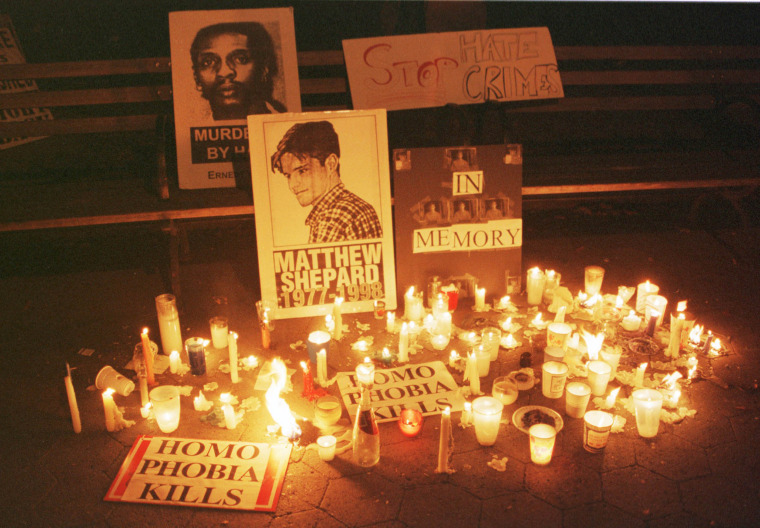 Oct. 12, 1998
Matthew Shepard, a 21-year-old college student, dies less than a week after he is tied to a split-rail fence and beaten outside Laramie, Wyoming.
April 26, 2000
Gov. Howard Dean signs a law making Vermont the first in the country to allow civil unions, which offer some of the benefits of marriage.
June 28, 2000
The Supreme Court, in Boy Scouts of America v. Dale, rules that the Boy Scouts, under the First Amendment guarantee of expressive association, have the right to ban gay members. Kennedy joins the majority.
June 26, 2003
The Supreme Court, in a decision called Lawrence v. Texas, strikes down criminal sodomy laws, overturning the Bowers decision from 17 years earlier. Kennedy writes for the majority that gays are "entitled to respect for their private lives."
Nov. 18, 2003
The Massachusetts Supreme Court rules that the ban on gay marriage in that state is unconstitutional. In May 2004, gay couples begin marrying in Massachusetts.
Nov. 2, 2004
Eleven states pass constitutional amendments banning same-sex marriage.
Nov. 4, 2008
California voters pass Proposition 8, banning same-sex marriage in the country's most populous state.
April 7, 2009
The Vermont Legislature passes same-sex marriage, the first state to do it by legislative action and not a court ruling. By the end of 2009, five states and the District of Columbia allow same-sex marriage.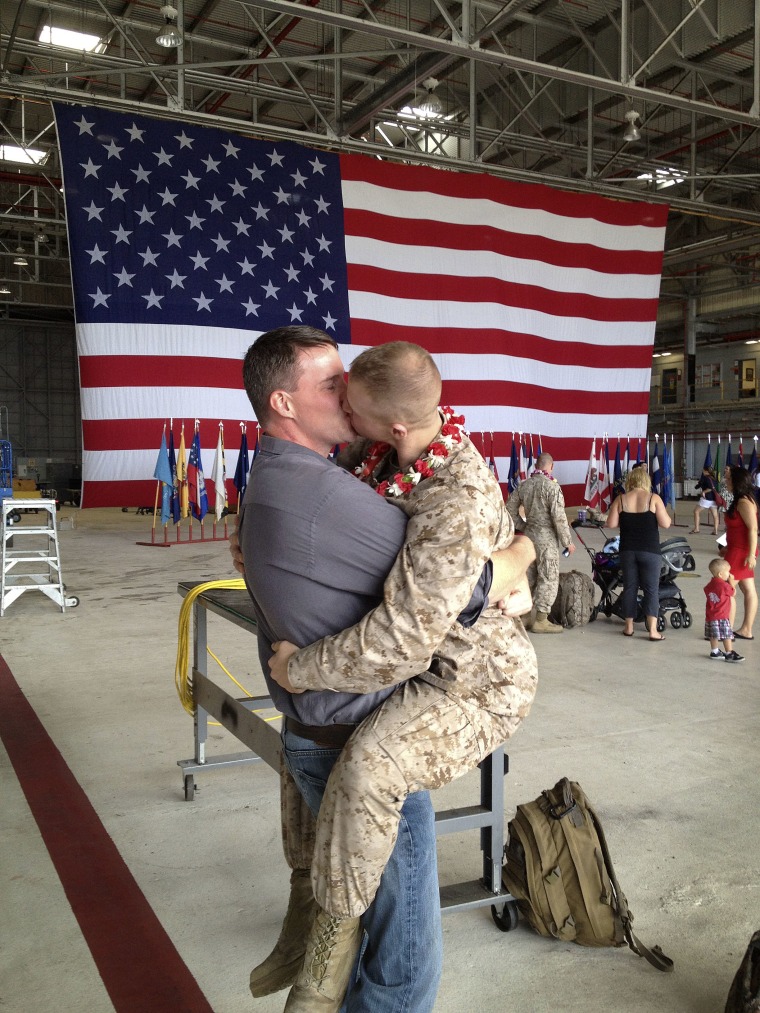 July 22, 2011
President Barack Obama certifies the repeal of "don't ask, don't tell."
"As of Sept. 20th," he says, "service members will no longer be forced to hide who they are in order to serve our country. Our military will no longer be deprived of the talents and skills of patriotic Americans just because they happen to be gay or lesbian."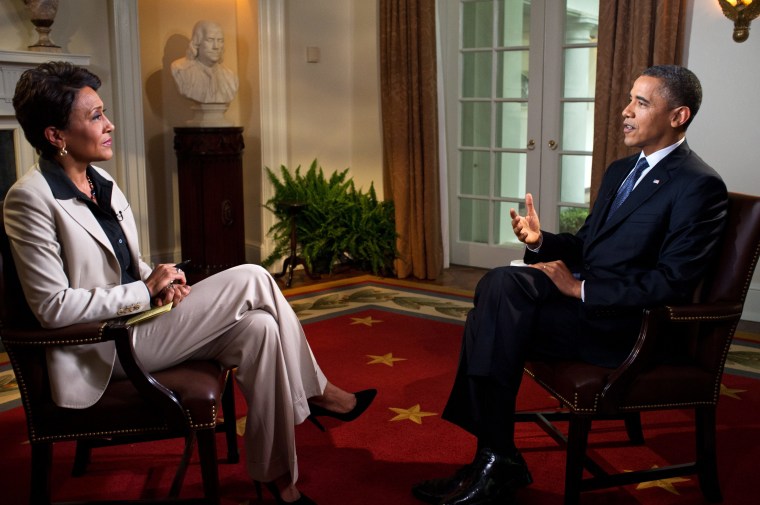 May 9, 2012
Obama becomes the first sitting president to support same-sex marriage.
"I've been going through an evolution on this issue," he tells Robin Roberts of ABC News, then says: "At a certain point, I've just concluded that — for me personally, it is important for me to go ahead and affirm that I think same-sex couples should be able to get married."
Nov. 6, 2012
Voters in three states — Maine, Maryland and Washington — become the first to authorize same-sex marriage by popular vote. By the end of the year, nine states and the District of Columbia allow it.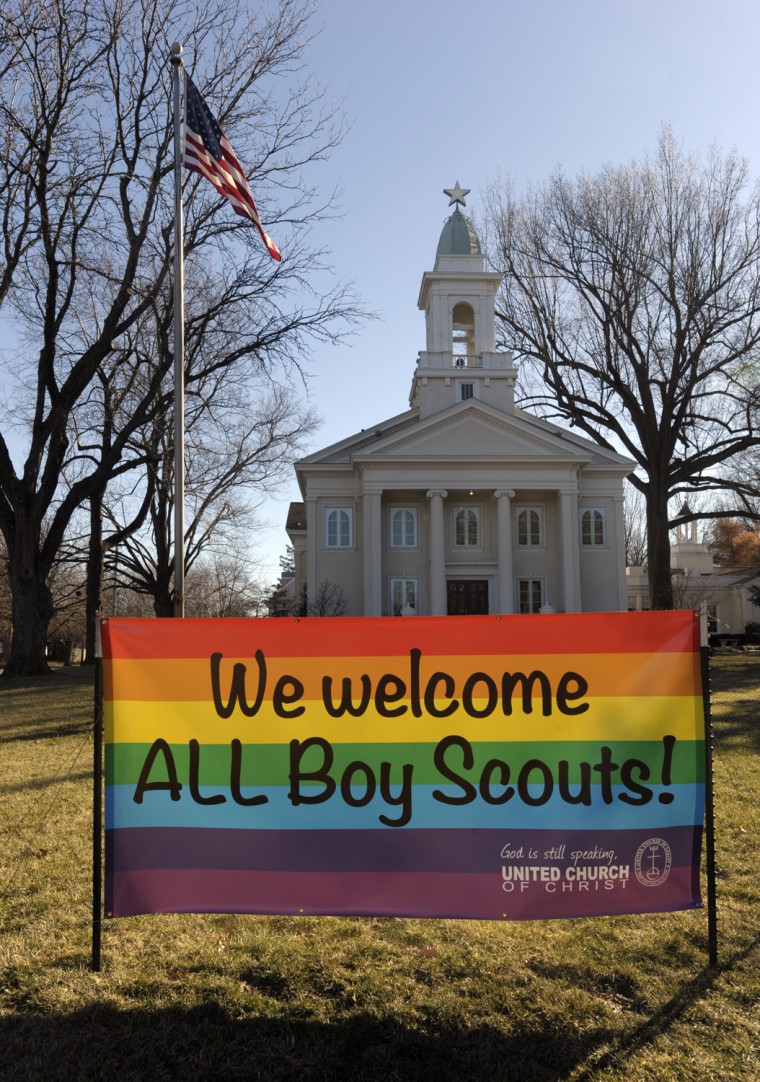 May 23, 2013
The Boy Scouts of America votes to lift its ban on gay youth.
June 20, 2013
Exodus International, which had claimed that it could cure same-sex attraction with prayer and therapy, announces that it will close its doors after more than three decades. Its leader apologizes: "I am sorry that some of you spent years working through the shame and guilt you felt when your attractions didn't change."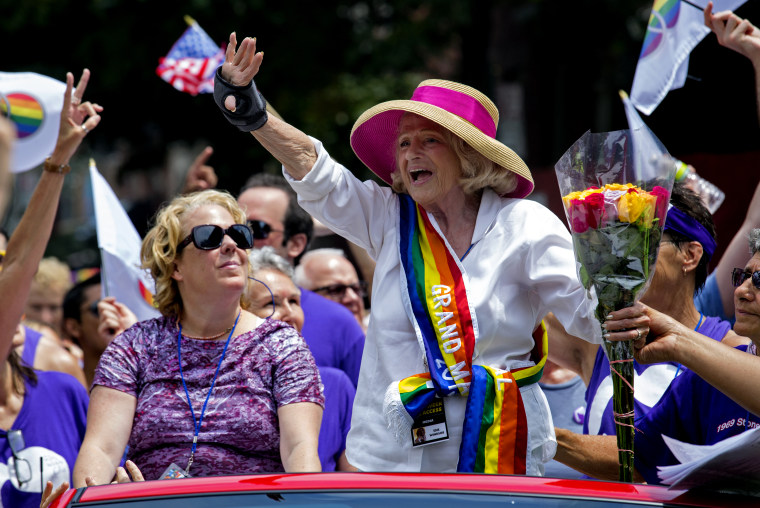 June 26, 2013
The Supreme Court, in two landmark decisions, strikes down the Defense of Marriage Act and allows gay marriage to resume in California by declining to decide a case about Proposition 8.
Kennedy, writing for the majority, says that DOMA's main effect "is to identify a subset of state-sanctioned marriages and make them unequal."
Edith Windsor, the 84-year-old woman who brought the case against the federal law, says: "Children born today will grow up in a world without DOMA, and those same children who happen to be gay will be free to love and get married."
Oct. 6, 2014
The Supreme Court declines to take up appeals of rulings that allowed same-sex marriage in five states. Within weeks, the number of states allowing same-sex marriage climbs to 30.
Nov. 6, 2014
The 6th U.S. Circuit Court of Appeals, in a departure from other federal appeals courts, upholds bans on same-sex marriage in Kentucky, Michigan, Ohio and Tennessee. The split in the appeals courts lays the groundwork for the Supreme Court to settle the matter for the whole country.
June 26, 2015
The Supreme Court, in Obergefell v. Hodges, rules that gay couples across the country have a constitutional right to marry.
"It would misunderstand these men and women to say they disrespect the idea of marriage," Kennedy writes. "Their plea is that they do respect it, respect it so deeply that they seek to find its fulfillment for themselves.
"Their hope is not to be condemned to live in loneliness, excluded from one of civilization's oldest institutions. They ask for equal dignity in the eyes of the law. The Constitution grants them that right."