Nearly a week after Maui was ravaged by the deadliest wildfires in more than a century, and as residents continue to wait for word about their missing loved ones, a new set of problems has emerged: looters and speculators trying to cash in on the tragedy.
A local businessman said people desperate for gas and other scarce items are raiding the few businesses still standing in Lahaina, the historic city that was all but destroyed.
Bryan Sizemore, 48, a commercial sport fisherman and mechanical engineer who has lived on Maui for nearly 20 years, said he recently chased off several looters at gunpoint from his business.
"My boat exploded as a result of the flames, but my business somehow made it. But there's been looters at my place, people stealing gas," Sizemore said Monday. "I've been sleeping there in my car... They're poking holes into the gas tanks and draining them off."
Follow along for live coverage
The stealing and attempts at land grabbing are indicative of what locals are up against as they work to rebuild their homes and lives after deadly wildfires chewed through entire neighborhoods last week, killing at least 96 people and destroying irreplaceable Hawaiian cultural landmarks.
The fires displaced hundreds of families and became the deadliest in modern U.S. history, surpassing the 2018 Camp Fire in California that killed 85 people, officials said.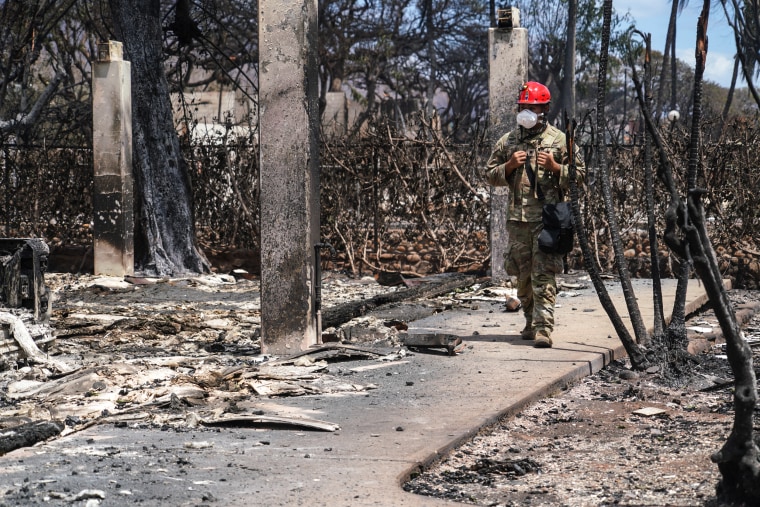 Hawaii Gov. Josh Green estimated the fires have caused $6 billion in damage.
Now that the tourists have been evacuated and the search for the missing continues, some residents feel as if they've been left to fend for themselves, they said.
"Do not go to Lahaina thinking that you're gonna get fed when you realize there are no resources," said Cassidy Keilieha, who was at the War Memorial Complex donation center in Wailuku on Saturday. "There are no stores out there for you. Everything is empty. There's nothing out there.
"A lot of people are angry. A lot of bad things are happening. People are going into survival mode."
In Sizemore's view, the looters are "just random people who are trying to get across the island to where there's more aid."
"We went to the Red Cross, but they can't keep up," he said. "They don't even have enough drinking water for everybody. I finally gave up and drove across the island to some friends, where I was able to take a shower."
When asked about reports of looting, Maui County Police Chief John Pelletier said, "the Hawaiian people are the most incredible, kind, loving people on the planet, period."
But Maui fire survivors said they are getting calls from real estate investors seeking to buy up what remains of their island homes and property.
"This is disgusting," Maui resident Tiare Lawrence told MSNBC's Katy Tur on Monday. "Lahaina is not for sale."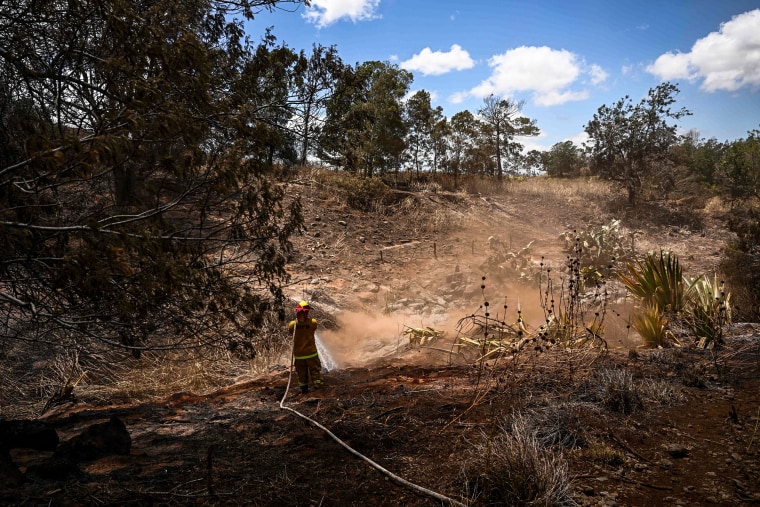 As the death toll continues to climb, police are searching the smoldering remains of Lahaina with cadaver dogs.
"I've seen dozens of bodies and I think when all this is over, there's going to be a lot more deaths," Sizemore said, adding that he still has not heard from at least a dozen friends.
Federal Emergency Management Agency Administrator Deanne Criswell declined to speculate on how many bodies search crews might find.
"The dogs can only work so long because of how hot the temperatures are," she said Monday in a video teleconference from Hawaii. "There's also hot spots, and so we have fire crews that are helping to cool down the area so the dogs can go in there.
"I hate to give an exact estimate because we want to make sure that we are precise and methodical and respectful as we go through this," Criswell said.
Green said an additional 20 dogs have joined the search.
"I mean it's a catastrophic loss, it's our largest natural disaster since statehood," Green said on NBC's "Meet the Press NOW." "It's incredible what we're seeing, it's definitely like a nuclear weapon went off on Lahaina."
FEMA has provided 50,000 meals, 75,000 liters of water, 5,000 cots and 10,000 blankets to Maui County for distribution, officials said, and more than 300 FEMA employees are on the ground assisting with the recovery effort.
"The coming days and the weeks, they're going to be tough, they're going to be difficult as people process what they have lost and what the road ahead looks like," Criswell said. "But we are going to be with the people of Hawaii, as I have committed to the governor, every step of the way."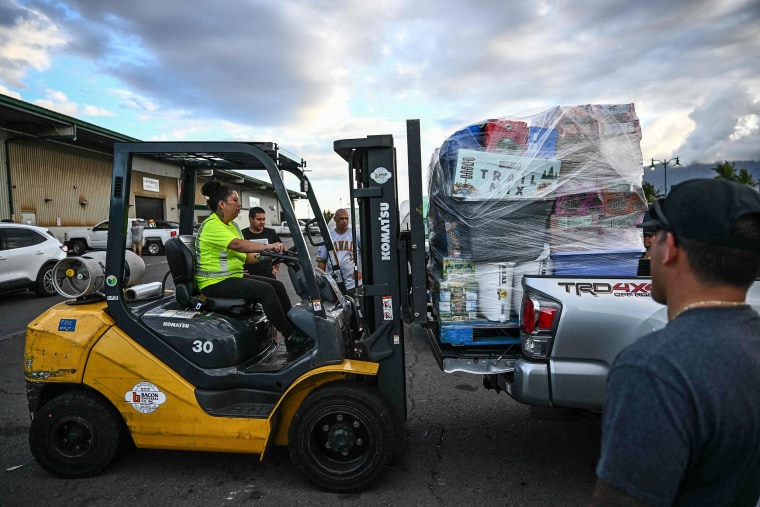 But Sizemore said the aid isn't getting to residents fast enough.
"People think everything is getting taken care of, it's not," Sizemore said. "It's a s---show out here."
One potential reason for the residents to feel as if there is a delay in resources headed their way is that the vast majority of good needs to be shipped to the island.
More than 90% of all goods consumed in Hawaii are imported from other states or internationally, according to Suwan Shen, an associate professor of urban planning at the University of Hawaii, who specializes in climate vulnerability and adaptation.
"We are in the ocean," said Shen, speaking in general about the state and not specifically about the disaster. 
Compared to the mainland states, which can more quickly receive supplies from neighboring states when a disaster hits, including by trucks and other land vehicles, Hawaii may not as rapidly dispatch the resources needed to affected areas.
Shen said it typically takes about a week for Hawaii to receive goods from California by sea. And then it might take another two to three days to transport the supplies from Hawaii's main port in Honolulu to other parts of the island, she said.
"There's a lot of unpacking and repacking in the process, too," Shen said. 
On its website, Hawaii's Emergency Management Agency urges residents to prepare for disasters by having 14 days worth of food and water at hand.
Another Maui resident, Barrett Procell, a realtor who has lived on the island for seven years, said he his girlfriend fled their home with just the clothes on their backs.
They spent several nights sleeping in their car before they were able to escape to Oahu, where they've been staying at a hotel.
"We're just grateful to be here," Procell said. "There are so many people who didn't make it out, so many dead bodies still to be found. There's kids who were at home with their parents after work."
Procell said that although they didn't witness any looting, they saw Maui residents rise to the challenge.
"The community of Maui is amazing," he said. "It's just wild to see people whose homes burned down a couple days ago, and they're out handing out water to people or even pulling dead bodies out of the water — it's pretty incredible."