Los Angeles is ramping up efforts to protect people experiencing homelessness from the coronavirus outbreak, which has killed some 500 county residents.
At least 33 unsheltered people had tested positive for COVID-19 as of Thursday, according to Barbara Ferrer, director of the L.A. County Department of Public Health. The majority of those cases are people living on the streets, not in shelters.
In an effort to prevent that number from going up, Los Angeles will deploy medical street teams to known encampments and set up trailers throughout the city to get people off the street, Mayor Eric Garcetti announced Friday.
This is in addition to statewide efforts to fast-track placing some of California's 151,000 homeless residents in temporary shelters through Project Roomkey.
"With this virus touching every part of our community, we're doing whatever we can to keep those without a home safe," Garcetti said.
Starting next week, street teams will conduct rapid-result COVID-19 field tests, health and wellness screenings, offer counseling for effective social distancing and provide access to shelters or other temporary housing.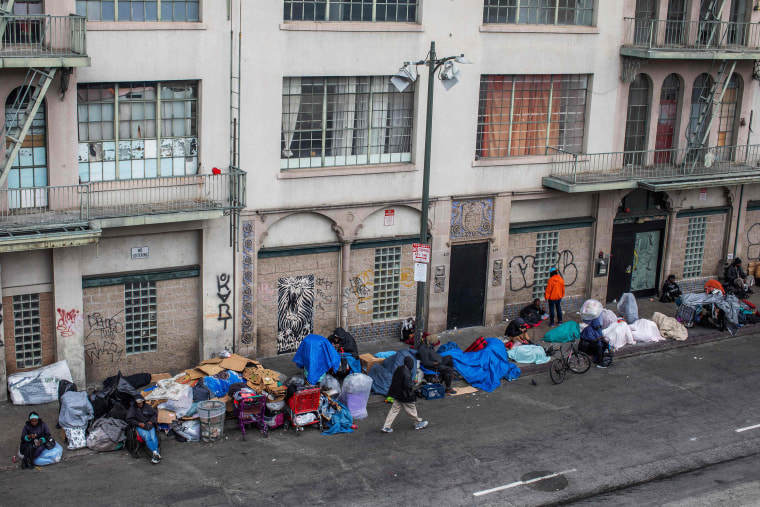 The Los Angeles Fire Department is also setting up a high capacity pop-up testing clinic in Skid Row, which has one of the highest concentrations of unsheltered residents in the county. This site will include transportation to isolation and quarantine beds for people who test positive, Garcetti said.
"Individuals experiencing homelessness often lack a safe space to self-isolate or practice physical distancing, and many are older adults or suffer from underlying medical conditions that would leave them particularly vulnerable to COVID-19," said Los Angeles County Supervisor Hilda L. Solis. "Through this coordinated effort ... we will make sure no one is forgotten during this public health crisis."
Los Angeles is also launching a program to house at-risk homeless people inside trailers provided by the state. These temporary shelters will be reserved for residents without homes who are 65 and older or have pre-existing health conditions. Garcetti said he anticipates 300 trailers will be available in the coming weeks.
"While we continue to work on long-term housing solutions for our most vulnerable populations, the medical teams will go a long way in getting services on the street where our unhoused neighbors live to mitigate the spread of COVID-19 and keep them safe during this pandemic," said council member José Huizar. "This outreach approach along with providing more sanitation stations and preventive resources will go a long way in assisting a population that needs all of our assistance through this crisis."
On Friday, Garcetti called on hotel and motel owners to participate in Project Roomkey, which provides temporary shelter to high-risk people without stable housing. The county has secured 2,400 rooms and is negotiating with more than 24 additional hotels and motels, the mayor said.
Previously, the county announced a goal of securing 15,000 rooms to house some of the region's 60,000 people experiencing homelessness.