Her supplies dwindling, her hopes of being rescued all but gone, a hiker lost in the Maine woods reached for the black-covered notebook where she had been chronicling her ordeal and made a heartbreaking entry.
"When you find my body, please call my husband George and my daughter Kerry," 66-year-old Geraldine Largay wrote. "It will be the greatest kindness for them to know that I am dead and where you found me — no matter how many years from now."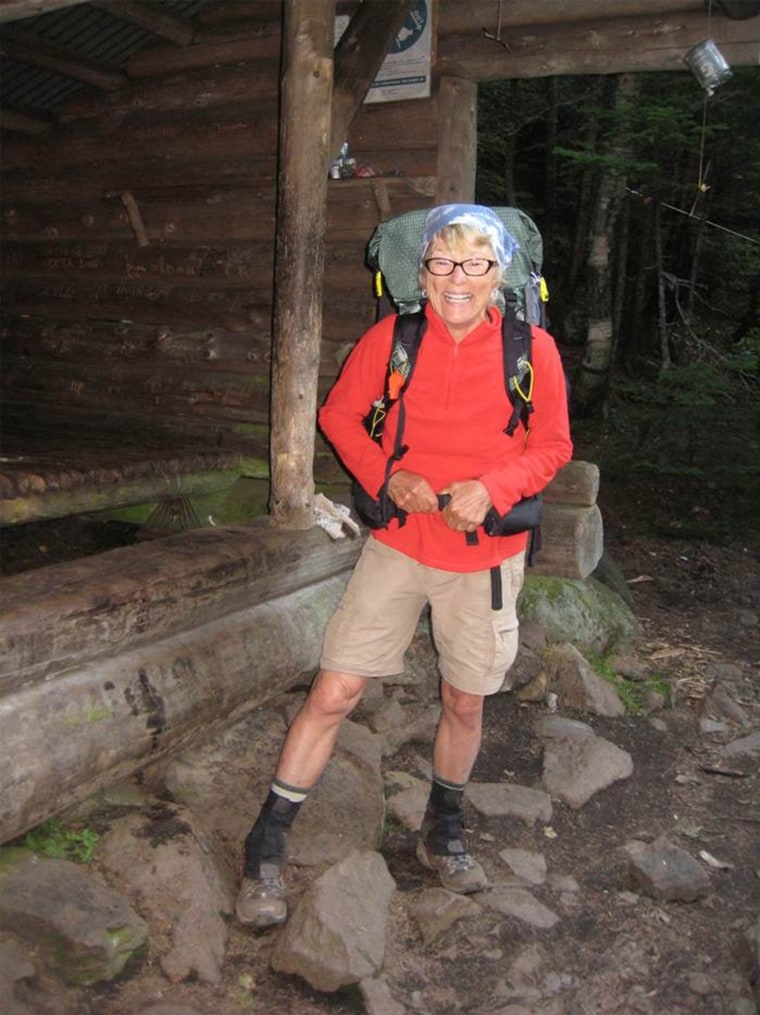 It wound up being her epitaph.
Two years after Largay scribbled those words in August 2013, a logging company surveyor stumbled across her campsite and found her remains. She was zipped up in her sleeping bag, inside her tent.
It turned out that Largay, who died while waiting for help that never arrived, was just two miles from the Appalachian Trail.
Largay's account of her final days was included in the 1,500-page file that the Maine Warden Service released this week and which were excerpted by the Portland Press Herald.
It revealed the lengths authorities went to find the missing woman, including weeding through false leads that Largay's identity had been stolen, bogus tips from psychics, even one "suggesting Bigfoot was responsible for her disappearance." She was finally found last fall.
A retired nurse from Tennessee, Largay set off on April 23, 2013 with her friend Jane Lee to walk a long stretch of the famous trail, starting in Harpers Ferry, West Virginia, and heading north to the trail's terminus in northern Maine. The plan was that they would trek the more than 1,100 miles together, and Largay's husband would meet them along the way with supplies.
But on June 30, while in New Hampshire, Lee was forced by a family emergency to leave the trail. Largay insisted on going on alone despite what Lee said was a poor sense of direction.
Lee later told investigators that Largay "had taken a wrong turn on the trail, more than once." She also said Largay was afraid to be alone — and scared of the dark, the New York Times reported.
Largay's doctor told them she was prone to panic attacks and took anxiety medication.
But Largay made progress, and by July 21 had reached the Poplar Ridge lean-to in western Maine, was less than 200 miles from the end of the trail on Mount Katahdin. Her plan was to hike to the Spaulding Lean-to about nine miles away, spend the night, then hike 13 miles to the Route 27 crossing and meet her husband.
A fellow hiker named Dottie Rust took a picture of Largay around 6:30 a.m. on July 22 as she was about to set off on the trail.
It was the last time anybody saw Largay alive.
Investigators said Largay's cellphone revealed she got lost in the dense woods after she left the trail to use the bathroom. Right away, she texted her husband for help.
"In somm trouble," she wrote on July 22, 2013 around 11:01 a.m. "Got off trail to go to br. Now lost. Can u call AMC to c if a train maintainer can help me. Somewhere north of woods road. Xox."
George Largay never got that text, or the others his wife subsequently sent, "because of poor or nonexistent cell tower coverage in the area," officials wrote in their report.
Largay then walked west to higher ground hoping to find better cell phone reception and would up getting even more lost.
The next day at 4:18 p.m., after her first night alone in the woods, Largay tried texting her husband again.
"Lost since yesterday," she wrote. "Off trial 3 or 4 miles. Call police for what to do pls. Xox."
George Largay did not get that message either. But the next day, July 24, he reported his wife "overdue" and the Maine Warden Service began searching for her. Soon they were joined by local law enforcement using blood-sniffing dogs and aircraft and the FBI.
The initial search was suspended after seven days on July 30, 2013. But they did not stop looking for Largay or chasing leads.
Meanwhile, the lost nurse kept writing in her journal. Investigators said they provided a confirmed "timeline of her thoughts and activities from July 22 to August 10."
Her plea to notify her family was entered Aug. 6. The final entry is listed as Aug. 18, but officials wrote in the report they were "unsure as to the accuracy of that date."