Torrential rains eased Monday in flood-ravaged Louisiana, but forecasters that warned the threat was far from over.
Louisiana has been deluged by rainfall since last week, with at least seven people dead and thousands of homes damaged by floods. Gov. John Bel Edwards said officials "won't know the death toll for sure for several more days."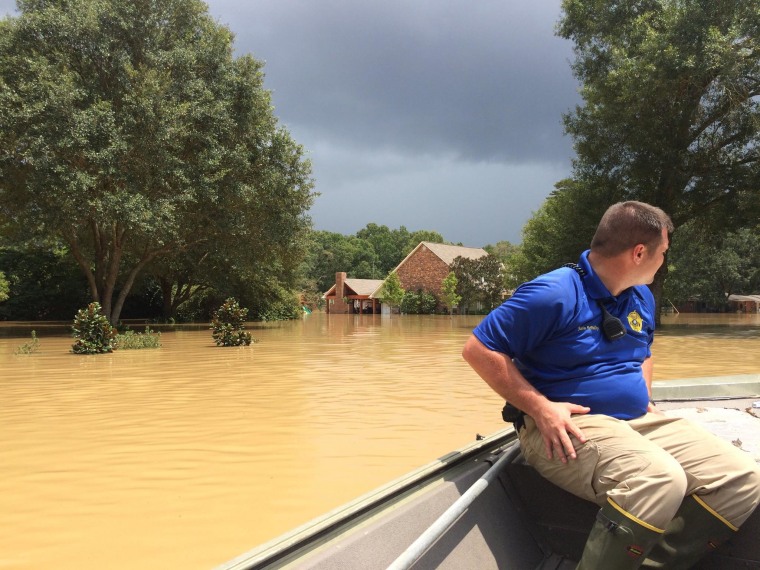 One of the dead was an elderly woman in the town of Hinesville, whom authorities hailed as a hero for saving the toddler who was in the car she was driving.
Rapides Parish sheriff's officials told NBC station KALB of Alexandria that the woman, whose name hasn't been released pending notification of her relatives, lost control of her car, which was swept off the road.
The woman escaped with the boy into Big Creek, where they apparently made their way to a tree. By the time two passersby heard the boy's cries, the woman had drowned, but the boy was clinging to the tree and was rescued, sheriff's officials said.
"When they went to investigate, they located the small child clinging to a tree," the sheriff's office said in a statement. "They immediately swam to the child and rescued him from the tree. The female subject was also located nearby and appeared to have already drowned as she was not conscious and not breathing."
"They came out here just looking at the water, and they could hear the baby screaming," said Aaron Jenkins, the father of one of the rescuers.
An initial examination showed the boy to be in good condition.
"That's quite a feat for him, just to be 4 years old," Jenkins said.
More than 20,000 other people have been rescued from the floodwaters, and more than 12,000 remained in shelters, Edwards said.
"It's not over," he said. "The water's going to rise in many areas. It's no time to let the guard down."
Edwards was himself an evacuee: Chest-high waters filled the basement of the Governor's Mansion and cut off electricity, forcing him and his family to seek shelter elsewhere.
PHOTOS: More Than 20,000 Rescued From Louisiana Floods
"This is going to be tough to recover from," said Ari Sarsalari, a meteorologist for The Weather Channel. "There are parts of Louisiana that have seen more than 30 inches of rain since Friday."
Drone video recorded entire neighborhoods under waist-high muddy waters and cars submerged as boats cruised down the streets of Baton Rouge.
At least six rivers have hit record levels in Louisiana since the deluge began Friday, according to The Weather Channel. It said the Amite River exceeded its previous record by more than 6 feet in Magnolia.
The rain lessened significantly Monday, but Kevin Roth, a meteorologist for The Weather Channel, said it'll be some time before the flood waters recede.
"The flooding isn't over, because all the water that's upstream has to flow downstream," Roth said. "The river and the creeks will probably continue to rise.
Many flood warnings extended through Tuesday and Wednesday, but there were warnings that the parishes of East Baton Rouge, Livingston and Ascension would remain at risk until Thursday, according to the National Weather Service.
Forecasters said the Calcasieu River near Oberlin would flood later this week, affecting many roads and homes.
Residents have fled to higher ground, and neighbors with high-water vehicles have hit the flooded streets to help with rescue efforts.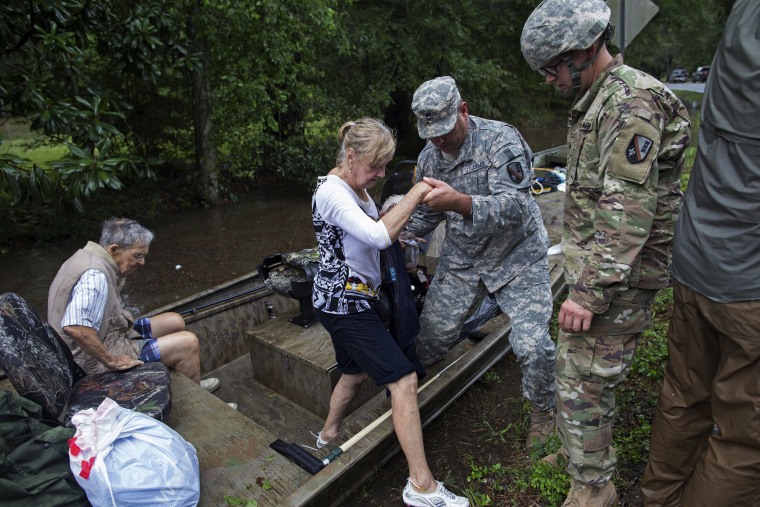 More than 1,500 motorists had been rescued just from flooded Interstate 12 by Monday afternoon, the state Transportation Department said.
Food and water were helicoptered in to the motorists while they waited, said state officials, who said the highway remained closed in both directions because of flooding between Baton Rouge and Hammond. So did Interstate 10 near both Baton Rouge and Lafayette. And state offices in 27 parishes were closed Monday, said Jay Dardenne, Louisiana's commissioner of administration.
Meanwhile, Amtrak confirmed that its City of New Orleans train from Chicago to New Orleans has been stopped in central Mississippi since Friday because of flooding on the tracks at the Mississippi-Louisiana state line. It said it's busing passengers from Jackson, Miss., to New Orleans.
Even as it was working overtime to help, the Baton Rouge office of the Salvation Army was itself flooded and had to relocate to a bank building downtown, Capt. Brett Meredith said.
Ochsner Medical Center in Baton Rouge told NBC station WVLA that 20 critically ill patients had been transferred to other facilities because of flooding. It said Monday that as many as 20 more would have to be transferred soon.
Vendi Fox of Welsh was one of many homeowners desperate to save her home.
"We'll just take it one day at a time," Fox told NBC station KPLC of Lake Charles. "We'll let God show us what we need to do. We'll take it one step at a time."
Countless pets and other animals have also had to be rescued across the state — including 14 horses in Tangipahoa Parish, Sheriff Daniel Edwards said.