EAST BATON ROUGE, La. — More than 20,000 people have been rescued after massive floods swept across Louisiana, and officials warned Sunday that even though the rain had subsided, dangers loomed.
"It's not over," Gov. John Bel Edwards said Sunday. "The water's going to rise in many areas. It's no time to let the guard down."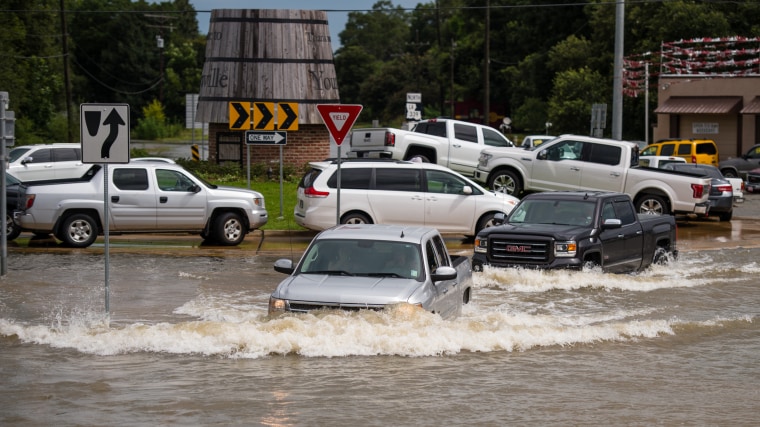 Edwards said crews had already rescued more than 20,000 people and hundreds of pets. More than 10,000 people — many in the Baton Rouge area — were in shelters on Sunday night, Edwards said during a news conference.
The flooding killed at least four people. The latest casualty was reported Sunday night, with officials confirming that a 59-year-old man was swept away by the current while walking along a road in Tangipahoa City on Friday. The man, who was not identified, drowned, said Devin George, director of the state registrar.
President Barack Obama declared a major disaster in the hard-hit parishes of East Baton Rouge, Livingston, St. Helena and Tangipahoa, freeing up federal funding for flood-related assistance.
Edwards — who also declared a state of emergency — called the floods "unprecedented" and "historic."
"When I woke up this morning, I had a toolbox floating in my front yard," Rhonda Hughes of Livingston Parish told NBC station WVLA of Baton Rouge.
The Baker Fire Department in East Baton Rouge Parish was evacuated overnight after it took on several feet water and one of its engines stalled in deep water, Fire Chief Danny Edwards said.
The heavy rain began Friday, with 6 to 10 inches falling on southeast parts of the state. Several more inches fell Saturday, according to the National Weather Service.
Edwards said Sunday that he didn't know how many homes had been damaged, but "it's in the thousands."
Sunday brought drier weather, but residents in affected areas were warned to stay in their homes and off the roads — unless they're told to evacuate. "Even a typical afternoon summer thunderstorm has the potential to cause flooding," Edwards said.
The Amite River in Denham Springs had already reached historic levels and was expected to rise 4½ feet above the record, according to The Weather Channel.
Livingston Parish was among the hardest hit, with some towns completely cut off. Hundreds of motorists were stranded along the interstate, officials said. In Baton Rouge, Louisiana State University announced that it was shuttering its main campus there on Monday.
More than 1,700 rescue personnel had been mobilized and nearly 170 high-water vehicles had been tasked or staged, according to the Louisiana National Guard. An additional 800 guardsmen will likely be deployed.
The Coast Guard was also assisting in the rescue efforts, using helicopters to help residents from their rooftops, cars and trailers.
The state Transportation Department said more than 100 roads have been closed across the state. In Jefferson Davis Parish, so many roads are impassable that Sheriff Ivy Woods declared a 6 p.m. curfew so motorists don't get stranded overnight.
"All our parish roads north and south — they're inoperable," Woods told NBC station KPLC of Lake Charles.