The Louisiana law enforcement officer found guilty of manslaughter in the fatal shooting of a 6-year-old boy with autism has been sentenced to 40 years in prison.
Derrick Stafford, 33, was sentenced to 40 years without parole for manslaughter in the death of Jeremy Mardis and 15 years for the attempted manslaughter of Christopher Few. The sentences will run concurrently.
Stafford and another deputy city marshal attempted to pull Few over in Marksville, Louisiana, in 2015 and engaged in a two-mile car chase before opening fire.
Few said he stuck his hand out the window in a sign of surrender, but bullets continued to tear through his vehicle, according to NBC News affiliate WDSU News 6.
Few was wounded. Jeremy was shot five times in the head and chest, killing him.
Norris Greenhouse Jr., 25, the officer with Stafford at the time, is also facing second-degree murder charges.
Greenhouse's trial will take place later this year.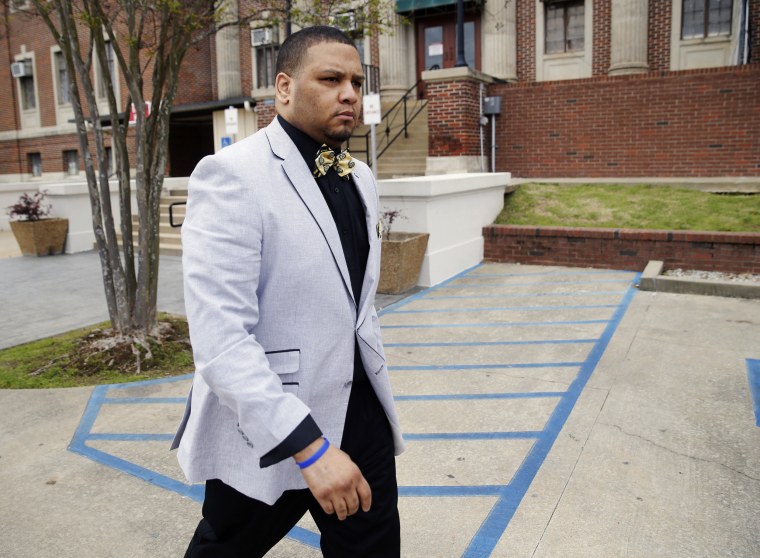 Stafford and Greenhouse — who were moonlighting as deputy city marshals on the night of the shooting — were also with two additional officers at the time of the shooting. Those law enforcement officers didn't open fire on Few's car that night.
During an emotional trial, Stafford wept when he saw photographs of the dead child, saying he wouldn't have fired knowing a boy was in the car.
"Never in a million years would I have fired my weapon if I knew a child was in that car. I would have called off the pursuit myself," Stafford said.
Stafford said his reason for opening fire was that he feared Few would reverse and run over Greenhouse. But prosecutors said the officers were at a safe distance from the car and weren't in any danger.