A Louisiana pastor who continues to flout a ban on large gatherings was issued a summons from police for violating the governor's executive order.
The pastor, Mark Anthony Spell, who goes by Tony, of Life Tabernacle Church, told NBC News in a brief phone interview Tuesday afternoon that police had given him the summons for the six services he has held since March 16 when Gov. John Bel Edwards announced an order against gatherings of more than 50 people.
Spell said he hosted about 500 worshippers at a service Sunday at the church in Central, a city of nearly 29,000 near Baton Rouge.
Full coverage of the coronavirus outbreak
In a statement Tuesday, the Central Police Department said Spell was issued a misdemeanor summons for six counts of violating the governor's executive order following his decision to host multiple large gatherings.
Central Police Chief Roger Corcoran said he worked with the sheriff, State Police, State Fire Marshal and others to address the matter "outside of legal action."
"Mr. Spell made his intentions to continue to violate the law clear," Corcoran said. "Instead of showing the strength and resilience of our community during this difficult time, Mr. Spell has chosen to embarrass us for his own self-promotion."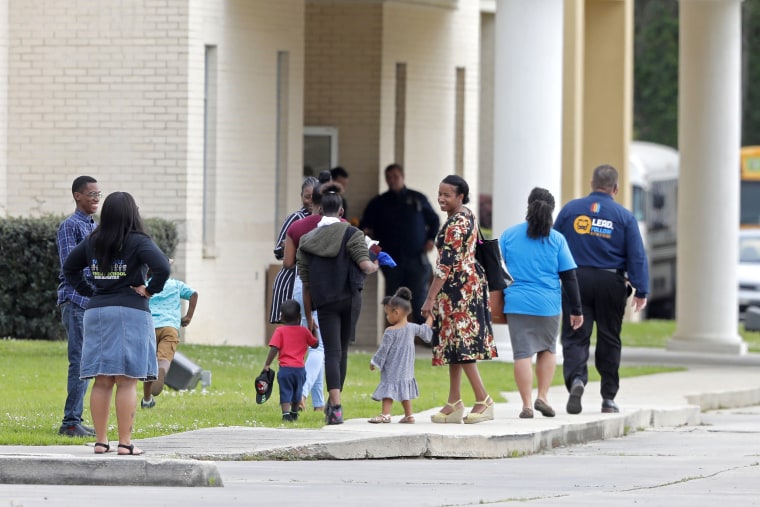 The police chief said Spell "will have his day in court where he will be held responsible for his reckless and irresponsible decisions that endangered the health of his congregation and our community."
The summons is considered an arrest and Spell, who was fingerprinted at his church Tuesday at the time it was issued, was cooperative, according to Asst. Chief of Police Darren Sibley of the Central Police Department.
"He signed the summons, he gave us his fingerprint, he prayed for us," Sibley told NBC News. "It was a very non-confrontational meeting."
Sibley said the case has been handed over to the district attorney's office and that the goal is not to stop Spell from having church or speaking to his parishioners, but to have him abide by the guidance "that the governor and the president have set forth."
Edwards has warned that hospitals could soon be overwhelmed with new cases of the coronavirus. He issued a stay-at-home order on March 22, directing all Louisiana residents to limit movements outside of their homes beyond essential needs.
Last week, Spell said he does not believe his congregation is at risk of getting COVID-19, the disease associated with the coronavirus
"It's not a concern," Spell told CBS affiliate WAFB. "The virus, we believe, is politically motivated. We hold our religious rights dear and we are going to assemble no matter what someone says."
Chief Corcoran said Tuesday the matter was not about religious liberty, nor about politics.
"We are facing a public health crisis and expect our community's leaders to set a positive example and follow the law," he said in his statement.
News reporters were turned away from the service Sunday at Life Tabernacle by assistant ministers and worshippers, who said they were instructed not to speak to the news media, according to The Associated Press.
An online petition calling for Spell to be arrested and prosecuted has more than 10,000 signatures. The petition claimed 1,800 people attended one of Spell's recent Sunday services and said he should be charged with reckless endangerment "for the countless lives he will be brutalizing and even ending with his selfishness and ignorance."
More than 5,200 cases and 239 deaths due to coronavirus have been reported in Louisiana. The governor said Monday hospitals in New Orleans are likely to run out of ventilators by April 5 and beds by April 8.
Edwards also said Louisiana has the third-highest number of coronavirus cases per capita and pledged to continue to fight to make sure the state's needs are not lost in the national conversation.